Welcome to Season 2021
With two world premieres, three Adelaide seasons, a South Australian regional tour and three national tours, Windmill Theatre Company will perform on stages in 33 cities and towns across Australia during 2021.
Executive Producer Kaye Weeks says, "We're coming back strong in 2021. We've spent much of 2020 developing new stories and working hard behind the scenes to rebuild cancelled tours. With international touring currently off the table for this year, we're even more focussed on our Australian audiences as our priority. We are thrilled to be visiting so many Australian cities and towns next year, including places like Orroroo, Merredin and Glen Innes, which we've never been to before."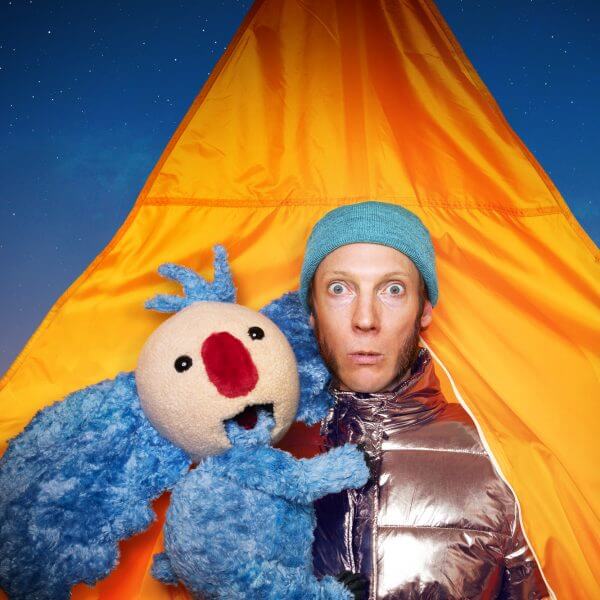 In April, Windmill will stage the world premiere of Hiccup! at Adelaide Festival Centre. A work for audiences aged 4-8, created by long-time collaborators Jude Henshall and Ellen Steele, Hiccup!tells the story of a koala who, on a balmy summer night in the outback, comes down with a stubborn case of the hiccups. Humans and animals join forces in a race to the great hiccup cure so they can all get some sleep before the sun comes up.
Featuring performers Chiara Gabrielli, Nathan O'Keefe and Lachlan Micklethwait, design by Jonathon Oxlade and an original composition by Ross McHenry, Hiccup! is set to be a psychedelic rocking musical extravaganza that will bring you the outback as you've never seen it before.
Co-Creators Jude Henshall and Ellen Steele say, "We've toured all over the world with Windmill's early childhood works. Our experiences in shows like Grug are some of our most treasured as performers. The opportunity to create a puppeted Windmill work of our very own is a real honour. We can't wait to get everyone dancing and hiccupping along with us."
Artistic Director Rose Myers says, "Jude and Ellen are some of our favourite artists. Their work is always thoughtful, clever and packed with energy. Hiccup! is set to be a lateral and hilarious addition to our repertoire that I'm sure will have a long life on stages at home and abroad."
Hiccup! will be closely followed by the world premiere presentation of Creation Creation as part of Adelaide Festival Centre's DreamBIG Children's Festival in May, after it's 2020 season was postponed due to the COVID pandemic. Co-created by Jonathon Oxlade, Fleur Elise Noble, Rose Myers and documentary theatre-maker Roslyn Oades, the show uses the real-life testimonies of members of the Australian community to attempt to answer some of life's biggest mysteries.
Susannah Sweeney, Creative Producer of DreamBIG Children's Festival, says, "Creation Creationis a unique work that I'm thrilled to have as part of DreamBIG. Blending visual art, live sculpture, design, dance and mime, it's rare to find a work that combines cutting-edge performance art with so much heart and hilarity."
"After a year that has been filled with such division and isolation, it feels right to come back with Creation Creation," says Artistic Director Rose Myers, who is also directing the show. "At its core, the show is a celebration of diversity and all the wonderful differences that make our community great. This is a really different offering from Windmill and all of the artists involved have done a huge amount of work getting this ready for the stage. To be able come together in the theatre and finally put this show on is going to be a heap of fun."
In 2020, the COVID pandemic saw Windmill quickly pivot to digital programming and the creation of Windmill at Home. 2021 sees the company continue its digital output through the creation of Sun Runners, produced in collaboration with Perth-based company Audioplay. An immersive audio-drama work, Sun Runners plunges audiences headfirst into a race around the galaxy from the comfort of their own home.
Head of Creative and Co-Founder of Audioplay, Zoe Pepper, says, "Audioplay is all about using storytelling to get children and young people off of screens and completely immersed in imaginative play. We're thrilled to be collaborating with Rose and the talented team at Windmill."
The company is also returning to the South Australian regions with a tour of award-winning early childhood work, Beep, in collaboration with Country Arts SA. Created by Sam Haren, Katherine Fyffe and designer Jonathon Oxlade, Beep will perform for audiences in Murray Bridge, Elizabeth, Noarlunga, Goolwa, Port Pirie, Port Augusta, Whyalla and Orroroo from late August.
September sees Windmill's lauded Amphibian return to Adelaide Festival Centre following a national tour to venues across Canberra, New South Wales, Victoria and Tasmania. Written by Duncan Graham and directed by Sasha Zahra, Amphibian tells an epic story of loss and displacement based on real migration stories, similar to those of cultural consultants Elyas Alaviand photographer Muzafar Ali who worked on the show. The season will feature South Australian actor Rami Saaid in the role of Hassan.
Windmill rounds out the year with a Western Australian tour of beloved early childhood work, Grug. Based on Ted Prior's beloved picture book character, the show celebrated its tenth anniversary in 2020 with a sold-out season at Adelaide Festival Centre. Created by Sam Harenand Jonathon Oxlade, and featuring original composition by DJ TR!P, Grug has been performed to over 55,000 people all over the globe. The 2021 tour will mark the first time the show has toured to Western Australia.
---
By Anthony Nocera