About
A slightly sideways tale about unexpected friendship, finding where you fit and learning to mix it up a little.
In Mort's Village everything has its place, every day is the same and everyone likes it that way. Until one morning, crash, boom, bang… down comes Beep.
What is this annoying interruption to Mort's breakfast molly melon, who is this noisy robot girl, and how will she find her home?
With Windmill's trademark design, gentle storytelling, music and puppetry, Beep tells the story of what happens when someone new comes to town.
School Program
AGES

2 > 7

YEAR

ELC > year 3

35

mins

$12 per student / $10 equity

Contains the use of strobe lighting and haze effects.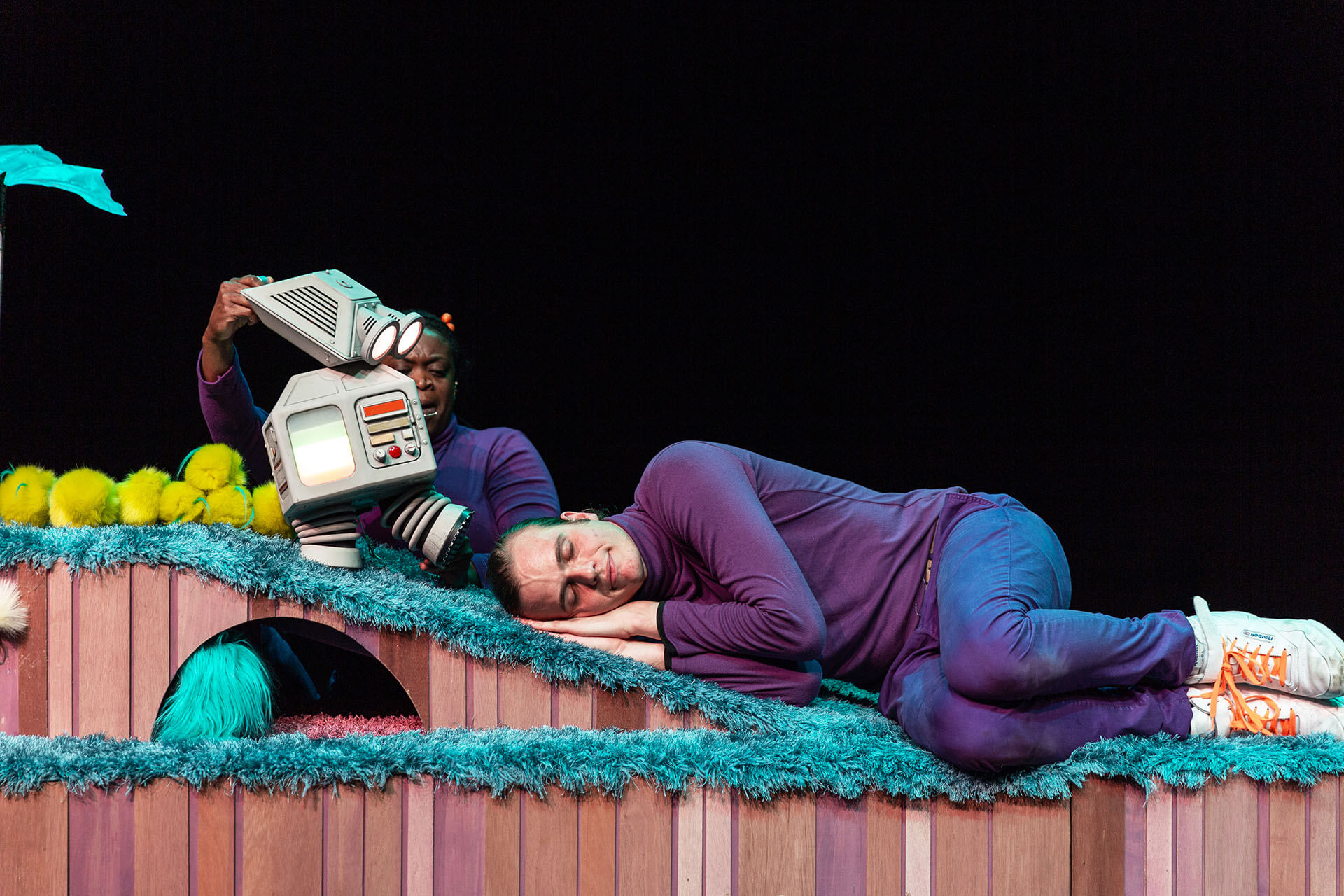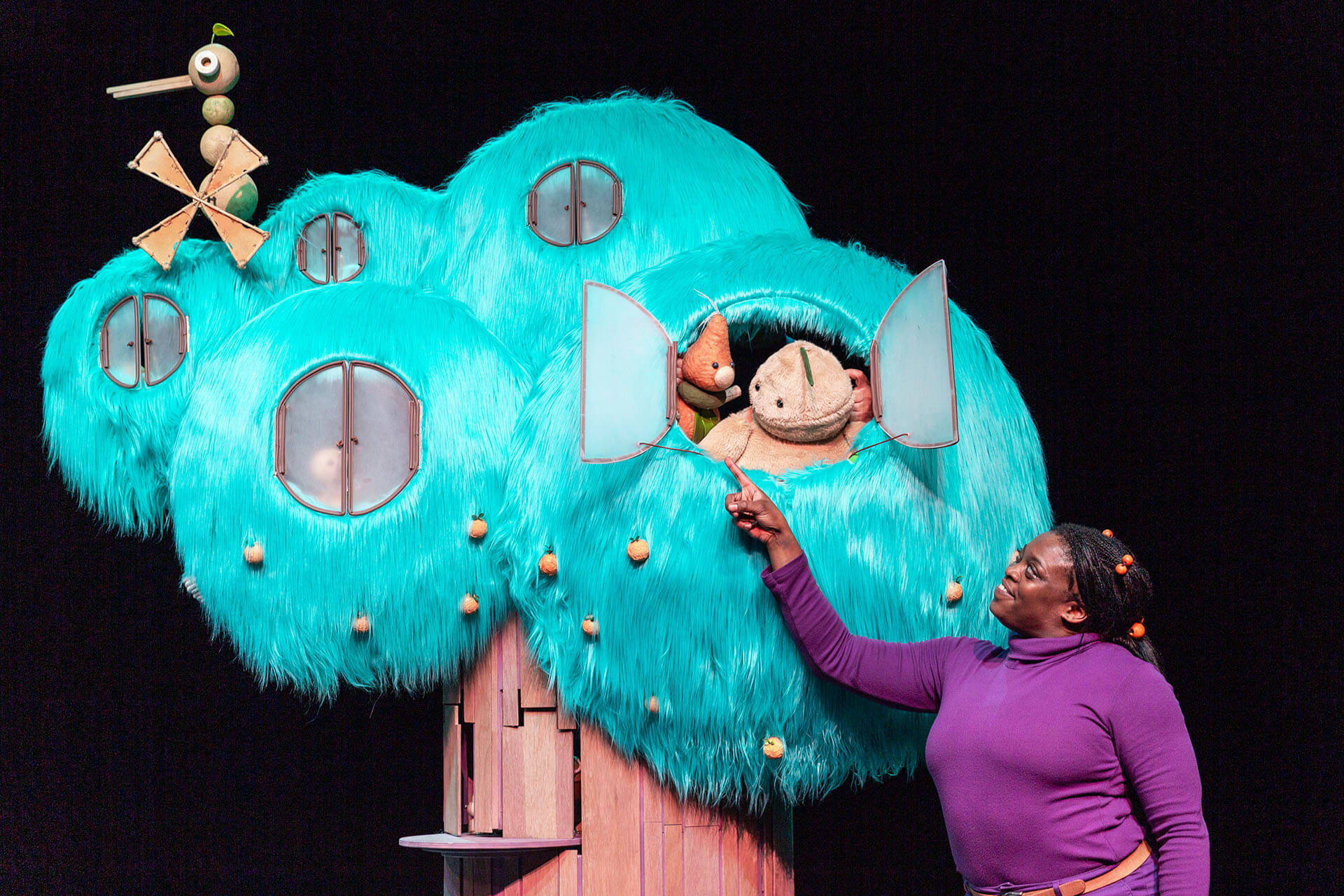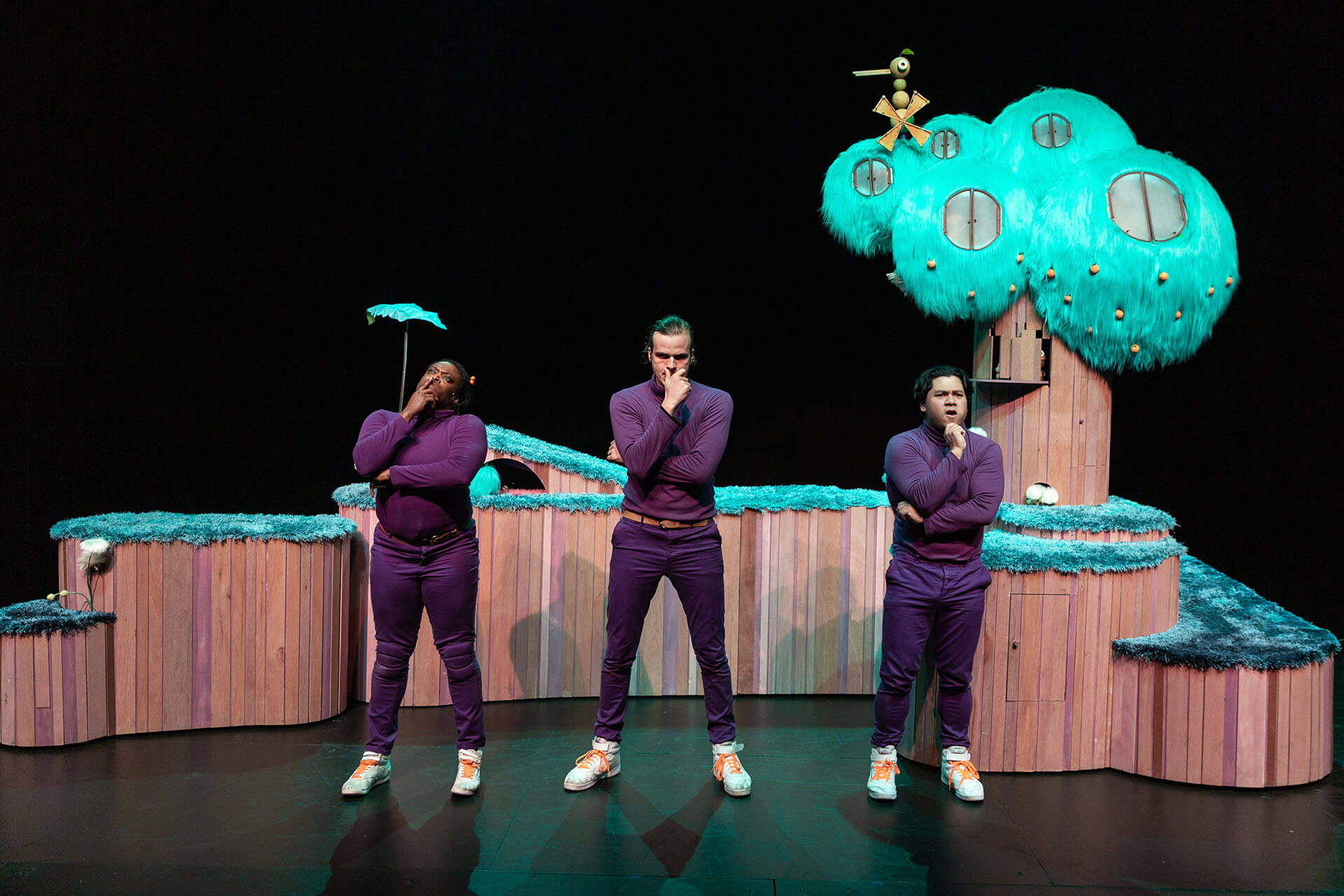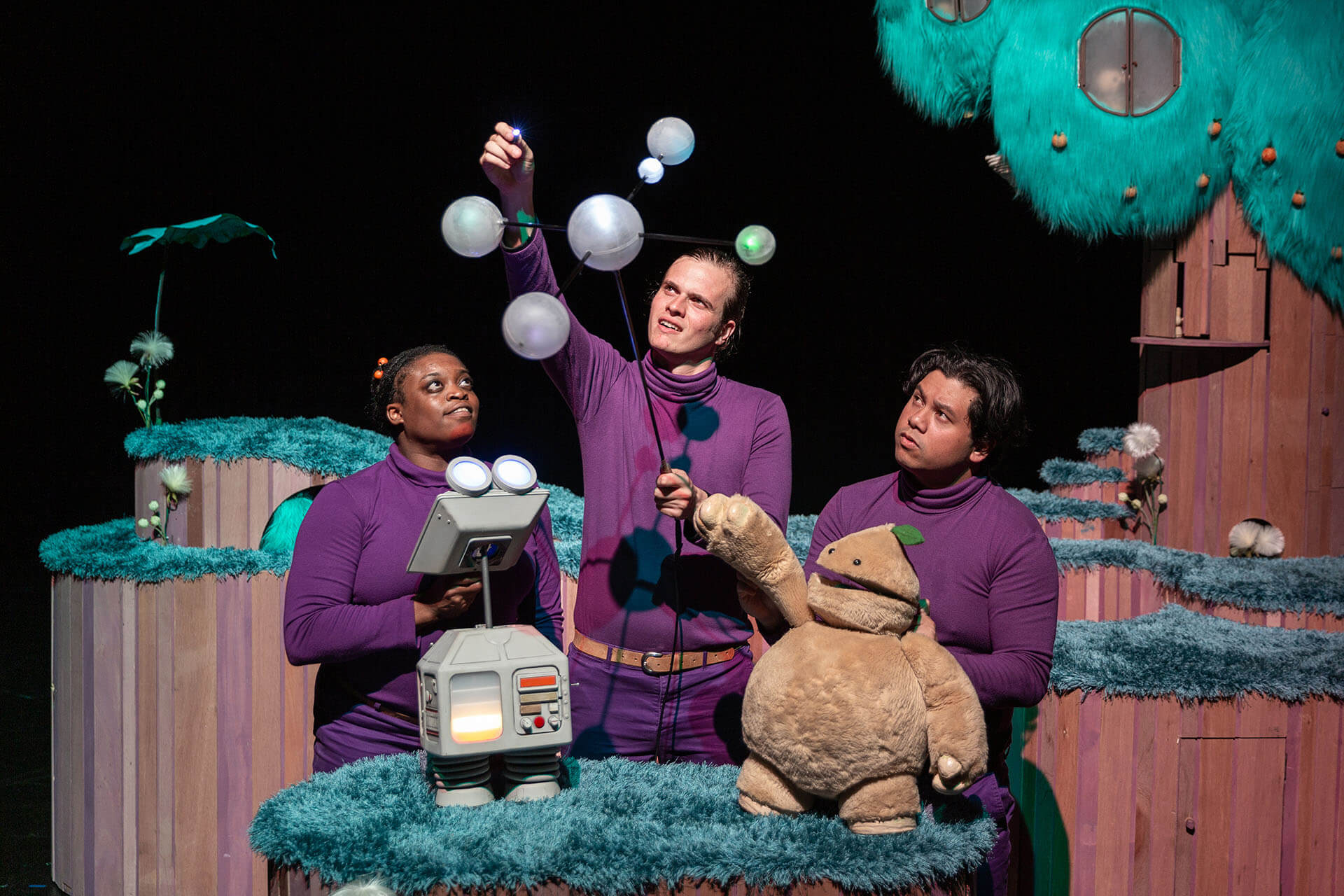 Meet the Cast and Creative Team
Sam Haren
Director, Co-Creator
Sam is a Creative Director of Sandpit, a company that create immersive, and interactive theatre and personal experiences. Sam was the Artistic Director of The Border Project from 2002-2012, directing or co-directing all of their work during that time.
He has co-directed Ghosts Toast and the Things Unsaid (Sandpit/ Google's Creative Lab), Eyes (Sandpit) and Skeleton with Larissa McGowan (Adelaide Festival 2013 & Dance Massive/Malthouse). Sam has worked with Australian Dance Theatre as a dramaturg and researcher. He was one of three international finalists for Rolex's Mentor and Protégé Initiative for a mentorship with Julie Taymor in 2006.
For Windmill Theatre Co, Sam has directed Plop!, Escape from Peligro Island, Grug and Grug and the Rainbow, as well as interactive experience My Room.
Jonathon Oxlade
Designer, Co-Creator
Jonathon has designed set and costumes for Queensland Theatre, LaBoite Theatre, isthisyours?, Aphids, Arena Theatre Company, Polyglot, The Real TV Project, Polytoxic, Men of Steel, Lemony S Puppet Theatre, Terrapin Puppet Theatre, Vitalstatistix and Barking Gecko.
He has also worked with Bell Shakespeare, The Border Project, State Theatre of South Australia, Dead Puppet Society, The Last Great Hunt, Sydney Theatre Company, The Escapists, Melbourne Theatre Company, Sandpit, Belvoir St Theatre and Windmill Theatre Co, where he is resident designer. Jonathon has received numerous awards. Most recently in 2016, Jonathon was awarded the Sidney Myer Creative Fellowship and received APDG awards for both Best Production Design and Best Costume Design for Girl Asleep, and received an AACTA award for best Costume for Girl Asleep.
In 2017, he received the Sydney Theatre Award for Best Costume Design for Mr Burns.
Katherine Fyffe
Writer, Co-Creator
Katherine graduated with Honours from Flinders Drama Centre, Adelaide in 2001. She was a founding member of The Border Project where she co-created and performed in a number of shows and also held the role of General Manager for 13 years.
She performed in I Am Not An Animal, I Animal, Trouble on Planet Earth, Highway Rock N Roll Disaster, Please Go Hop!, and Disappearance for the company. As a performer, Katherine has toured internationally in Afternoon of the Elves and The Green Sheep for Windmill, and performed in productions at STC, MTC, STCSA, Patch and Vitalstatistix. Recent writing credit Ghosts, Toast and the Things Unsaid for Sandpit and Google's Creative Lab won the 2016 Best Interactive Adelaide Fringe Award, and has since been adapted into a VR experience for ACMI. Katherine is currently General Manager at Polyglot Theatre.
Chris Petridis
Technical Designer
Chris completed his Technical Production course at the Adelaide Centre of the Arts. Since graduating, he has been working extensively and continuing to develop his experience across theatre, dance, and other live events both in Australia and overseas.
Chris has worked on State Theatre Company South Australia's Brothers Wreck, In The Club, Terrestrial, Mr Burns, Red Cross Letters, Eh Joefor the Beckett Tryptych, Gorgon, Masquerade,The Kreutzer Sonata, Maggie Stone and Little Bird, Slingsby Theatre Company's Songs for Those Who've Come Across the Seas, Emil and the Detectives, The Mouse, The Bird and the Sausage, Theatre Republic's Lines, Is This Yours' Angelique, Brink Productions' Long Tan, Tiny Bricks' Deluge plus many more. Chris also worked on If There was a Colour Darker than Black, I'd Wear It, a multimedia performance project for Country Arts SA. Chris has been the lighting designer for Windmill Theatre Co's Beep, Grug and the Rainbow, Big Bad Wolf and The Story Thieves.
Luke Smiles
Composer, Sound Designer
Luke creates highly detailed soundtracks for theatre, dance and film, working across all areas of music composition, sound design, foley and sound effects editing. His work is enjoyed by audiences both nationally and around the world.
Working under his business name motion laboratories, Luke has composed and produced soundtracks for many Australian and international artists & companies. Various credits include: Carbon Field (Queensland Ballet), ʻG' (Australian Dance Theatre), Glow (Chunky Move), Roadkill, The Ninth Wave (The Farm), Split Second Heroes (Gabrielle Nankivell), SURGE (Dancenorth), The Maids (Sydney Theatre Company), Wildebeest, Neon Aether (Sydney Dance Company), Fugitive, School Dance and Girl Asleep (Windmill Theatre Co).
Tamara Rewse
Puppet Maker, Puppet Consultancy
Tamara has worked in numerous areas of the performing arts since 1997 including as a Director, Devisor, Maker and Singer. She has toured both nationally and internationally. She has also worked as both a performer and puppeteer for numerous shows.
Her credits include Piccasso and his Dog (Lemony S), Mr Freezy (Arena Theatre Company), Grug, Grug and the Rainbow, Beep and Hiccup (Windmill Theatre Co), COOP (Black Hole Theatre) and Tangle, We Built this City, Paper Planet, Tangle Weave, Forest Feast (Polyglot Theatre). Tamara is also a member of Men of Steel and was involved in their self-titled debut work, Men of Steel as well as Hard Rubbish. Her skills include making props and puppets for film, television and theatre.
Matt Crook
Performer
Matt is a Flinders Drama Centre graduate, ensemble member of award-winning independent theatre company five.point.one and a Critics' Circle emerging artist of the year recipient. Matt has appeared in many productions for Windmill Theatre Co.
Rumpelstiltskin (co-produced with State Theatre Company South Australia [STCSA]), toured Grug through China and North America, including a one-month New York season in 2013, appeared in Grug and The Rainbow and The Girl Who Cried Wolf. Other highlights include Volpone (Or The Fox), Between Two Waves, Babyteeth, Pornography and The Give And Take (STCSA), The Front (Adelaide Cabaret Festival), Once Upon a Midnight (OzAsia Festival), The Bureau of Complaints (AJZ Productions), No Hello (Duende), Van Badham's Notoriously Yours, The Lake, The Share and That Face (five.point.one).
Most recently, Matt starred in Australian film Top End Wedding. 
Antoine Jelk
Performer
Since his graduation from Flinders Drama Centre in 2014, Antoine has had the privilege of working with companies from all tiers of the Adelaide Theatre industry.
His credits include Tartuffe and Long Tan by State Theatre Company and Brink Productions, Deluge the premiere work by Tiny Bricks for the Adelaide Festival, Schmidt by Back Porch Productions, Eurydice by Foul Play Theatre, Eyes by Sandpit , Beep by Windmill Theatre Co, and Yo Diddle Diddle by Patch. Antoine most recently performed in A View From The Bridge with State Theatre Company SA and looks forward to touring with Beep again next year in Canada and the US.
Kidaan Zelleke
Performer
Kidaan Zelleke is a multi-talent actor, who works in both stage and screen. she embraces all facets of acting including self-devised work. Having graduated from AC Arts in 2018, she's looking forward to embracing her role as Beep and honing her puppetry stagecraft skills.
While training at the Adelaide College Arts Kidaan has played roles including Brutus in Julius Caesar directed by Nick Garsden, Lady Capulet in Nescha Jelk's modern adaptation of Romeo and Juliet and Cathy in DNA directed by Corey McMahon. Kidaan also demonstrated her singing versatility as Marie in the Tom Wait's Musical Woyzeck directed by Jon Halpin. Following on from her graduation she and five other women devised the Adelaide Fringe show, Rosencrantz and Guildenstern Are, a comedic exploration into the dark thoughts of actors during a performance of Hamlet. Kidaan is excited to be touring Windmill's Beep.
Credits
Director, Co-Creator Sam Haren
Designer, Co-Creator Jonathon Oxlade
Writer, Co-Creator Katherine Fyffe
Technical Designer Chris Petridis
Composer, Sound Designer Luke Smiles
Puppet Maker, Puppet Consultancy Tamara Rewse
Performer Matt Crook
Performer Antoine Jelk
Performer Kidaan Zelleke