Welcome to Season 2024
TARDIGRADES TAKE THE STAGE IN WINDMILL THEATRE COMPANY'S 2024 SEASON
A myth-busting duo return to the stage, an iconic character hits the road, and a world premiere about planet Earth's most unlikely action movie heroes are all in store of Clare Watson's first season as Artistic Director of Windmill Theatre Company.
"I've been a huge fan of Windmill for a long time," says Watson, "It's a thrill and an honour to join the stellar team at an evolutionary moment in Windmill's history, and to see our stories travelling across Australia."
The season begins with a return season of documentary theatre work Creation Creation at Adelaide Festival Centre. Co-created by Rosemary Myers, Jonathon Oxlade, Fleur Elise Noble and Roslyn Oades, the show sees two fearless creators use every tool at their disposal to answer a series of burning questions posed by the general public in an explosion of art, dance, puppetry, and sculpture that takes audiences to the very edge of the universe.
In celebration of the 45th anniversary of Ted Prior's iconic picture book, the award-winning early childhood work Grug will head out on a tour of eight venues across regional South Australia before embarking on an epic national tour.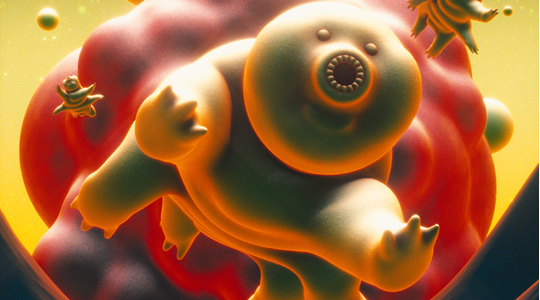 In October, the company will stage the world premiere of Clare Watson's Moss Piglet, a live-action-action-movie about indestructible microscopic critters, tardigrades. Moss Piglet will take audiences on an explosive journey inside volcanoes, to freezing arctic glaciers and into jelly-filled petri dishes to create a thrilling portrait of the world's smallest and most resilient creatures in collaboration with artists Meg Wilson, Gareth Davies, and Elena Carapetis.
"Tardigrades are mind-blowingly amazing little creatures – a bit cute, a bit icky and completely kick-arse." says Watson, "They're known to some as Moss Piglets and to others as Water Bears… some of them even have hot pink radiation forcefields. Strong and stylish!
"I can't wait to get creating with some amazing collaborators and to make a show that promises to be as weird and wild as Tardigrades themselves."
Additionally, Bluey's Big Play will continue its mammoth international touring schedule. Presented by BBC Studios and Andrew Kay and Associates in association with Queensland Performing Arts Centre and Windmill, the lauded adaptation will perform across the United States, Canada, and the United Kingdom and Ireland, as well as a special return presentation in Brisbane throughout 2024.
"It's a super exciting time for the company, with work traveling to venues all over Australia and the globe," says Executive Director Ross McHenry, "we're thrilled to welcome Clare to the Windmill team and see what stories we'll make together with the artists of South Australia."
Windmill Pictures, a dedicated screen arm that runs alongside Windmill Theatre Company, will continue to develop film and television projects, with the second series of the company's live-action puppet series, Beep and Mort, screening on ABC Kids and ABC iView in Australia. The series also screens on SKY UK, with more territories to be announced in the new year.
-ENDS-
---
By Anthony Nocera