About
Chloe and Hassan are sent out of class under suspicion for stealing money while feeding the class axolotl. As the unlikely pair work out who's responsible, Chloe hears the heartbreaking story of an Afghan boy who has travelled alone, across land and sea, for a better life.
Based on the real-life testimonies of refugees, Amphibian sees past, present and dreams collide in an epic story of displacement, loss and adapting to different worlds.
Poignant, powerful and bubbling with humour, Amphibian is sparkling teen drama that brings one of the most urgent issues of our time roaring onto the stage.

School Program
AGES

12+

YEAR

7 - 12

55

mins

$15 per student / $10 equity
Transaction fees apply.

Adult themes and the use of theatrical haze
Meet the Cast and Creative Team
Duncan Graham
Writer
Duncan is a multi award winning writer and director for theatre, TV and film. His plays have been produced by companies including Sydney Theatre Company, Melbourne Theatre Company, State Theatre Company of South Australia, Melbourne Festival, Belvoir, Malthouse Theatre and Windmill Theatre Co.
His credits include Black Crow Lullabies; One Long Night in the Land of Nod; Ollie and the Minotaur; Cut; The Love Play; No Exit from the Roof; Half-Real; The Highway Crossing; Ready or Not; Wolf Lullaby; Dreams in White; The Myth Project – Twin; Red Ink; Please Continue; Creditors; The Jungle and Prodigal Jones.
Duncan's play, Dreams in White is optioned by Madman Productions and he is currently under commission to write the screenplay, White. His TV series, Southend is currently in development with Academy Award-winning producer, Peter Lawson and SA Film Corporation.
Sasha Zahra
Director
Sasha has worked in numerous areas across the performing arts industry in Australia and overseas in the past 25 years. She has been the Artistic Director of D'Faces of Youth Arts, Kurrruru Youth Performing Arts and Associate Artistic Director of the Come Out Festival. She was the Creative Producer of Adelaide Fringe (2009 – 2014), the co-program director for the Royal Croquet Club in Adelaide (2015 – 2018), co-director of the Stirling Fringe (2017, 2018 & 2019) and a producer for Briefs Factory and Hot Brown Honey (2014 & 2015). Sasha has worked extensively with Vanuatu's Wan Smolbag Theatre (producing three international theatre festivals for the company in 2009, 2014 and 2019) with Aboriginal and Torres Strait Islander artists and communities and as a producer with independent artists and companies across Australia and internationally.
More recently Sasha was the Executive Producer of the Opening and Closing Ceremonies for the mini–Pacific Games (Dec 2017), directed & co directed numerous shows for the 2018 & 2019 Adelaide Cabaret Festival, directed Amphibian for Windmill (2018). Co-ordinated a women's gathering in celebration of the 30-year anniversary (Nov 2018) of Mura Kosker Sorority in the Torres Strait (Thursday Island) and directed Rebecca Meston's Drive for Theatre Works in Melbourne (Jun/July 2019), co-produced the third Vanuatu Theatre Festival for Wan Smolbag Theatre (Jul 2019) and was a producer of the Remote Indigenous Media Festival & Torres Strait Performing Arts Festival on Thursday Island (Sep 2019). In 2019 Sasha worked as Creative Producer – Performance and Events at Tandanya National Cultural Institute. In 2021 she was appointed as Associate Director of Windmill Theatre.
Meg Wilson
Designer
Meg Wilson is an Adelaide-based interdisciplinary artist and designer whose practice has spanned installation, performance and set, lighting and costume design.
Recently she has designed set and costume with State Theatre Company of South Australia on Terrestrial (2018), Euphoria (2021), Eureka Day (2021) and Windmill Theatre Company's Amphibian (2018) and works extensively with Vitalstatistix, Patch Theatre (Lighthouse, AF 2020) and Restless Dance Theatre, for whom she designed the 2018 Adelaide Festival production of Intimate Space and Guttered in 2021. 
Meg premiered performance work SQUASH! with Arts House during the Festival of Live Art (FOLA, 2018) and has exhibited independently with Contemporary Art Centre SA (2015), BLINDSIDE, VIC; Constance ARI, TAS; Nexus Arts and FELTspace. She has created public projects for FELTspace (2014), Open Space Contemporary Arts (OSCA) (2017), and curated a public program for ACE Open (2019). In 2018 she was a resident artist with Urban Theatre Projects (NSW), hand-weaving trampolines for production Right Here. Right Now. Meg was awarded the 2019 Green Room Award for Contemporary and Experimental Performance (Innovation in Durational Performance), for SQUASH!
Ian Moorhead
Composer, Sound Designer
Ian is an artist specialising in music composition and sound design for theatre, dance, film and radio. He has performed around Australia and internationally, including New York, London, Edinburgh, Dublin, Wellington, Calgary and Vancouver.
He has worked with numerous companies, including Malthouse Theatre, Melbourne Theatre Company, State Theatre Company South Australia, New Working Group, Back to Back Theatre, Red Stitch Actors Theatre, Dee and Cornelius, Windmill Theatre Co, Barking Gecko, Leigh Warren and Dancers, Patch Theatre Company, Restless Dance Theatre, Vitalstatistix, NICA, Arts Centre Melbourne, the Australian Festival for Young People, Underbelly Arts Festival, FOLA, Big West Festival, Museum Victoria, the Australian Museum and ABC Radio.
He has been nominated for two Green Room Awards for his designs for Jurassica (Red Stitch Actors Theatre in 2016) and for Looking Glass (New Working Group in 2018). He co-directed the dance film Blowfish, which was highly commended at the Dendy Awards, Sydney Film Festival and nominated Best Dance Film at the Australian Dance Awards and the Reel Dance Awards.  He has also produced two original solo albums, Before Winter Sets In and Pendulum.
Mark Pennington
Lighting, Audio Visual Designer
Mark's lighting credits include Prince of Darkness and Bernstein Mass (Adelaide Festival), Proximity, Worldhood and Ignition (Australian Dance Theatre), The Buried Child, Mnemonic, The Price and November (State Theatre Company South Australia).
He has also done the lighting for Blackbird, True West, Assassins and The Birthday Party (Flying Penguin Productions), Ruby Bruise (Viatlstatistix).
Mark has worked extensively with Sydney Theatre Company, lighting productions such as Holy Day, Mr Kolpert, The 7 Stages of Grieving and many others. Mark has also lit productions for Ensemble Theatre, Brink Productions, Leigh Warren and Dancers, Bell Shakespeare, Magpie 2, Kitchen Sink and the Productions, The Fever and The Lieutenant of Inishmore for Company B. Mark lit Helly's Magic Cup for Windmill Theatre Co.
Muzafar Ali
Cultural Consultant
Muzafar Ali is a former refugee from Afghanistan currently living in Adelaide.
At the age of 19, he started working for the United Nations in Afghanistan to coordinate disarmament of local warlords, and worked as a political and human rights analyst. During his work with the UN, Muzafar was threatened by the warlords and corrupt government officials. He survived many life-threatening incidents which led to him to fleeing Afghanistan with his family.
Taking advantage of his work with the UN, Muzafar took photographs of Afghanistan's remote valleys and people which had never been photographed by contemporary photographers before. His photos have been exhibited in Afghanistan, Korea, Australia, Canada, United States and Holland.
In Indonesia, Muzafar led other refugees to establish Cisarua Refugee Learning Centre, the refugee school in West Java. Muzafar is a co-producer and co-writer of the film, The Staging Post, which focuses on refugee life in Indonesia.
Elyas Alavi
Cultural Consultant
Elyas Alavi is an award winning visual artist and poet based in Adelaide, South Australia. He primarily works in the forms of painting, installation, video art and performance art.
Elyas graduated with a Master of Research (Visual Arts) from University of South Australia in 2015 and a Bachelor of Visual Arts (Honours) in 2012. He has exhibited nationally and internationally in art spaces including Mohsen Gallery (Tehran), IFA Gallery (Kabul), Blacktown Art Centre (Sydney), Jugglers Art Space (Brisbane), SASA Gallery and Fontanelle Gallery (Adelaide).
Elyas is also an internationally renowned poet. He published three poetry books in Persian/Farsi language. First poetry book "I'm a daydreamer wolf" published in 2008 (5th edition published in 2016), in Tehran, followed by "Some Wounds" in 2012 in Kabul and "Hodood" in 2015 in Tehran.
Elyas regularly runs art and poetry workshops in schools and community centres in Adelaide.
Rami Saaid
Actor
Budding artist Rami Saaid started his performing career in late 2018. Debuting as the voice of "Doctor Saif", lead mascot of Qatar-based theme park, Juniverse, Rami has also provided voicework in various dialects of Arabic to Pine Gap. He has worked with ActNow Theatre as an actor in the 2019 short play Jum'ah, donning the role of "Musa". Jum'ah piloted in various schools around South Australia and is set to tour the country in 2021. Rami also lent his acting abilities to the State Theatre Company of South Australia during the production of DeCameron 2.0 in 2020, appearing in two monologues. 
Julia Vosnakis
Actor
Julia is a graduate of Flinders University Drama Centre. While studying she performed in Anatomy of a Suicide (Dir. David Mealor), Pornography (Dir. Corey McMahon),  Di & Viv & Rose (Dir. Tom Healey),  Top Girls (Dir. David Mealor),  Testosterone (Dir. Teddy Dunn), and The Shape of Things (Dir. Tiffany Lyndall – Knight). With a strong passion and appreciation for storytelling, Julia wishes to tell stories about her Greek migrant heritage to help forge a path for future young ethnic women in the creative industries. Amphibian will be her professional theatre debut.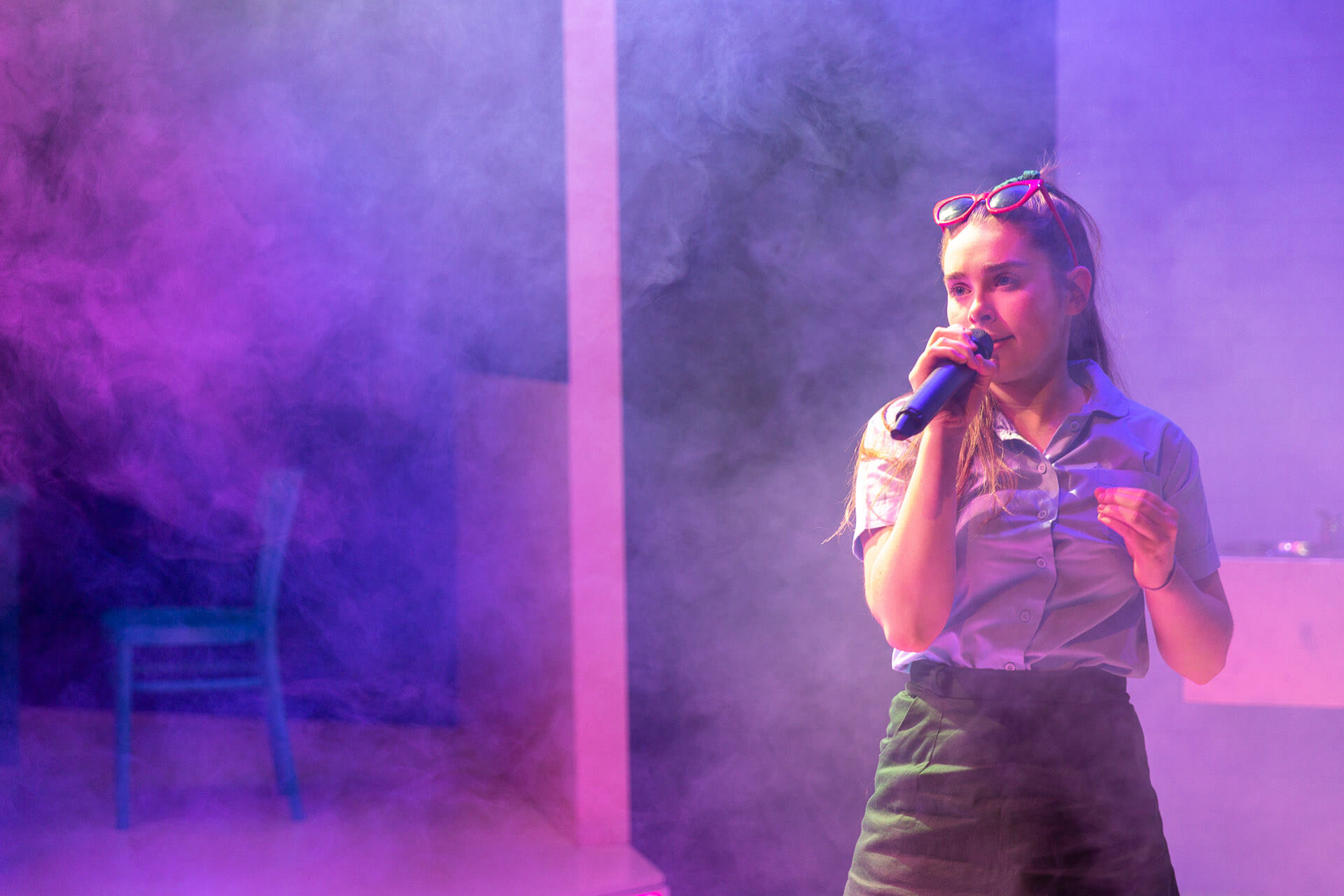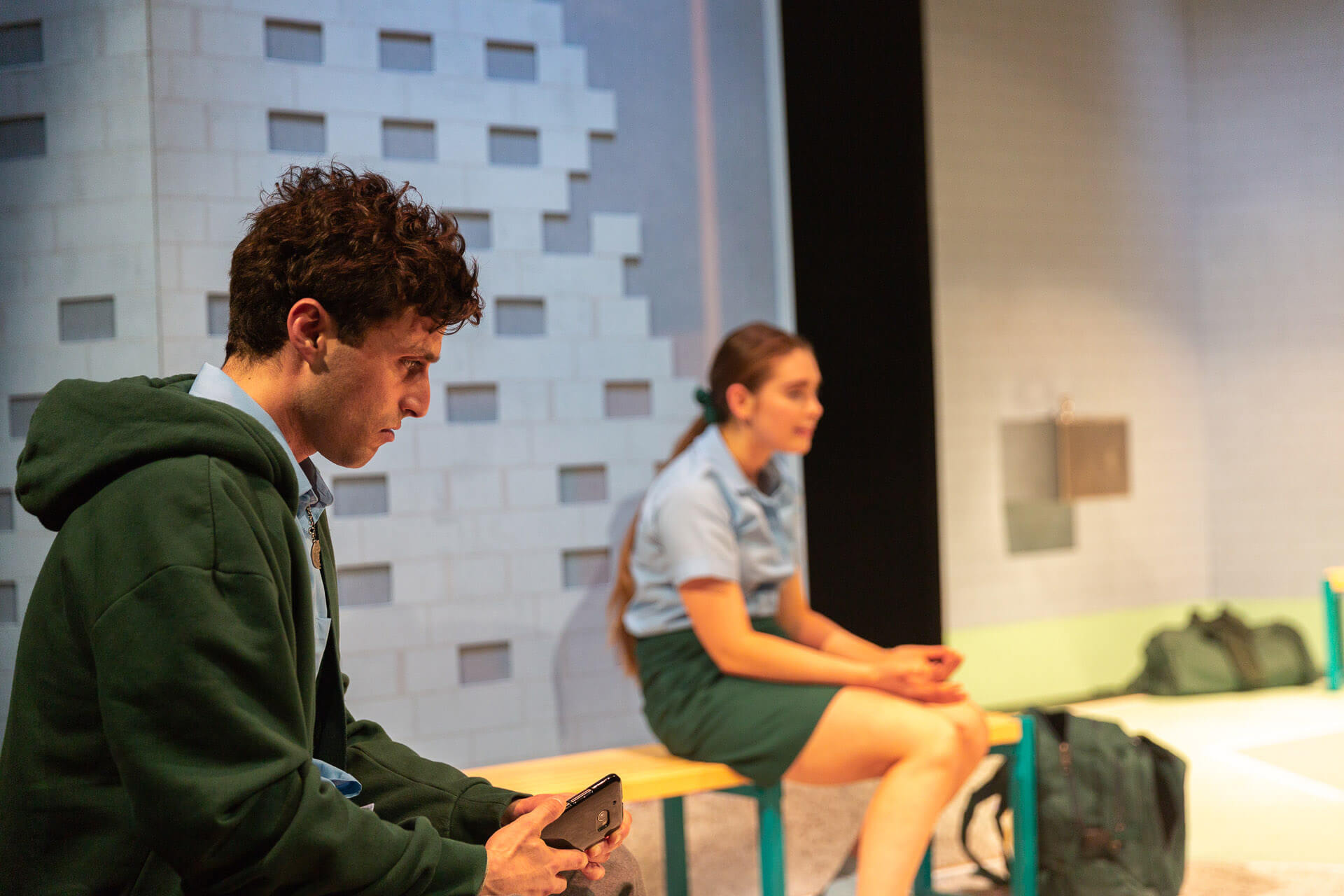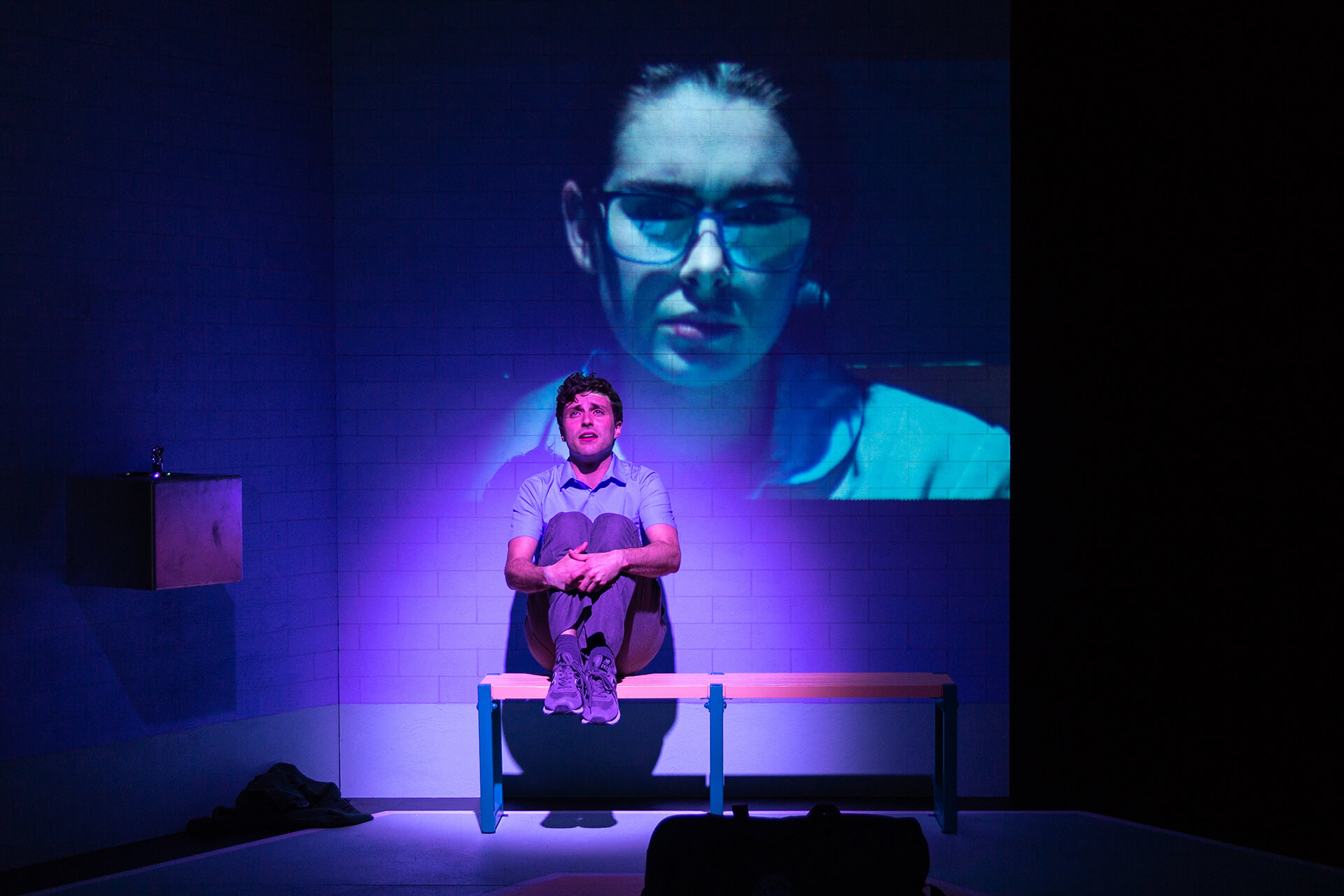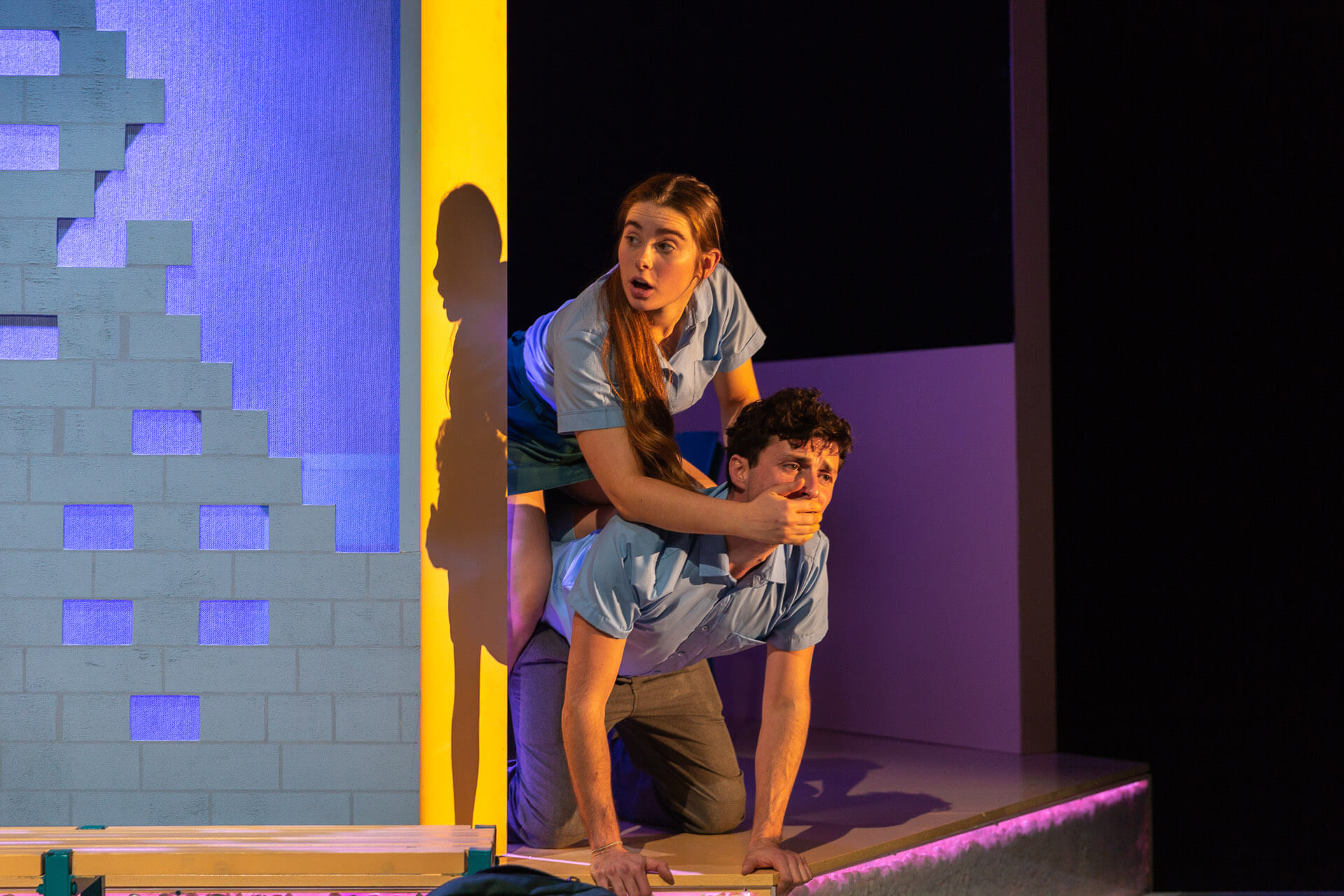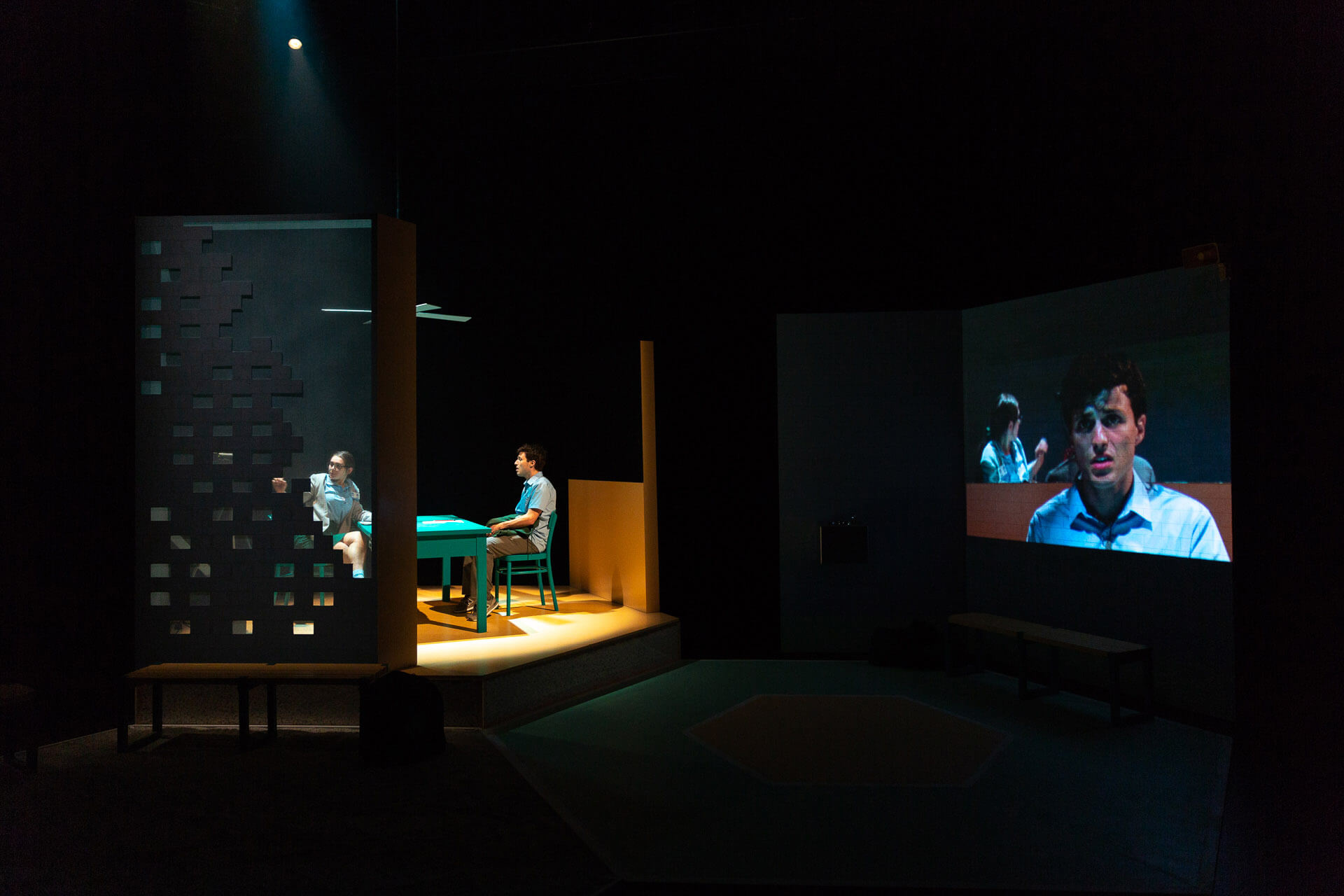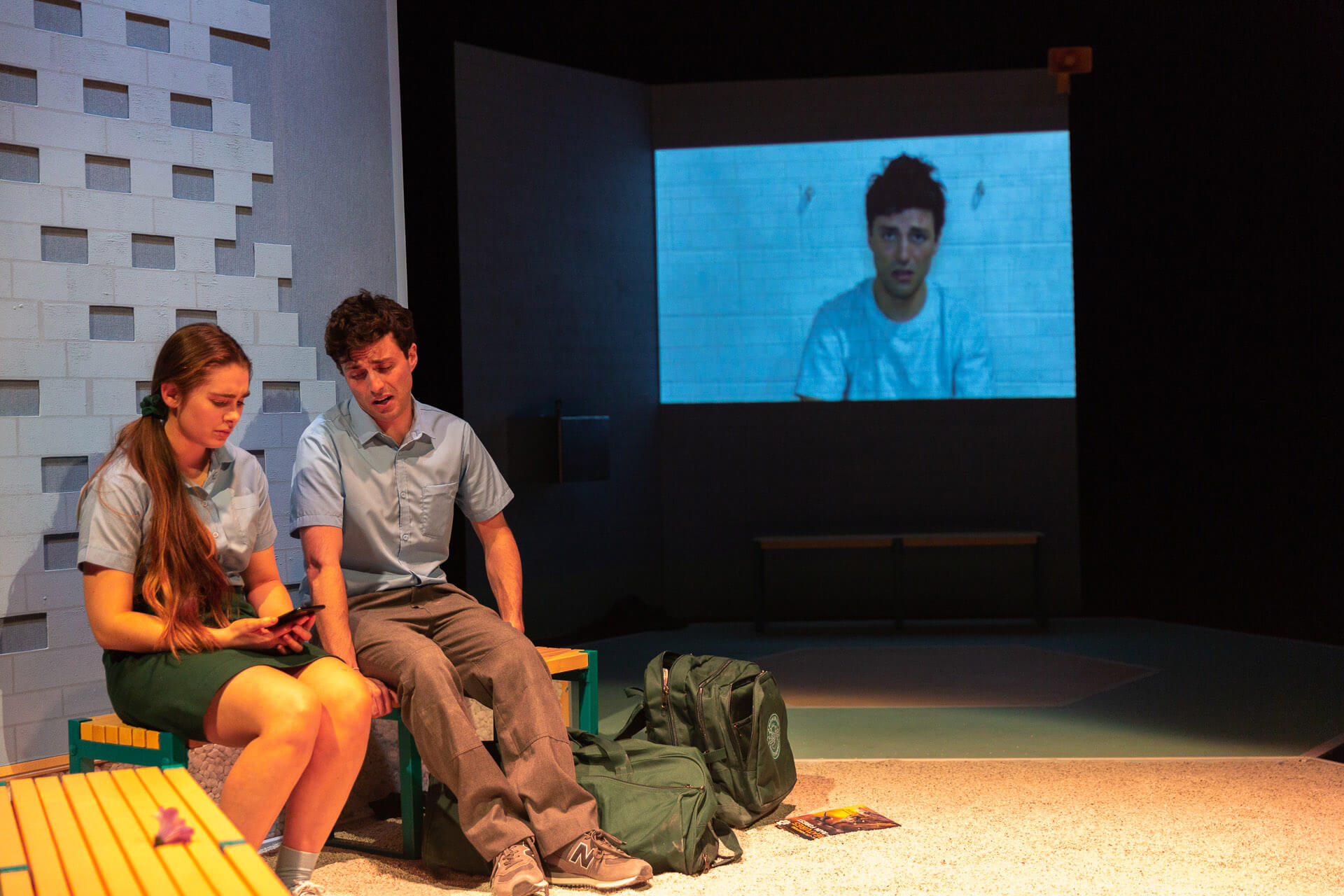 Credits
Writer Duncan Graham
Director Sasha Zahra
Designer Meg Wilson
Composer, Sound Designer Ian Moorhead
Lighting, Audio Visual Designer Mark Pennington
Cultural Consultant Muzafar Ali
Cultural Consultant Elyas Alavi
Hassan Rami Saaid
Chloe Julia Vosnakis