About
Grug began his life as the top of a Burrawang tree that fell to the ground. Resembling a small, striped haystack with feet and a nose, Grug is fascinated by the world around him and solves everyday problems creatively and without fuss.
When dancing instructions are too difficult to understand, he invents his own dance and calls it 'The Grug'. When snails eat his cabbages, Grug plants more cabbages so there will be enough for both him and the snails.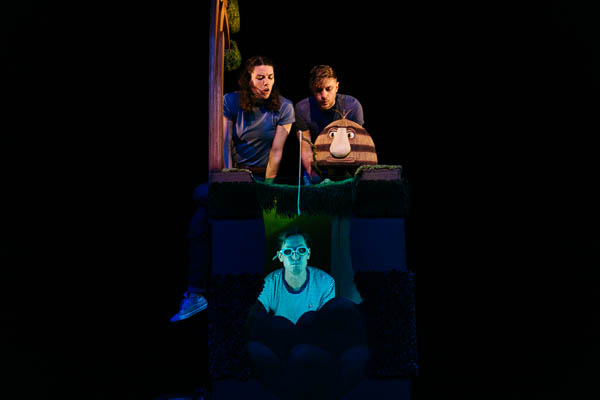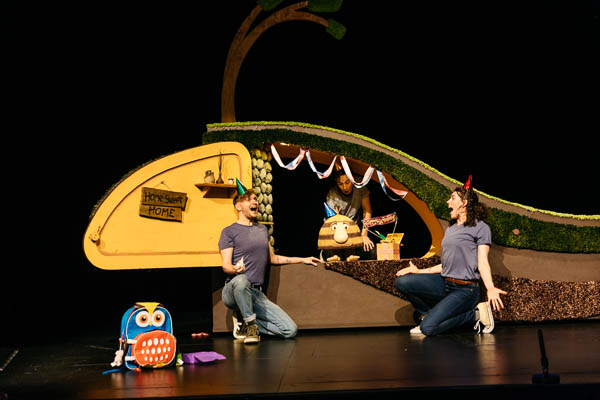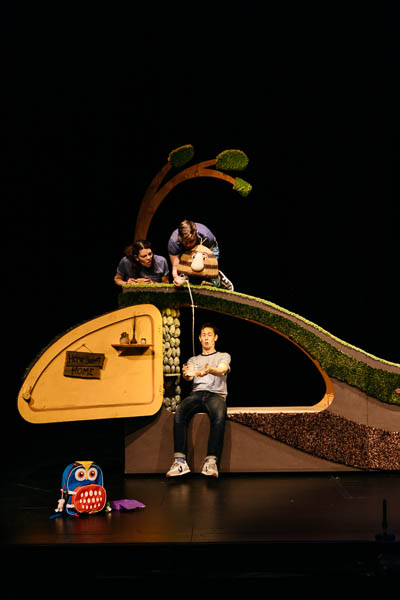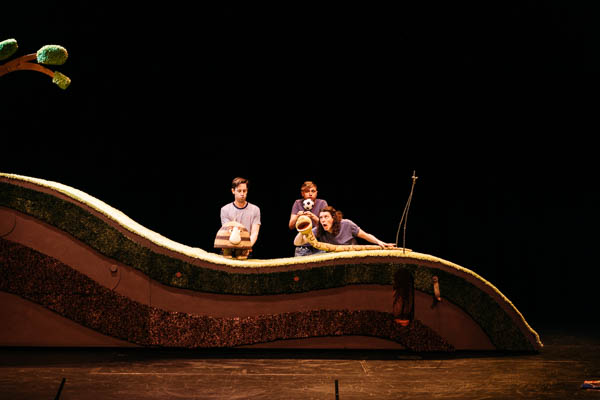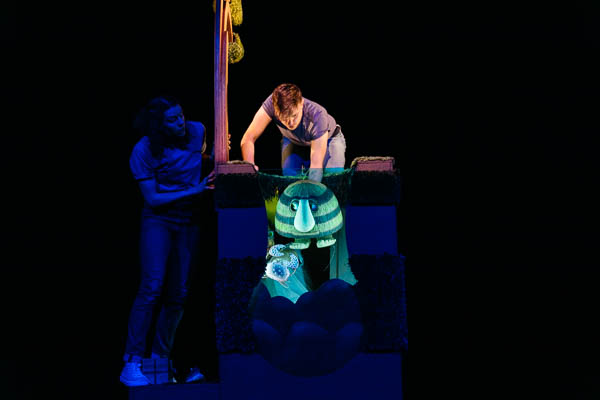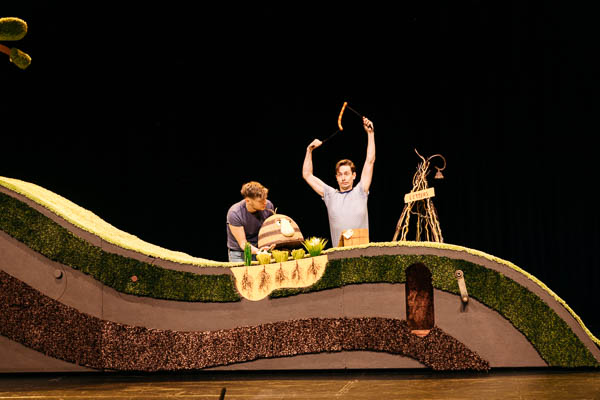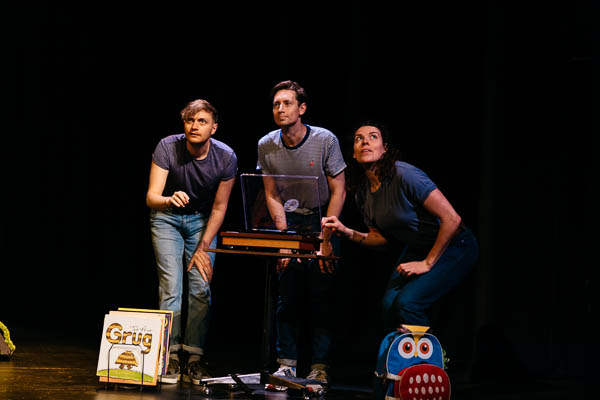 Meet the Cast and Creative Team
Sam Haren
Director
Sam is a Creative Director of Sandpit, a company that create immersive, and interactive theatre and personal experiences. Sam was the Artistic Director of The Border Project from 2002-2012, directing or co-directing all of their work during that time.
He has co-directed Ghosts Toast and the Things Unsaid (Sandpit/ Google's Creative Lab), Eyes (Sandpit) and Skeleton with Larissa McGowan (Adelaide Festival 2013 & Dance Massive/Malthouse). Sam has worked with Australian Dance Theatre as a dramaturg and researcher. He was one of three international finalists for Rolex's Mentor and Protégé Initiative for a mentorship with Julie Taymor in 2006.
For Windmill Theatre Co, Sam has directed Plop!, Escape from Peligro Island, Grug and Grug and the Rainbow, as well as interactive experience My Room.
Jonathon Oxlade
Designer
Jonathon has designed set and costumes for Queensland Theatre, LaBoite Theatre, isthisyours?, Aphids, Arena Theatre Company, Polyglot, The Real TV Project, Polytoxic, Men of Steel, Lemony S Puppet Theatre, Terrapin Puppet Theatre, Vitalstatistix and Barking Gecko.
He has also worked with Bell Shakespeare, The Border Project, State Theatre of South Australia, Dead Puppet Society, The Last Great Hunt, Sydney Theatre Company, The Escapists, Melbourne Theatre Company, Sandpit, Belvoir St Theatre and Windmill Theatre Co, where he is resident designer. Jonathon has received numerous awards. Most recently in 2016, Jonathon was awarded the Sidney Myer Creative Fellowship and received APDG awards for both Best Production Design and Best Costume Design for Girl Asleep, and received an AACTA award for best Costume for Girl Asleep.
In 2017, he received the Sydney Theatre Award for Best Costume Design for Mr Burns.
DJ TR!P
Composer
DJ TR!P is a multi-award winning producer, composer and performer of electronic music. Over a career spanning 20 years he has built an impressive repertoire of live compositions for his club sets, a variety of high profile events and productions. These include contemporary theatre, dance and film productions, as well as for festival openings, launches and major cultural events.
He has played live at numerous national and international venues, festivals and events including The New Victory Theater (42nd St, New York), Pittsburgh International Children's Festival, The Tank (New York), State Theater (New Jersey), Super Deluxe (Tokyo), Game On (from the Barbican Art Gallery), MONA FOMA, Adelaide's New Years Eve's Fireworks Countdown, DARK MOFO, The Famous Spielgeltent, Ten Days On The Island, Sydney Opera House, WOMADelaide, Adelaide Festival, Big Day Out, ACMI, Federation Square (New Years Eve), Brisbane Powerhouse, Falls Festival and many more. DJ TR!P worked with Windmill Theatre Co previously as the composer for their shows Plop! and Grug.
Tamara Rewse
Tamara has worked in numerous areas of the performing arts since 1997 including as a Director, Devisor, Maker and Singer. She has toured both nationally and internationally. She has also worked as both a performer and puppeteer for numerous shows.
Her credits include Piccasso and his Dog (Lemony S), Mr Freezy (Arena Theatre Company), Grug, Grug and the Rainbow, Beep and Hiccup (Windmill Theatre Co), COOP (Black Hole Theatre) and Tangle, We Built this City, Paper Planet, Tangle Weave, Forest Feast (Polyglot Theatre). Tamara is also a member of Men of Steel and was involved in their self-titled debut work, Men of Steel as well as Hard Rubbish. Her skills include making props and puppets for film, television and theatre.
Matt Crook
Performer
Matt is a Flinders Drama Centre graduate, ensemble member of award-winning independent theatre company five.point.one and a Critics' Circle emerging artist of the year recipient. Matt has appeared in many productions for Windmill Theatre Co.
Rumpelstiltskin (co-produced with State Theatre Company South Australia [STCSA]), toured Grug through China and North America, including a one-month New York season in 2013, appeared in Grug and The Rainbow and The Girl Who Cried Wolf. Other highlights include Volpone (Or The Fox), Between Two Waves, Babyteeth, Pornography and The Give And Take (STCSA), The Front (Adelaide Cabaret Festival), Once Upon a Midnight (OzAsia Festival), The Bureau of Complaints (AJZ Productions), No Hello (Duende), Van Badham's Notoriously Yours, The Lake, The Share and That Face (five.point.one).
Most recently, Matt starred in Australian film Top End Wedding. 
Tim Overton
Performer
Tim is a proud South Australian maker, performer and director.
His other family theatre credits include local, regional and international tours with renowned South Australian children's theatre companies, Patch (Emily Love To Bounce, Mr McGee And The Biting Flee, Cranky Bear, Me And My Shadow – 2017 Helpmann Award for Best Children's Presentation), and Slingsby (The Young King – 2017 IPAY Victor Award for Best Presentation, Emil And The Detectives – 2017 Helpmann Award for Best Children's Presentation). Tim has also worked with State Theatre Company of South Australia (The 39 Steps, The Popular Mechanicals, The Complete Works of William Shakespeare (abridged) and Vitalstatistix (Life Is Short And Long).
His film and TV credits include the SBS hit comedy Danger 5 and The History Channel's Changed Forever. Tim recently directed a production of Patch's Mr McGee And The Biting Flea at Capital E National Theatre for Children in New Zealand.
Zoë Dunwoodie
Performer
Zoë began dancing at the age of five in Mona Vale, NSW and continued throughout her school education. After achieving her Higher School Certificate, she studied for three years at the New Zealand School of Dance graduating with a Diploma in Dance Performance in 2011.
In 2012, Zoë moved to Adelaide to work for Australian Dance Theatre and has since created, performed and toured works by Artistic Director Garry Stewart nationally and internationally.
Zoë's involvement in the performing arts industry has also lead to performing alongside renowned dramatic artists and institutions including NIDA and actresses Cate Blanchett and Yvonne Strahovski.
Credits
Director Sam Haren
Designer Jonathon Oxlade
Composer DJ TR!P
Puppet-maker and Consultant Tamara Rewse
Performer Matt Crook
Performer Tim Overton
Performer Zoë Dunwoodie
Acknowledgements
Grug is a Windmill Theatre Company production. Originally produced in association with Queensland Performing Arts Centre's Out of the Box Festival.