Matt's Grug and the Rainbow Tour Blog Part I – Washington to Canada
While on tour with our loveable superstar Grug, performer Matt Crook will be penning a tour blog to keep you up-to-date on all things Grug and the Rainbow in North America. Check it out below.
Week One: Washington DC, USA
We're back on tour with Grug and The Rainbow and back in North America. It's good to be back but it sure is cold! I miss summer already.
We took off from Adelaide and travelled through Sydney and Dallas before eventually arriving in Washington DC. We met our lovely Stage Manager, Jo at the airport then checked in and settled in our apartments. The whole tour company dived into some Mexican to warm us up and it was off to bed.
And what a difference one night made!
The following day it was sunshine and clear skies; it was like we hadn't left. Sam, Ellen, Nathan and I made our way through Washington's beautiful parklands, towards the Lincoln Memorial and Washington Monument. We also made our way past The White House and Marine Corps War Memorial. It's moments like these when you have to pinch yourself.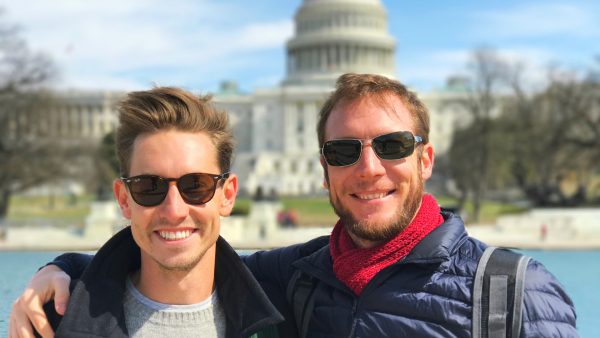 Then it was into our first day of rehearsals for the show at The Kennedy Centre; a big, beautiful building filled with beautiful theatres and rehearsal spaces for artists. We're feeling very lucky to be here! Engraved on the walls are excerpts from some of JFK's most famous speeches, still universally relevant almost 60 years later. There were some that particularly spoke to me:
"This country cannot afford to be materially rich and spiritually poor."
"To further the appreciation of culture among all the people. To increase respect for the creative individual, to widen participation by all the processes and fulfillments of art — this is one of the fascinating challenges of these days.
We're looking forward to finally hitting the stage later this week…but not looking forward to the impending snowstorm. So much for sunshine and clear skies! In between shows, I'm heading out on an adventure towards Congress and hitting up some museums. It's free to go to the Smithsonian Galleries and Museums, but I'm most excited about the National History museum which houses the Seinfeld Puffy Shirt and the original Bert and Ernie puppets.
Until next time,
Matt
_
Week Two (Part One): St Catharines, Canada

Saint Catharines is so beautiful and is actually the largest city in Canada's Niagara Region in Ontario.
After a busy week of shows in Washington, we flew across the North American border and shuttled our way from Toronto to St Catharines. After Washington's initial chilly weather it had just started to warm…but then we arrived in Canada and were greeted with a chilly one degree afternoon.
After our big travel day and bumping in the show to the First Performing Arts Centre, it was certainly a 'night-in' kind of night.
The next morning we were treated to the best coffee we've had on the tour so far from Mahtay's coffee lounge on St Catharines' eclectic cafe street, St Pauls Street.
The theatre was absolutely gorgeous and the acoustics, architecture and facilities are fantastic. Stephanie and all the staff are wonderful too.
We performed in front of a packed house of the general public and school students. And coincidentally, it was World Puppetry Day, which made the Grug and The Rainbow performance extra special.
We've just bumped out and driven from Saint Catharines to Burlington, our first full day in the car and driving on North American freeways, where everything is backwards… Woohoo!
Bye for now,
Matt
_
Week Two (Part Two): Burlington and Brampton, Canada
This is our busiest week on the whole tour. We're smashing out five different venues and cities in as many days. We left Washington on Monday, arrived in Saint Catharines that night and now this afternoon we've left Burlington and arrived in Brampton. Coffee! Stat!
The air was icy and packed some serious bite in Burlington, so we combated the cold with some hot coffee and sweet treats from the nearby bakery. The cookie I ate was the size of my head. No regrets.
Our audiences were lovely and there have definitely been some fun moments! One young audience member asked where I was from, so I told them to guess. One girl shouted with unwavering confidence "Portugal!". I told them it's a country that starts with an 'A' and to have another guess. "Africa!" and "Alabama!" were among the guesses but eventually they got it was "Australia". It certainly made for some pre-show fun.
As we had a tight turn around in Brampton, we were pre-setting our show whilst simultaneously focusing the lights. As a precaution, we were told we all had to wear hard hats. Grug couldn't escape the regulations either… As it turns out he wears Hi-Vis safety gear well.
Our houses were packed in Brampton! When Grug's rainbow was revealed, the roar of the audience was so loud… I think they liked it.
It's off to Kitchener now, so until then!
Matt
_
Check out part two of Matt's blog here and part three here!
Make sure you have a flick through our tour album on Facebook too.
---
By Editor