Matt's Grug and the Rainbow Tour Blog Part III – New York to Vancouver
Week 9 (Part One): New York City
New city, new venue, new cast!
Our first day was a huge but very productive day of switching roles and rehearsing Tamara into Grug and the Rainbow.
We we're in a new venue, with different acoustics, and a change in cast and roles for us. It was a lot to focus on whilst still carrying the heart of the show and giving the kids a great show. We had an intense re-rehearsal day with a preview for the wonderful creatives and team at The New Vic before our first show.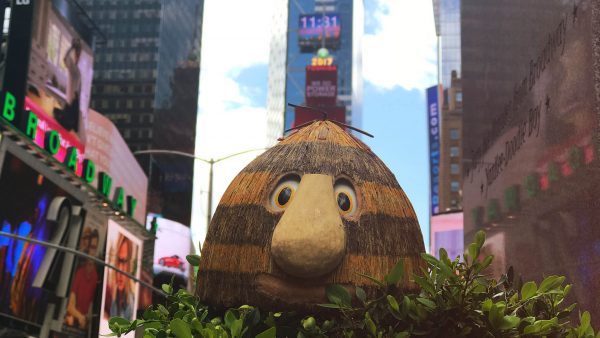 When you work on a production for multiple months, your pre-show nerves start to fade. The show is so in your mind and body, the rhythm of your fellow performers is so ingrained that the mechanics of the show and the technical side of the performance is second nature; you can just focus on the storytelling and the experience of your audience.
But the morning of our first show, I was pretty nervous… but it turned out to be a special one I won't forget.
The studio was packed full of school audiences including a wonderful school of special needs children. We met some of them during our pre-show chat, and they were so excited to see Grug. They were scanning the theatre up and down to catch a glimpse of the bristly little Burrawang.
Some of them were curious about our knee pads. I explained that "sometimes we need to do a little bit (a lot!) of crawling and sliding and they're to protect our nice blue jeans and our knees". They stared at me blankly. So I followed up by saying "…plus they're really soft and squishy and fun to pinch!" (Insert honking sound) They rolled about with laughter.
I love my job.
Split seconds before or even as we had started the show, one of the special needs children had begun to spiral, feel upset and had to go out to the foyer. He was quite distressed, his voice carried loudly into the theatre and we felt it acutely. Obviously the show must go on, we had hundreds of beaming little eyes on us, ready to discover Grug for the first time… But we were very aware that one of our audience members was having a hard time and it was tough.
Remarkably, the magic of the show had already captured the other audience members and they remained utterly invested in Grug's world and his quest to find a rainbow. They roared with laughter when he was dunked by waves, squealed with joy when we borrowed colours from them for our paintbrushes and danced like there was no tomorrow.
What made this performance particularly special was a follow up with the audience member who missed out. The lovely team at The New Victory approached us afterwards and mentioned that the young boy who left before the show was still about in a safe place upstairs with his carers and had calmed down but was lamenting that he'd missed out on seeing Grug. They asked if we wouldn't mind if Grug paid him a visit. We jumped at the opportunity.
Ellen, Grug and I made our way upstairs and met him. His eyes widened and a smile spread across his face. He immediately started asking Grug questions and chatting away like they were old friends. He gave Grug some excellent New York travel advice, places to visit and specific instructions on how to get there. Grug pinky swore he would try to get to some of them. They bonded over movies and the actor Josh Gad before Grug wrote him a thank you note. As he left he waved goodbye and smiled.
It was such special interaction and a wonderful way to end the performance. It was so important that we gave him the opportunity to experience some of the things that the other children had.
We then had a post-show/welcome lunch with everyone and it was fantastic to meet the new crew and rekindle friendships with old friends. The New Vic is a pretty amazing place, you're made to feel so welcome and a part of the family. It's good to be back.
More New York fun to come!
Matt
–
Week 9 (Part Two): New York City
Our second performance of the show ran smoothly and we really started to feel like we had settled in to the groove of our new line-up and new venue.
After the performance I strolled down through the neon and costumed madness of Times Square , then down 8th Avenue and made my way towards Central Park for a picnic, some journaling and work.
Four years ago, Ellen, Hamish, Lisa and I all stayed in Mid-town during the first Grug tour and it was nice to rekindle some old fond memories. I zig-zagged and looped back up 7th Avenue, then down 6th and then back up 5th and down 4th. A big day of walking!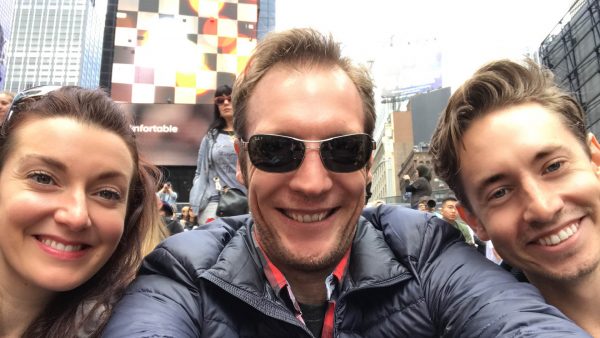 We then had our first of two three-performance days back to back. Our first performance of the day was wonderful; the audience were right there along for Grug's journey and landing all of the little comedic beats with us. We held a brief photo session after the show and got to meet some of the tiny audience members (most of who were beaming with delight, others get a little 'Grug star struck' and shy). We also had a visit from Windmill's Wendy who was in town for the weekend. It's always lovely to see familiar faces in the big smoke.
Lengthy waits in between the shows can give you cabin fever, be tiring and not great for morale – so we came up with different methods for passing the time.
The Mission and Nap
This is best used on the first day of a double three-show-day. After the first show leave the theatre and go on a productive mission. It'll make the time fly and you're not wasting it. Run an errand, do some clothes shopping, get groceries for the next two nights or tick those boxes you've been meaning to tick for several days. I used the first break to take Grug for a photoshoot in Times Square. We attracted a few eyes and some pointing, people wanting to know what Grug was. We took some snaps and headed back. Mission success. In the following break, between the second and third show- reward and re-energise yourself with a hearty lunch and a cheeky nap. There are some great napping spots around the building. The Grug set was perfectly curved for maximum nap comfort, but unfortunately this set doesn't quite work so well- so I made a nook behind the largest set piece and napped there. Podcasts and headphones are recommended.
The Rhianna, or The 'Werk, Werk, Werk, Werk, Werk'
Possibly the best, most productive use of ones time in between shows but not the most enjoyable. Once the first show is down, the computer/phone is out and the work begins again. It's great for tackling those starred emails that have been sitting in your inbox, accomodation booking and research, journaling, grant writing, prop preparation and so on. An example of this is in the show I look after the chopping, preparation and throwing of our Grug 'Snow', a light, white specialty paper cut up into tiny pieces that explode when Grug lands into the snow. It's a tedious job, but when done right- it looks so good and always gets a great response from the kids. A higher level of caffeination is required but you feel less guilty about a night on the couch once it's done
The Treat Yourself
My personal favourite. This is best used on the kind of day where you might feel run-down, tired or just wanting to take extra care of yourself. As soon as the show is down and reset, get yourself some fresh air, sunshine and a treat. This may be finding a quiet spot in Bryant Park with a Wholefoods salad bowl, buying yourself an extra coffee or baked item, or perhaps even a cheeky trip to the M&M's store. It is recommended that in the evening you have a night on the couch and watch excellent trashy movies.
One night, I mixed together all three by paying a visit to the M&M's store and coming home to pizza and a night watching Ninja Turtles with Ellen.
That's it from week one in New York City! Bring on week 2.
Matt
–
Week 10 (Part One): New York City
We had a few days off so after a very relaxing Monday, I set off on some adventures around the city.
We're living in Williamsburg in Brooklyn, which is a nice change of pace from the madness of working near Times Square. Thankfully the coffee is incredible here, which means the days always get off to a good start. So far I found a nice jogging track, caught up with friends, saw a production of A Dolls House Part 2, explored SoHo and Greenwich Village (filling my vintage shirt quota) and did some souvenir shopping.
After some chill out days, it was back to the theatre. Our first show went really well with a portion of the audience from special needs schools. The New Victory's emphasis on ensuring these children are able to access theatrical experiences is incredible. The audiences we have from these schools bring such a wonderful energy and are engaged from the get go. One enthusiastic little boy leapt to his feet, when we invited the audience to dance, and proceeded to run a speedy lap of the set.
After the show we were greeted by some of the Henson family. It was such a special moment, just a few nights earlier Ellen and I had been watching films with Jim Henson puppets and here at our show were members of his family who were carrying on his legacy. They adored the production and loved the puppets and puppetry magic involved. We then showed them some of the mechanisms of the set and puppets.
I took Grug for a walk on the newly extended High Line walk, a free 2.5 km linear park in Manhattan which is built on an elevated section of a disused Railway line originally called the West Side Line. The weather has been sublime so it was quite busy and Grugsie proved quite popular with the tourists as we took some snaps.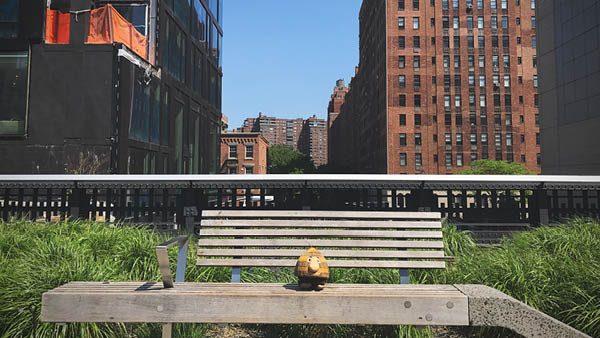 It's hard to believe were almost at the end of our third to last stop of the tour. We're only days away from leaving New York and yet it feels like we only just arrived.
I've been sick this week with a head cold that has been traveling around the cast and crew, so I've been resting in amongst work. Although last night Ellen and I made a trip to KATZ's Delicatessen, a New York fixture for over a century. I've dined there every time I've come. It's a no frills deli that sells giant, stacked sandwiches and iconic New York food and has been operating since 1888.
We were greeted after one of our shows by two excellent smiling faces, Kaye and Rose who were visiting. After that, Ellen and I then jumped on a train and headed down to Coney Island. It's a place we both hadn't been before and were excited to check out. Especially on a 34 degree day!
It's home to Vaudeville style amusement parks, golden beaches and creaky boardwalks lined by bright lights, sideshows, street performers, hotdog and ice cream stands and museums dedicated to the preservation of American Popular culture. It's a pretty excellent place, though I can imagine it'd be a little claustrophobic on a weekend. We met up with our friend Dan and dipped our toes in the ocean. I never thought I'd be able to do that in NYC.
Tonight I'm off to see a production of The Glass Menagerie, which coincidentally has been directed by Sam Gold, who directed the production of A Dolls House Part 2 that we saw on Tuesday night.
I think I'm going to need a relaxing night at home on Saturday!
Matt
–
Week 10 (Part Two): New York City
Yesterday we completed our last three shows of the season in New York.
What a wonderful experience it has been working on 42nd Street at The New Victory. The team have made the whole experience so smooth and easy and really made us feel at home. I'll miss our both our newly found and old friends; I look forward to working with them again.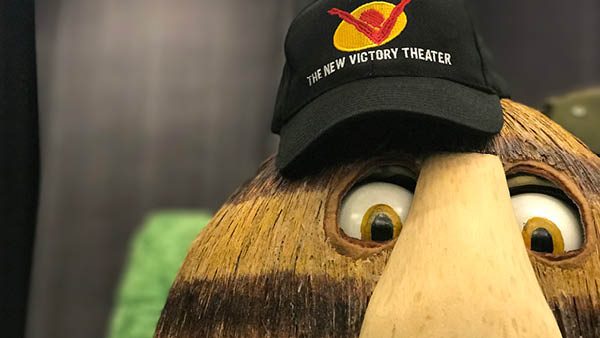 Before I leave – I intend to venture on a food odyssey, cramming in some of my favourite NYC spots along the way, a trip to Tim Ho Wan for some of the best BBQ pork buns in the world and to Joe's Shanghai for some of the best Xiao Long Bao (Soup Dumplings) in the world.
Last night we had an excellent night with Kaye and Rose, shared stories from the last 3 months on the road, caught up on news from home and celebrated a successful season. It really kicked out and cobwebs I had left over from feeling run-down that week; it's so reenergising to catch up with friends.
Speaking of which today, my last full day in NYC this time around, throughout the day I'm catching up with some old friends who are now living here and working as artists, one is a Jazz pianist and the other is a friend working on Miss Saigon on Broadway.
How lucky we are to have these opportunities to travel the globe, whilst working on something that brings you so much joy!
Matt
–
Week 11: Surrey, Canada
And just like that, we're back! Ellen and I had visited Surrey four years ago as part of our last US Grug tour; we were excited to be back amongst the greenery and not to mention the sunshine. I remember the walk to work being particularly beautiful, through parklands and walking trails and I'm looking forward to it.
Our first full day in Surrey was relatively laid back. After an easy morning, I ventured out on an run to explore the neighbourhood. On our walk to the theatre, Ellen and I attempted to retrace our steps via what we thought was the scenic route through the Bear Creak Parklands in the hope we'd see some rabbits and squirrels like last time. Instead we ended up somewhere else and on a mini-adventure. It seems in the last four years there have been significant housing developments over one of the entrances…
We ended up hopelessly lost, having to jump creeks, tip-toe along logs and climb across eire, half-finished (but sturdy) bridges. It was all worth it in the end as we saw rabbits, squirrels and made it to the theatre in time. Surrey is a suburban area situated on the outskirts of Vancouver and like a lot of suburban areas there are some gorgeous hidden walking trails and parks. Lucky for us the theatre is situated just outside of Bear Creek Park.
It was an early start before our first two performances and a big morning as we had more tech rehearsal to fit in, but everyone rose to the task. Right at the top of our first show my head collided with the edge of one of the handles that we use to make Grug's waves rotate. It really shook me and got my adrenaline pumping so the first show felt like a blur but the audience were totally involved and loved every minute. I was worried that the bruising would delay and I would get a black eye to go with the cuts on my face, which isn't the best look for a family show, but we iced it straight away and any swelling from the end of the first show had decreased significantly. Phew! Crisis averted.
After our second performance, we stopping to check out the festivities of the festival. The parklands had transformed into a hive of activity; there were families everywhere, tents with little rock concerts, police and firefighters set up with RV's for kids to ride on, face-painting and storytelling stations. It was a nice place for Grug to call home for the next week. In the afternoon, we headed back to the Surrey Arts Centre for a meet and greet with the staff and volunteers that make it all happen. When you're on the road for three months, whenever you have a venue that is hosted by a festival- it always makes the trip even more memorable. A lot of the Surrey Children's Festival tents are actually tipis, so Grug thought he'd get a quick snap amongst the action on the way home.
See you in Vancouver!
Matt
–
Week 12: Vancouver, Canada
It's hard to believe that we're about to begin work at our last stop on tour, Vancouver. It felt like we left a life time ago and yet the time has also whizzed by in a blur! I'm excited to explore Vancouver as I have spent little time here. It's about a 45 minute drive from Surrey so after doing some work in the morning, we got in a cab and made our way to the hotel.
Ellen and I had some time to kill, so we stopped for some delicious Malaysian food and explored the neighbourhood. West Vancouver is a brilliant and vibrant part of town that celebrates diversity, it feels safe and welcoming. The side walks and pedestrian crossings are literally lined with rainbows, there are wide gamut of restaurants, bars, small businesses and stalls wherever you go and even a beach with a the view of forests and snow-capped mountains. It's a pretty incredible place.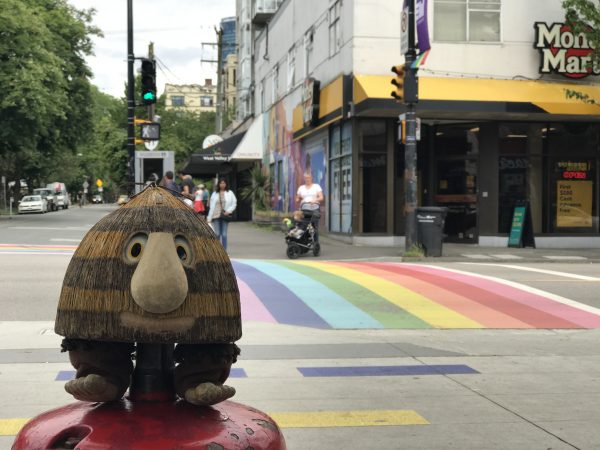 We had our last full day off before we started our last week of work and even though I've been feeling under the weather again, it was time to explore. Vancouver is one of the warmest cities in Canada, home to sunset-framed beaches, mountainous rangers and thick fur forests. We're not far from the Vancouver International Children's' Festival on Granville Island which you can get to by a tug boat ferry. Originally, Granville Island was a first nations fishing area, then an industrial, man-made island swarming with factories, plants and saw-mills. Now it's a bight and bustling cultural hub, the centre of which is the Granville Island markets, comparable to the central markets back home, it is always packed and always filled with delicious, fresh and some times dangerous foods, (hello doughnuts)!
After a trip to Granville Island I strolled down to Stanley park. It was absolutely stunning, like a scene from twin peaks. I got home tonight, feeling relaxed but in poorer health. Although I didn't exert myself today- I feel like this oncoming flu is inevitable. But never the less the show goes on!
We bumped into the theatre relatively quickly and had a bigger warm-up to wake myself up. The floors of the theatre were completely different to our last venue so we had to adjust the way we move Grug's hills throughout the show, but the show on the whole ran smoothly and the audience loved it. It was nice to meet some of the crew from the festival and get some tips on what to see and do whilst we're here. I think much of this week will be pretty laid back. I'm hoping to rest well so the show can be its best and so I'm better before I head to LA next week.
On the way home, Grug and I had a little photo shoot outside of the dock where the ferries come in, and along the beach. People always stop to take a photo and ask what he is, and I'm continually impressed at strangers pronunciation of 'Burrawang Tree'.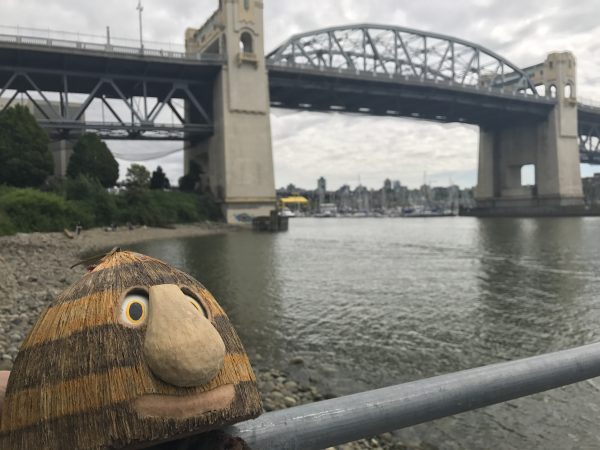 I've been confined to my apartment trying to get better which means I don't have too much to write about. So I thought it'd be nice to take this time to explain some of the weird things that have helped us fill in the time in between travelling, tech runs, bump ins etc.
We've just had our 90th and 91st performances of Grug and the Rainbow in North America and it was great to finish the tour with a week of brilliant shows. The festival has been so wonderful and the audiences have been stunning.
Earlier in the week, as soon as one of the children had heard the music pumping through the speakers for Grug's dance he leapt to his feet, ran down the stairs and joined us on stage. I kept an eye on him as I didn't want him to rush towards the set, but I also didn't want to restrict his experience. Turns out he just wanted to dance his heart out with us on stage… and he loved it.
We had some children rush down stage towards me to give me their Violet (Pink and Blue) colours for Grug's Rainbow, in a scene where we find an alternative solution to retrieving them from the kids, instead we pluck it from the record player. They rushed down, full of hope that they would be picked. I didn't want to deny them, so I kept them in the conversation with the record player and they were content to stand next to it and listen to what it had to say. This tour has solidified, once again, how special and important these experiences can be. It's been wonderful to be a part of it once again.
It's been an epic journey traveling across 19 cities and performing in 13 venues over 3 and a bit months. I'm saying goodbye to the Grug guys tomorrow as I'm off to LA for a while before I head home. Looking forward to seeing some friends and sunshine.
We had a wonderful last day in Vancouver, tying up loose ends, fetching souvenirs, lunching on Granville Island and enjoying some more Vancouver summer sun. I'm still not over this stupid flu but I wasn't going to let it stop me enjoying the day. The cast and crew caught up for a farewell drink and a gorgeous sunset before we left. It was a beautiful way to end our big tour. We then took one last stroll around the seawall before heading home. It was time for bed…
Matt
Fun Facts from our tour:
Number of Rainbows Made: 91
Number of times Grug went to bed: 546
Best Coffee Of The Tour: A TIE between Kaldi's Coffee in Kansas City and SweatShop in NYC
The Most Exciting Experience: Seeing The Cleveland Cavaliers in the Playoffs against Toronto
Favourite Day Trip: St. Louis and The City Museum
Favourite Festival Experience: The Playhouse Square Children's Festival
Longest Drive: 1,731km Kitchener to Fayetteville (Over 7 days)
Best Animal Bingo Sighting: A TIE between Deer (in the Hampton's) and Skunks (in Vancouver)
Have you read part one or part two of Matt's blog? Check out PART ONE here or PART TWO here!

Make sure you have a flick through our tour album on Facebook too.
---
By Chloe Svaikauskas