Matt's Grug and the Rainbow Tour Blog Part II – Fayetteville to Cleveland
Week 3 (Part One): Ann Arbor and Brown County
It's been a fun but massive week of shows and city jumping. We left Kitchener and said goodbye to Canada (for now) and started our week long trip to Fayetteville, Arkansas. We crossed the border into the US, drove past the outskirts of Detroit and made it to a beautiful Ann Arbor lake house that we were staying in overnight. We spent our first night glued to our back porch counting squirrels and listening to Leonard Cohen.
We were woken up the following morning to a family of deer on our back porch and muscly ball of groundhog, twice the size of Grug, dwelling under our decking. That was certainly an interesting wake up call!
After a big day of truckin' across the US, we arrived at our beautiful slice of woodland in Brown County, Indiana. We were greeted by a rustic log cabin, overlooking mist covered rolling hills and Douglas Fir trees.
We made our way to Nashville for dinner (which reminded me of the quirky charm of Hahndorf) where we enjoyed enormous wood fire pizzas.
Truck driving on the other side of the road is quite tricky, so our rest days were spent practising doing nothing!
Grug was hoping to get a snap with a chipmunk, a deer or even a bear…but we weren't lucky enough to see any. Well we did see some chipmunks, but they were just too fast for Grug. We did finally manage to find a cooperative bear though…
See you on the other side!
Matt
_
Week 3 (Part Two): St Louis and Springfield
After Brown County, it was off to St Louis.
We visited The City Museum, which is basically a giant playground made by artists for people of all ages. We went there the last time we were here but I'd forgotten how incredible it was.
We climbed up, squeezed through and crawled along impossible spaces on the first floor. Outdoors, we navigated our way through pipes and up ladders and slid down every slide we could find.
After much exploring, we stopped for a late night dinner and discovered the delightful 'Zak M', a Missouri local talent, playing a solo set upstairs.
We spent our last night in Springfield, Missouri, which is unfortunately not related to The Simpsons, which was apparently inspired by Springfield, Virginia.
I woke up the following morning to four bright red, raised and itchy spider bites.
Weird.
After popping an antihistamine, grabbing some brekkie and coffee, we hit the road to Fayetteville.
See you there!
Matt
–
Week 4 (Part One): Fayetteville, Arkansas
When we arrived, Fayetteville was hosting a big bike festival around the theatre and our hotel so we had to go into a brief holding pattern before we could properly park the truck. It's such a beautiful college town, home to The University of Arkansas, with spring flowers blossoming on every street. It has the scenic charm and cheery disposition of a small mountain town and yet is one of the biggest cities in Arkansas.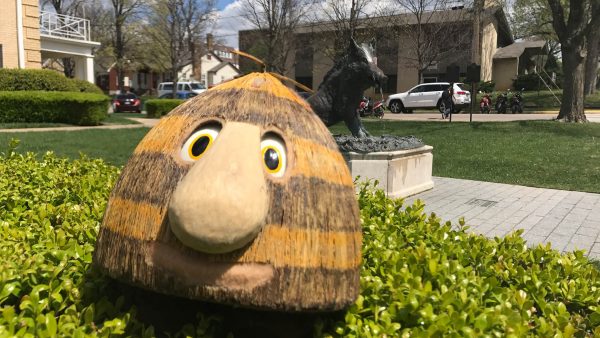 Grug is definitely excited to be back at the Walton Arts Centre. Even more excited this time as they have given us an incredible spread of Aussie treats including Tim Tams and Vegemite. Talk about effort. Needless to say we were pretty blown away and felt pretty spoilt.
The audience at our first two performances were quite quiet. They were with us, but they didn't seem to be overtly responding as much as other audiences… until Grug's dance. I haven't seen groups erupt with this much joy to see Grug dance before. What a trip it was!
The fifth and sixth shows had to be my favourite so far. The audiences were completely on board and utterly absorbed into Grug's world. This show is always a delight and should be for all who see it, and after a few weeks of moving about, now that we are settled, it feels like we're really tapping into the joy of the show for ourselves too. We left today's performance on a real high.
I kept track of some of the best comments from the kids:
When Grug's home is revealed for the first time – "How in the heck did they do that?!"
After we find blue on our paintbrushes – "Are you magicians or something?"
When Grug is getting spooked by a crab – "This is my favourite bit now."
When we get yellow from the audience – "Ok, you are 100% magicians."
When Ellen and Nate receive Grug's violet invitation – "I don't want this to end!"
I personally enjoyed seeing two girls in pink tracksuits giving it a standing ovation at the end.
After the show, I explored the University campus. The grounds are beautiful, covered in luscious grass, trees and flowers. There's also metallic busts, statues and fountains of the Fayetteville mascot, The Razorback scattered everywhere. "The Hogs" are big business in town and are everywhere too. Grug just had to get a snap with one of them.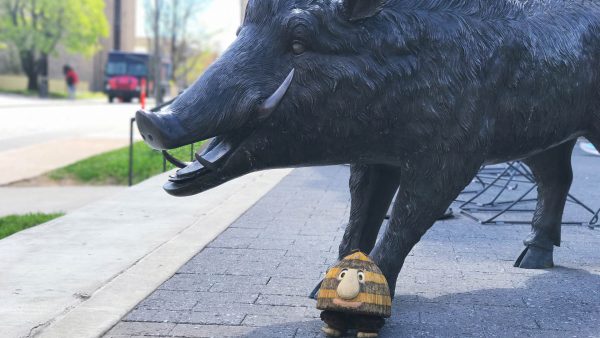 Thanks, Fayetteville, you've been great!
Matt
–
Week 4 (Part Two): Kansas City
Once we finished up our last two performances in Fayetteville, we bumped out (our quickest to date – Jo is on fire!) and got ready to hit the road. We lamented having to leave, we love Fayetteville, but we were excited to see what the next leg of our tour would bring.
Next stop: Kansas City.
It had been a big day, but luckily we got Sunday off which was a very lazy day and it was blissful!
I didn't emerge from our hotel until the afternoon. Kansas City was very different to what we imagined. This part of town feels closer to Las Vegas than the agricultural hub we all had conjured in our minds. Nevertheless, Kansas City certainly (and unexpectedly) delivered on coffee.
Kaldis Coffee somehow gave us the best coffee of the tour, hands down. Wish we could take it with us…
We were up Monday morning at the crack of dawn to get ready to go to Des Moines; our next stop on the tour.
See you when we get there!
Matt
–
Week 5: Des Moines, Iowa
We made it! And in good time too. It seems Des Moines has grown considerably since we were here last time. We wandered up through a district and discovered it now has a new baseball stadium! We may have to take Grug along to watch the baseball…
Des Moines audiences have been delivering some pretty fun pre-show chats. One girl today was convinced I was from Ireland and that bears live in Australia. Another asked why I wore 'those weird safety things' (knee pads) on my knees. I said because while we're on stage with Grug we have to do a lot of sliding and crawling. "Well if you're crawling around everywhere why don't you have knee pads for your hands too!" She retorted. I was stumped, she had me there.
During the show Ellen, Nathan and I pluck different colours from the audience with a paintbrush to give to Grug. I witnessed one of the best reactions to plucking yellow from the audience during one of the shows. The surrounding kids jumped back out of their chairs in amazement and made a loud "woaahhh!" in unison. During another show, our audience were all wearing red uniforms and Nathan was faced with a sea of raised hands all volunteering their red. He thought quickly and made a b-line for one in particular, otherwise he might have been swamped.
After one of the shows, Ellen and I had a stroll through the Pappajohn Sculpture Park filled with beautiful sculptures from an eclectic range of international artists. Grug couldn't wait for his photo op…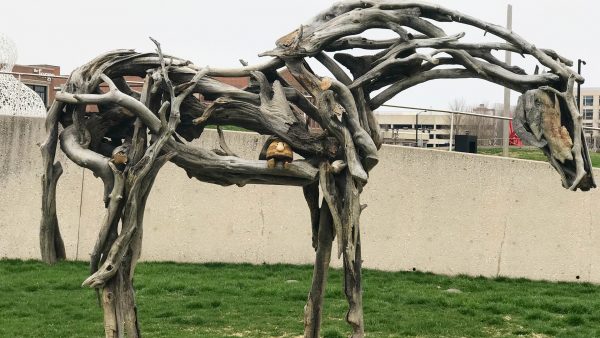 We performed our final shows to two wonderful audiences who swamped us during our pre-show chat. The mosh-pit of little ones I had surrounding me were clambering to tell me where they had travelled to, and to ask 'where is the coconut?', the coconut being Grug.
We quickly bumped out and said farewell to Jamie and the Temple Theatre crew.
Next stop: A rest day in Brooklyn, New York City.
Matt
–
Week 6 (Part One): Brooklyn and Branchburg, New Jersey
We're here at The Dazzler in Dumbo, Brooklyn – an incredible part of New York. The temperature has dropped considerably, but that's nothing that a good cup of hot coffee can't fix.
I made it to Bluestone Lane coffee, an Australian-run business influenced by the coffee-culture hub of Melbourne. I didn't even realise until I heard an Australian accent pour out of the attendant pouring my water. She asked me what I was up to in Brooklyn and when I mentioned Grug, she let out a yelp of recognition, saying 'I use to love those books'. It turned out that two of their staff were from Adelaide too. Small world.
It was only a quick stop in Brooklyn before we were in an Uber and on our was to Branchburg. Our trip was a breeze and one of the most entertaining Uber rides I've ever had. Our driver, Sergei was a Russian born Brooklyn-ite who was well-travelled and well-versed with fantastical stories and had even spent time in Australia.
He told us tall-tales of 200kg rats that guard parchments of Ivan The Terrible in the catacombs underneath Moscow, spending 48 hours as a child up in a tree circled by hungry wolves and once pulling a 27 hour Uber shift.
We laughed the whole way.
Then we arrived in Branchburg, bumped-in and tech'd the next mornings shows.
Being back here in New Jersey is bringing back memories of our last big US Grug tour in 2013 and our previous visit. It's nice to be back.
Matt
–
Week 6 (Part Two): Branchburg, New Jersey
Our first show in Branchburg was a school show – packed to the brim with excited kids. It's days like this you really appreciate working on a carefully crafted and locally made production that has been exported across the globe, showcasing Australian work and potentially being the first theatrical experience these children have had. It's a special thing to be a part of.
The show went well and we quickly re-spiked, re-plotted and re-set the set before our 1pm intimate performance. In-between shows, we took Grug outside for a little fresh air where we discovered a mosaic rainbow at the entrance of the building. Grug couldn't resist a little photo shoot.
Our final two final performances were also nice and intimate shows. Then we bumped out and said farewell to John, Matt and the New Jersey crew and hit the road towards Westhampton Beach on Long Island.
See you there!
Matt
–
Week 7: Westhampton, New York
It was a blessing we made record bump-out time as the Saturday afternoon New York traffic, highway roadworks and restricted parkway drives in the truck were next level. Our travel time jumped from 2 and a half hours to almost six, a pretty rare experience and something I'll remember for a while. It's amazing to think that thousands of people do this on a regular, if not weekly basis – but this may be the price one pays to live in one of the greatest cities on earth.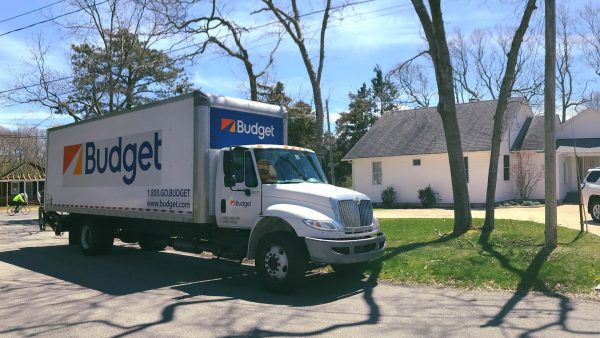 We made it to Westhampton Beach just in time for dinner as we shared stories from the drive. We've got a couple days off before our performances kick off here which is good as none of us have been here before, so we're all thoroughly looking forward to exploring the neighbourhood.
Speaking of which, how good are sleep-ins? So good! We had a lovely lazy-morning in our house in the Hamptons. Our house is surrounded by green trees, curious squirrels bouncing through the grass and flowers blooming in the yards of grand holiday houses.
Excellent.
We all set out on individual exploration missions in the sunshine. I wandered around the streets with some music on, looking for a place to stop, eat breakfast and do some work. On my way I came across the theatre we'll be performing in… Opened in 1932 as a movie theatre, The Westhampton Beach Performing Arts Centre, frontage reflects the beautiful old-world charm of it's original incarnation so I can't wait to discover what it holds inside…
Bring on Grug in The Hamptons!
Matt
–
Week 8 (Part One): Cleveland, Ohio
It's been a while in between journal entries. Since I last wrote we had just arrived and started our shows in Westhampton Beach. Our time there was a wonderful whirlwind. Grug was very well received, we caught up on our sleep, we saw families of deer across from our house in a part of the country we hadn't seen before.
After our shows, we bumped out and prepared for the drive the following morning. New York City and Long Island are different beasts and we had to be cautious as many of the suggested routes on both Google Maps and our GPS are parkways which are for cars only. When you're carrying precious cargo like Grugsie, you want to get it right.
After an overnight stay in Harrisburg, Pennsylvania, we set off for Cleveland. We got in that night and as we drove around the city, it struck me at how much it had grown over four years. It was incredible the difference time had made – especially to the downtown arts district of Playhouse Square. What was once an open street lined with theatres was now a certified hub of flashing lights, refurbished theatre facades, food carts, billboards of upcoming shows, green trees, people everywhere and a ginormous chandelier hanging over the major Euclid Ave intersections.
It was so nice to be performing Grug in Cleveland again, especially as part of the Cleveland Children's Theatre Festival. It is honestly one of my favourite festivals I've been a part of. The focus is on artists and the artistic community. There is never any down time and never a dull moment… when the shows are over, you're welcomed to the hub for fully catered functions where you get to meet and greet other artists, foster connections and relationships, share stories, see each others shows and rejuvenate. There are free sessions with assistance puppies and massage therapy available too. It is such a great place.
It has hardly stopped raining since we arrived but it hasn't deterred us having a good time – in fact tonight we have managed to score tickets to a NBA playoffs game between The Cleveland Cavaliers and the Toronto Raptors. I don't think I've been this excited in a long time!
Matt
–
Week 8 (Part Two): Cleveland, Ohio
We've adored our time in Cleveland. The atmosphere at the NBA game was incredible and we loved every minute. The whole city has gotten behind the Cavaliers since LaBron James returned and Cavs jerseys, flyers, slogans and signs can be seen in every window.
It's been lovely catching up with the people of Playhouse Square too. It's nice to know these friendships haven't faded over time and you can pick up where you left off.
We've also been loving spending lunch times with fellow Adelaide folk Rob, Erin, Cat and Lachlan from Patch's Moons' a Balloon who are also here this week.
Local work on the international stage: REPRESENT!
Its been such a delightful and busy week that has positively flown by and we're sad to be saying goodbye to Cleveland and the people at Playhouse Square.
When Ellen and I were here last time Cleveland was a city that re-energised and reinvigorated us for the next leg of the tour. It's safe to say the same has happened. It poured with rain and howled with wind for the entire week but none of that mattered. The hospitality of the Playhouse Square team and the beautiful artistic community they have fostered gave us all the sunshine we needed.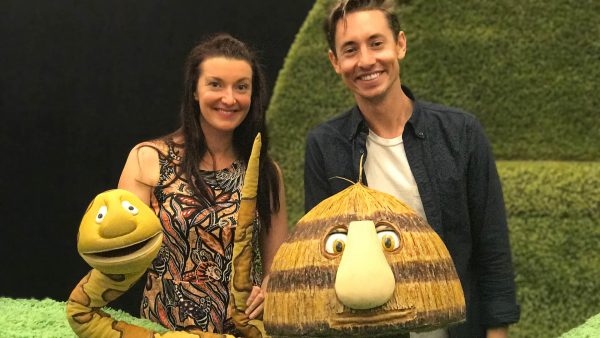 I'm writing this in the air on the way to New York City. I can't wait to return, what a great way to follow up our time in Cleveland.
See you in the Big Apple!
Matt
–
Have you read part one or part three of Matt's blog? Check out PART ONE here or PART THREE here!

Make sure you have a flick through our tour album on Facebook too.
---
By Chloe Svaikauskas