Grug and the Rainbow's Australian Road Trip
After three months on the road Grug and the Rainbow's Australian tour has come to a close. Performer Ashton Malcolm looks back on Grug and the team's adventures. Grug and the Rainbow returns to Adelaide in April 2018. Book now.
JOINING THE TOUR
I joined Grug a month into his action-packed Australian Road Trip. He had already travelled to Burnie, Sydney, Casula, Wagga Wagga, Murwillumbah and Brisbane, with his incredible team – performers Lizzie Hay, Pat McAulliffe and Tamara Rewse, and Stage Manager Lyndie Li Wan Po – and now it was my turn to tag team with Tamara, and join Grug for the rest of the journey.
I met them in Paramatta for the Spot On Children's Festival. After a few hours of rehearsal with brilliant director Sam Haren, I was back in the swing of things and ready to go! It was such a treat to be part of this great festival, and to work alongside some awesome acts from all over the country. And the audiences really loved Grug – one young girl even came dressed as Grug in a home-made costume!
Then it was on to Penrith. Here I was joined by a very special visitor- my dear Canadian friend, Ayla, who is currently on her own Australian Road Trip! A performer herself, it was really special to share this very Australian story with her and to introduce her to Grug!
ON TO VICTORIA
Our time in Sydney done, it was off to the airport and over to Melbourne! We started out there with a very lovely day off that I used wisely – shopping, good coffee, and joining the local Marriage Equality March, before the chance to see Windmill's Rumpelstiltskin himself (aka Paul Capsis!) in Malthouse's Black Rider. He was incredible as always, and it was the perfect way to start our Victorian leg of the tour.
We then journeyed from Ringwood to Upwey – two lovely theatres in the outer suburbs of Melbourne. Upwey was especially beautiful – right on the edge of the Dandenong Mountains. Grug felt right at home amongst the green trees and hills, and we all loved the chance to explore the magnificent National Rhododendron Gardens and to sip tea and nibble on scones at Miss Marple's Tea House.
After Upwey, we headed to Bendigo. As always, Grug was greeted like a rock star. There was even one family who had travelled for hours just to see him, so stayed for both shows!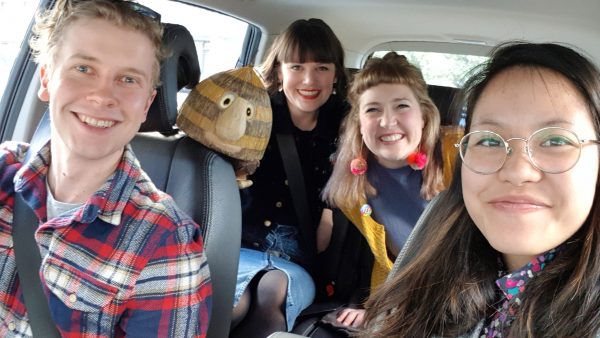 Next up was a long drive to Sale. Our drives usually involved a couple hours of true crime podcasts, followed by a good old singalong to cheer us up again. Lizzie loves musicals as much as I do – so once together it was hard to shut us up!
Sale was great – the local tech team were really excited to see Grug, and made sure to take plenty of selfies with him! On our day off I went for a long walk around the lake and through the Botanic Garden, while the rest of the team took Grug to explore the nearby caves.
And next? Warrnambool!
I took the chance on the long drive from Sale to Warrnambool to introduce the team to Hamilton the Musical, which made perfect sense as we drove along the Hamilton Highway!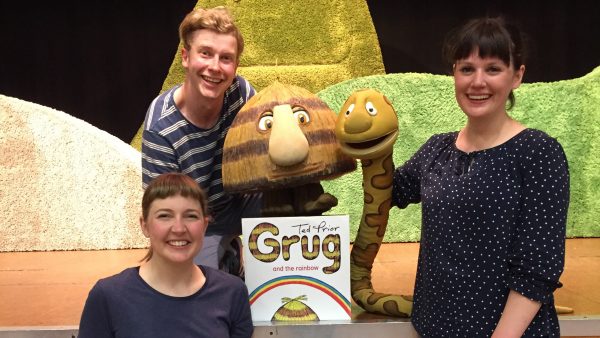 Warrnambool was one of my favourite places on the tour. Locals say it's usually really cold and grey, but the whole time we were there it was sunny, warm and absolutely perfect for the beach! Every day after we'd finished at the theatre, I would walk down to the beach for a swim and an ice-cream – bliss!
After Warrnambool it was on to Geelong to perform as part of the Poppy Kettle Festival – a festival especially for kids! It was a jam-packed day of shows and we shared the green room with the Geelong Ballet Company. It was so cool to see all of their incredible costumes – maybe next season Grug can try a tutu?
Then it was time for two days of rest at home – which meant Adelaide for Lizzie, Pat and I, and Melbourne for Lyndie. This little rest got off to a great start – Lizzie and I befriended the air hostesses and ended up enjoying free drinks and a (clean!) sick bag stuffed full of Lindt chocolates for the flight home!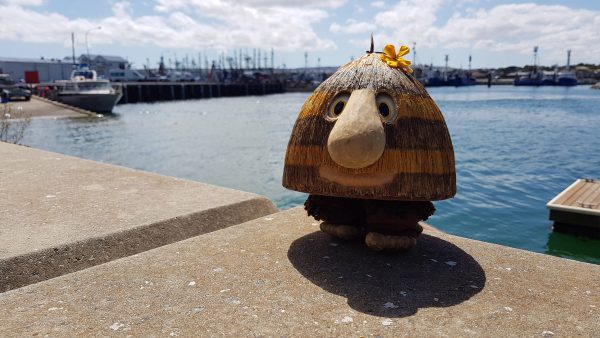 HOME TO SA
Finally, it was time to share Grug with regional South Australia. We started in Port Lincoln, soaking up the sun and delicious fresh seafood. Coffin Bay Oysters – yum! Lots of the kids in Port Lincoln had seen Grug the year before, and were so excited to see his next adventures in Grug and the Rainbow. They poured in, proudly wearing their Grug t-shirts and so looking forward to seeing their pal again! My Grandma, who lives in Tumby Bay, also came along to see us in Port Lincoln. A few of her bowls friends were there with their grandchildren, and she says they're still talking about how much they loved it!
From Port Lincoln it was a long drive to Roxby Downs. By this stage, we were very good at long drives, and, luckily, we all enjoy driving so it was easy to share the trip. The scenery along this leg of the journey was incredible – from sparkling coast to red, endless desert. That was one of my favourite things about this tour – the amazingly varied scenery we got to see all over the country. I've spent a lot of time exploring overseas, but not much here in Australia, so it was really special to have the chance to see more with Grug.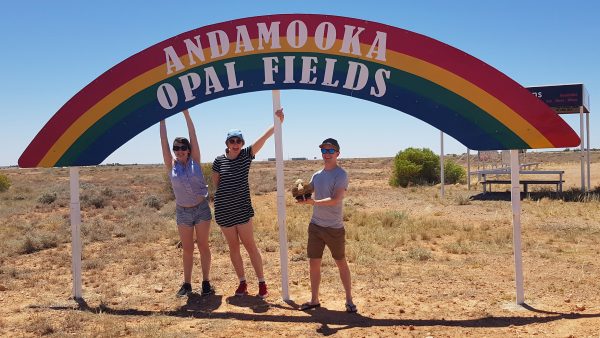 Roxby Downs was incredible – hot, friendly and fascinating. We were joined by the wonderful Jason Warner for a few days, and these were some of my favourite shows. The audiences were small but so very appreciative- with beautifully chatty kids and very grateful parents. I was so glad we got the chance to share the show with them. We also had awesome days off here – swimming in the public pool, and driving out to Andamooka to enjoy delicious coffee in the middle of nowhere at the Andamooka Yacht Club. We had to pull over at one point to allow a Mama Emu and her eleven babies to (very slowly) cross the road!!
After Roxby were sold out shows in Whyalla and Port Pirie. So many excited kindy and school kids!! It was such a delight to hear them gasp at the magic of the paintbrushes, and giggle hysterically as Grug tried to master his yellow bike! Pat, Lyndie, Lizzie and I were also really chuffed to spot dolphins in Whyalla and the biggest pelican we've ever seen! This road trip was definitely full of lots of Australian animals- both on and off stage.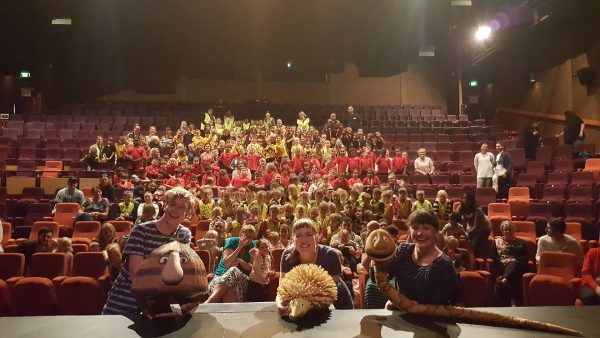 We then went on to our final three stops – Renmark, Mt Gambier and Port Noarlunga. These stopovers were a beautiful way to end the tour. We travelled from the river to wine country to the seaside in a matter of days! Lyndie's parents joined us in Mt Gambier, treating us all to a delicious Chinese feast, and the Windmill Team all came to say hi in Noarlunga, helping us to celebrate the end of our wonderful road trip.
Three months. 21 theatres. Countless adventures.
I can't wait for the next opportunity to share a road trip with Grug and the gang!
Til next time,
Ashton x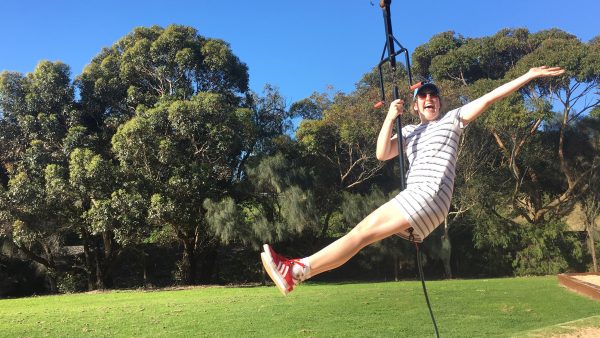 ---
By Jordan Archer