About
From the top of a burrawang tree to the end of a rainbow.
After a rainy day, Grug heads outside to see a beautiful rainbow striped across the sky. He tries to sneak up on it, climbing hills and mountains in an attempt to reach it… but it was always just out of his grasp.
In a magical adaptation of Ted Prior's beloved picture books, Grug and the Rainbow sees our grassy little friend embark on an epic adventure to bask in the colours of the illusive rainbow.
A smash hit with audiences all over the world, Grug and the Rainbow is set to return to South Australia in 2023. Check back here for dates in the coming months to make sure you don't miss out on spending time with an Australian icon.
Meet the Cast and Creative Team
Sam Haren
Director
Sam is a Creative Director of Sandpit, a company that create immersive, and interactive theatre and personal experiences. Sam was the Artistic Director of The Border Project from 2002-2012, directing or co-directing all of their work during that time.
He has co-directed Ghosts Toast and the Things Unsaid (Sandpit/ Google's Creative Lab), Eyes (Sandpit) and Skeleton with Larissa McGowan (Adelaide Festival 2013 & Dance Massive/Malthouse). Sam has worked with Australian Dance Theatre as a dramaturg and researcher. He was one of three international finalists for Rolex's Mentor and Protégé Initiative for a mentorship with Julie Taymor in 2006.
For Windmill Theatre Co, Sam has directed Plop!, Escape from Peligro Island, Grug and Grug and the Rainbow, as well as interactive experience My Room.
Jonathon Oxlade
Designer
Jonathon has designed set and costumes for Queensland Theatre, LaBoite Theatre, isthisyours?, Aphids, Arena Theatre Company, Polyglot, The Real TV Project, Polytoxic, Men of Steel, Lemony S Puppet Theatre, Terrapin Puppet Theatre, Vitalstatistix and Barking Gecko.
He has also worked with Bell Shakespeare, The Border Project, State Theatre of South Australia, Dead Puppet Society, The Last Great Hunt, Sydney Theatre Company, The Escapists, Melbourne Theatre Company, Sandpit, Belvoir St Theatre and Windmill Theatre Co, where he is resident designer. Jonathon has received numerous awards. Most recently in 2016, Jonathon was awarded the Sidney Myer Creative Fellowship and received APDG awards for both Best Production Design and Best Costume Design for Girl Asleep, and received an AACTA award for best Costume for Girl Asleep.
In 2017, he received the Sydney Theatre Award for Best Costume Design for Mr Burns.
DJ TR!P
Composer
DJ TR!P is a multi-award winning producer, composer and performer of electronic music. Over a career spanning 20 years he has built an impressive repertoire of live compositions for his club sets, a variety of high profile events and productions. These include contemporary theatre, dance and film productions, as well as for festival openings, launches and major cultural events.
He has played live at numerous national and international venues, festivals and events including The New Victory Theater (42nd St, New York), Pittsburgh International Children's Festival, The Tank (New York), State Theater (New Jersey), Super Deluxe (Tokyo), Game On (from the Barbican Art Gallery), MONA FOMA, Adelaide's New Years Eve's Fireworks Countdown, DARK MOFO, The Famous Spielgeltent, Ten Days On The Island, Sydney Opera House, WOMADelaide, Adelaide Festival, Big Day Out, ACMI, Federation Square (New Years Eve), Brisbane Powerhouse, Falls Festival and many more. DJ TR!P worked with Windmill Theatre Co previously as the composer for their shows Plop! and Grug.
Chris Petridis
Lighting Designer
Chris completed his Technical Production course at the Adelaide Centre of the Arts. Since graduating, he has been working extensively and continuing to develop his experience across theatre, dance, and other live events both in Australia and overseas.
Chris has worked on State Theatre Company South Australia's Brothers Wreck, In The Club, Terrestrial, Mr Burns, Red Cross Letters, Eh Joefor the Beckett Tryptych, Gorgon, Masquerade,The Kreutzer Sonata, Maggie Stone and Little Bird, Slingsby Theatre Company's Songs for Those Who've Come Across the Seas, Emil and the Detectives, The Mouse, The Bird and the Sausage, Theatre Republic's Lines, Is This Yours' Angelique, Brink Productions' Long Tan, Tiny Bricks' Deluge plus many more. Chris also worked on If There was a Colour Darker than Black, I'd Wear It, a multimedia performance project for Country Arts SA. Chris has been the lighting designer for Windmill Theatre Co's Beep, Grug and the Rainbow, Big Bad Wolf and The Story Thieves.
Tamara Rewse
Puppet Maker
Tamara has worked in numerous areas of the performing arts since 1997 including as a Director, Devisor, Maker and Singer. She has toured both nationally and internationally. She has also worked as both a performer and puppeteer for numerous shows.
Her credits include Piccasso and his Dog (Lemony S), Mr Freezy (Arena Theatre Company), Grug, Grug and the Rainbow, Beep and Hiccup (Windmill Theatre Co), COOP (Black Hole Theatre) and Tangle, We Built this City, Paper Planet, Tangle Weave, Forest Feast (Polyglot Theatre). Tamara is also a member of Men of Steel and was involved in their self-titled debut work, Men of Steel as well as Hard Rubbish. Her skills include making props and puppets for film, television and theatre.
Ellen Steele
Remount Director
Ellen Steele is a theatre maker, performer and director based in Adelaide. She is a founding member of isthisyours?, an all-female collective committed to creating new and unconventional performance. Since their inception in 2007, isthisyours? have created five original full scale works, toured nationally and won multiple awards.
Ellen has toured extensively throughout Australia, Asia and North  America with companies including Windmill Theatre Company (Girl  Asleep, Big Bad Wolf, Grug, Beep, Grug and the Rainbow, Hiccup!), State Theatre Company of South Australia (David Williamson's The Club (An  All-Female, Three Actor Version), After Dinner, Between Two Waves, Holding the Man, Maestro), Vitalstatistix (Love, Ruby Bruise), Slingsby (Wolf), Belvoir (Girl Asleep), The Border Project (I, Animal, I Am Not An Animal), and Patch (Mister McGee and the Biting Flea, Lighthouse, Me and My Shadow).
As an independent maker Ellen has developed work with Aphids, Terry and The Cuz, Spilt Second and Zoe Meagher for Next Wave Festival, Misery Children and Sanctum Theatre.
In 2019 – 2020, Ellen was recipient of an Arts SA Fellowship, understaking research into cross-cultural theatre making practices in Beijing and Adelaide alongside the development of a new cross-cultural work, The Friendly Games.
Ellen's latest work See You at the Dance is currently in development and supported by Brink Productions.
James Smith
Performer
A graduate of Flinders Drama Centre, James Smith has worked extensively as an actor and theatremaker across South Australia. James has worked with State Theatre Company South Australia, Windmill Theatre Company, Theatre Republic and Brink Productions among many others. Throughout 2021, he toured nationally with the Australian tour of Girl from the North Country.
Ezra Juanta
Performer
Ezra graduated from Adelaide College of Arts in 2006. Since graduating, Ezra has featured in numerous screen and stage productions, the most notable being his portrayal of The Lion in Windmill Theatre Co's production of The Wizard of Oz.
In 2016 Ezra returned to the musical stage with his loveable performance of the 'Surprise Character' in State Theatre Company SA and Windmill Theatre Co's co-produced musical Rumpelstiltskin.
His other stage credits include Russian Eggflip, The Life of Galileo, Touch Me I'm Sick, King Lear, Under Milkwood, Littlewing and Twinkle Toes, Vin, The Tale of Shaggles and Petrookio, Me N' Me Mates, Mr Burns, Beep, Grug and the Rainbow, and That Eye The Sky. His film and TV credits include Engine Room, Voodoo and Lue, The Hunter, The Plowman Quandary (God Vs Satan), McLeod's Daughters, Sam Fox Extreme Adventures, Friendship Love and Loyalty, and Bad Blood.
Ashton Malcolm
Performer
Ashton is a theatre-maker based in Adelaide. She graduated from Flinders University Drama Centre in 2009, with First Class Honours, the Malcolm Fox Drama Prize and a University Medal.
She has since worked as a performer and devisor on film and theatre. She has worked with both independent and established companies. She has also studied intensively with Shakespeare and Company in the USA. Her credits include Vitalstatistix Theatre Company: Cutaway: A Ceremony (2013), Future Present (2014), MC for Adhocracy (2015); Vitalstatistix and HotHouse Theatre: Quiet Faith (2014/2015); STCSA: Othello (2014), Tiny Bricks and Brink Productions: Deluge (Adelaide Festival, 2016), Windmill Theatre Company: Grug and the Rainbow (2016). She can also be seen in Gravity Films and Epic Films' Goober, to premiere on abc iview in 2016.
Credits
Director Sam Haren
Designer Jonathon Oxlade
Composer DJ TR!P
Lighting Designer Chris Petridis
Puppet Maker Tamara Rewse
Remount Director Ellen Steele
Performer James Smith
Performer Ezra Juanta
Performer Ashton Malcolm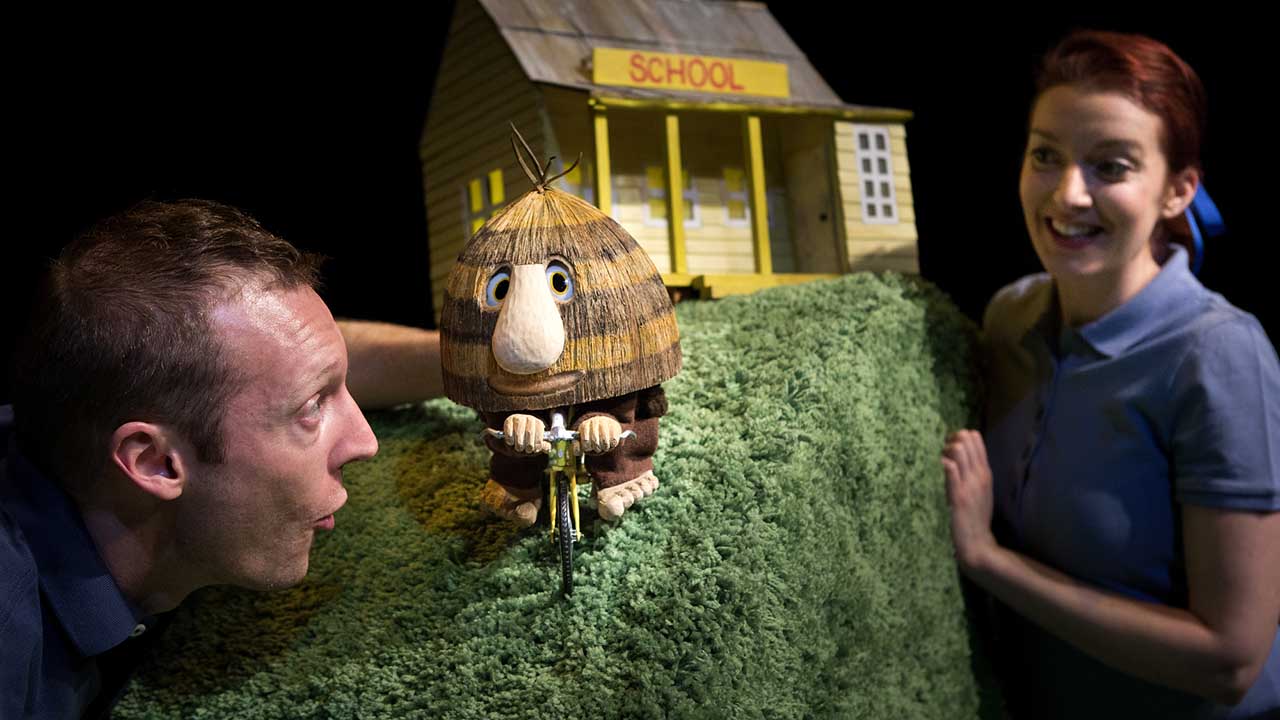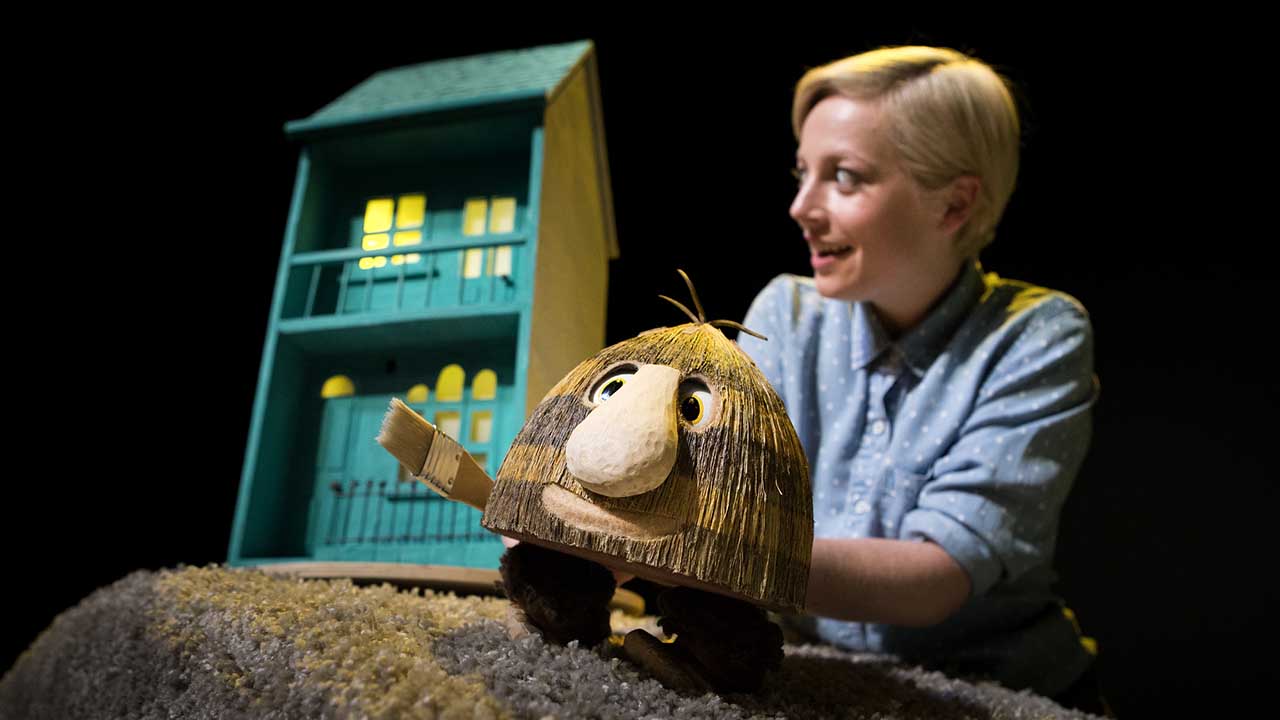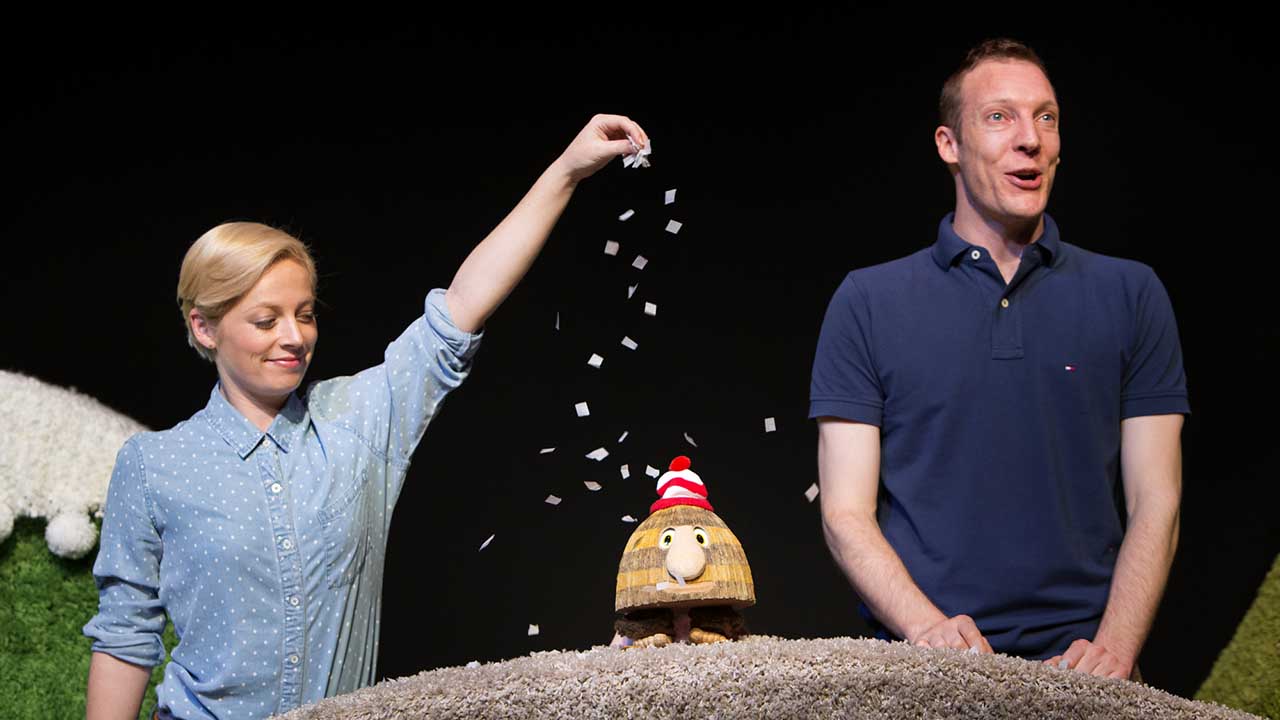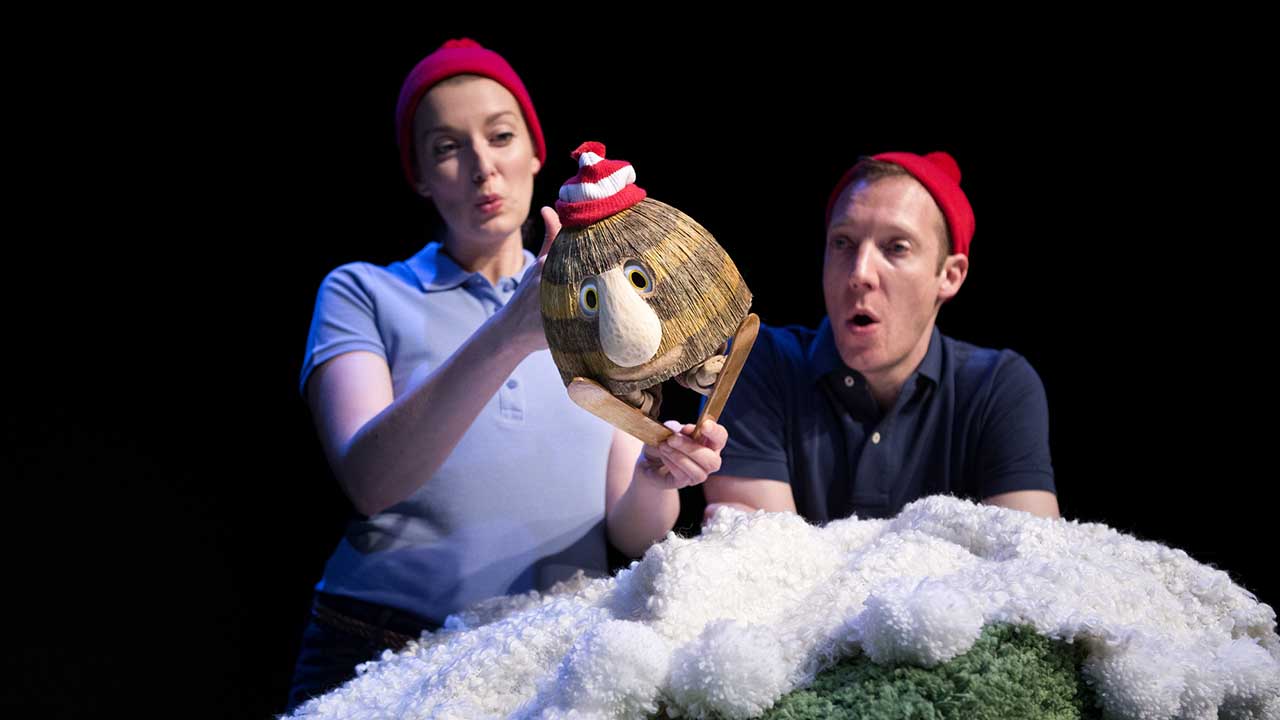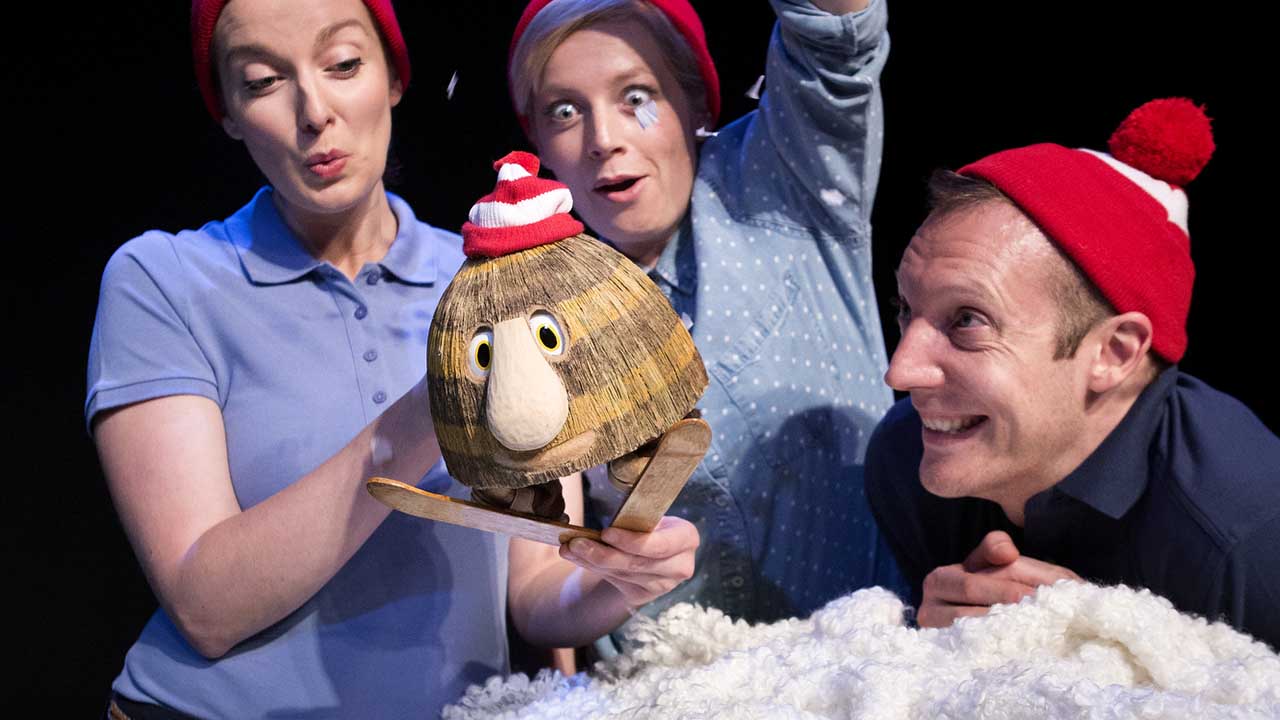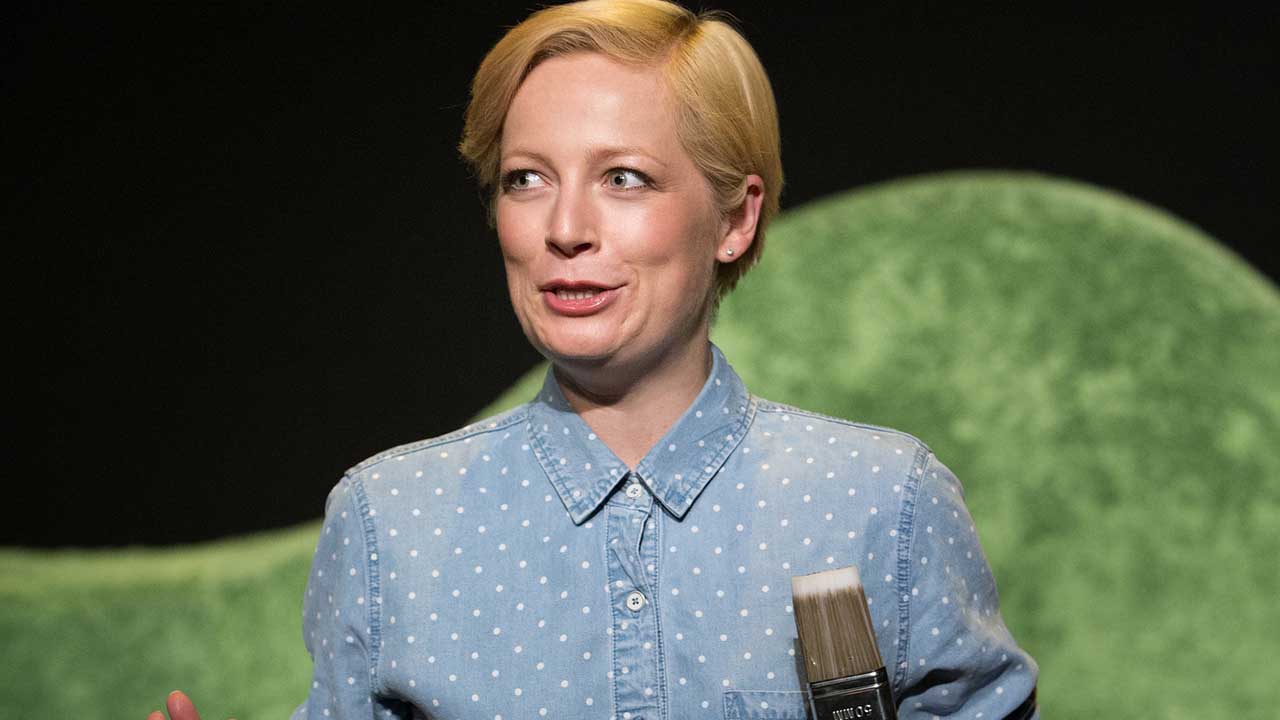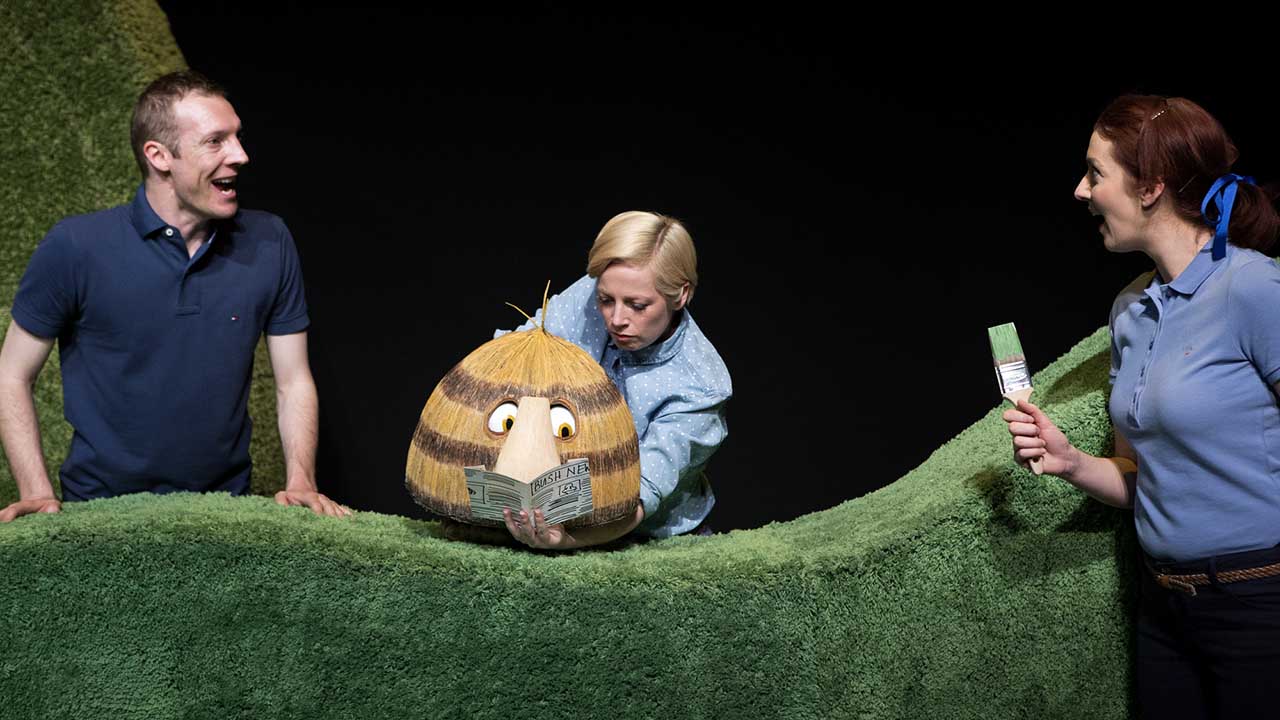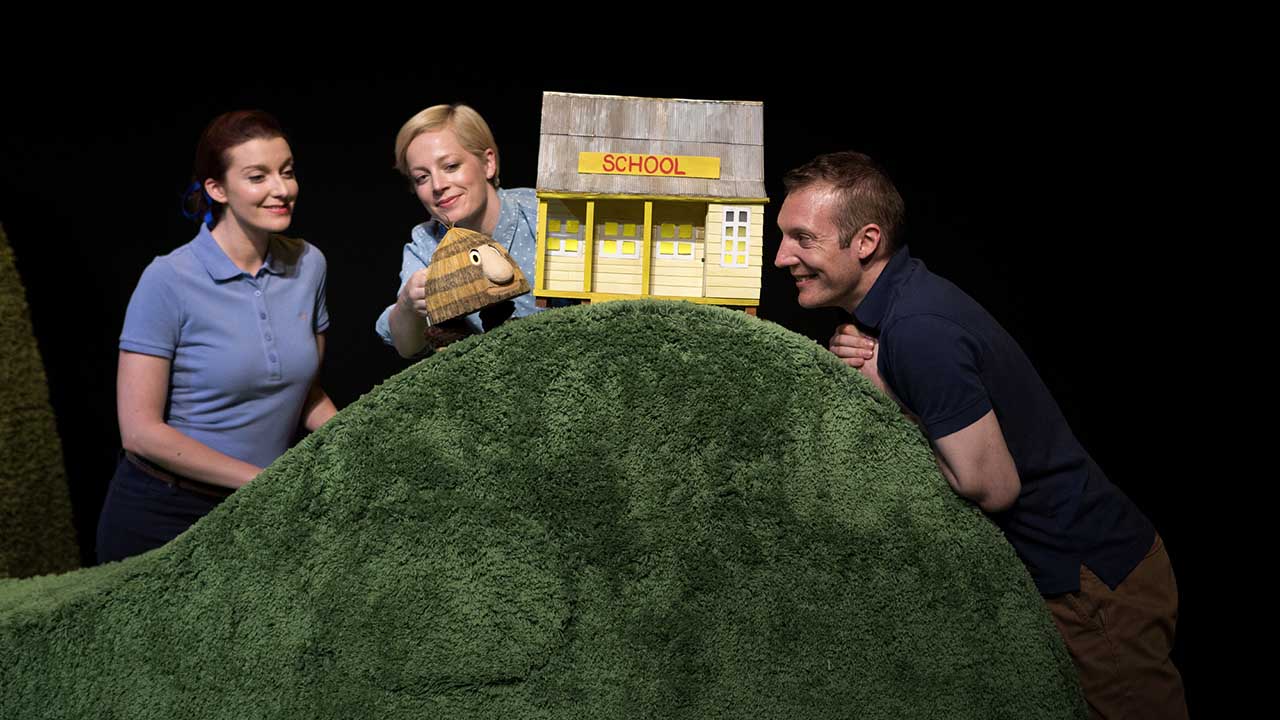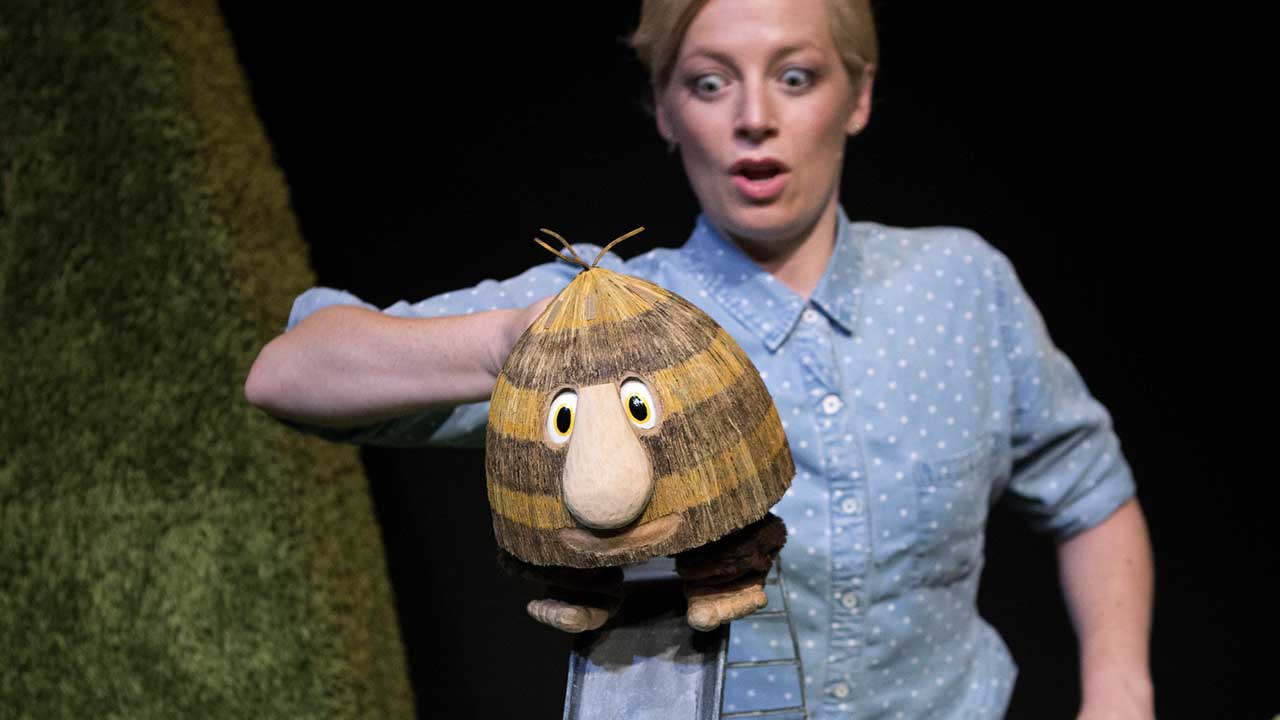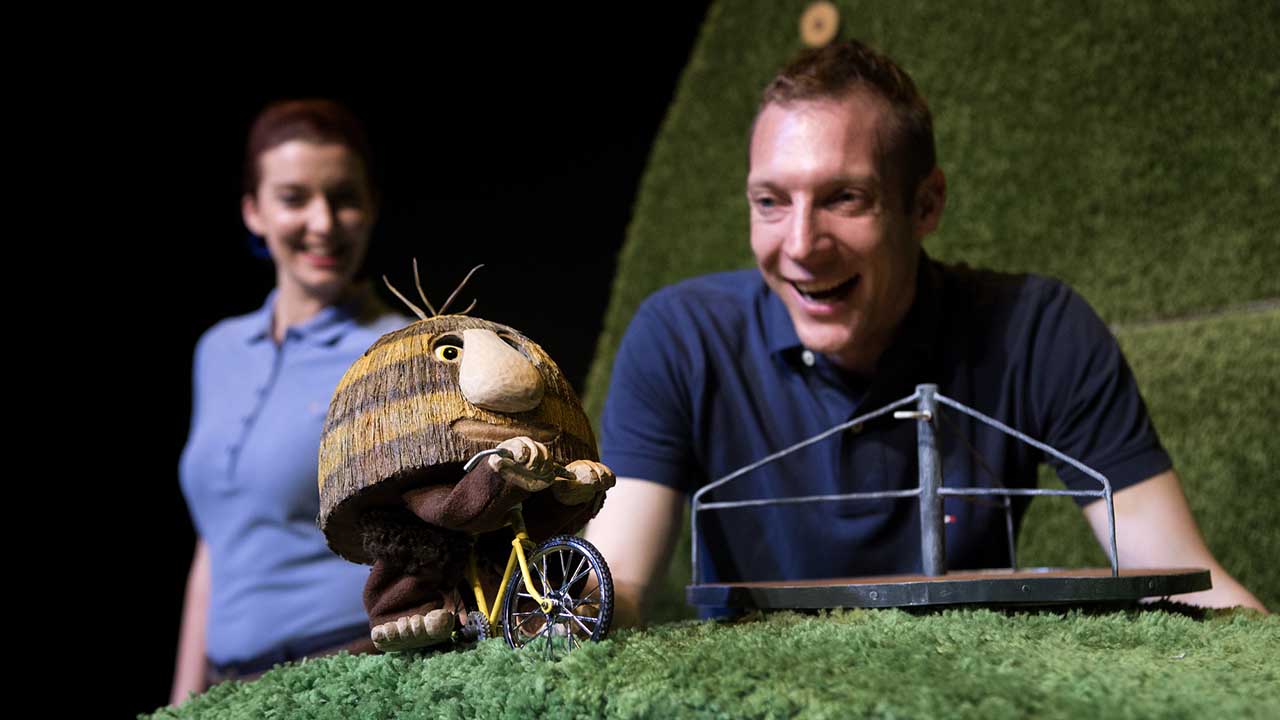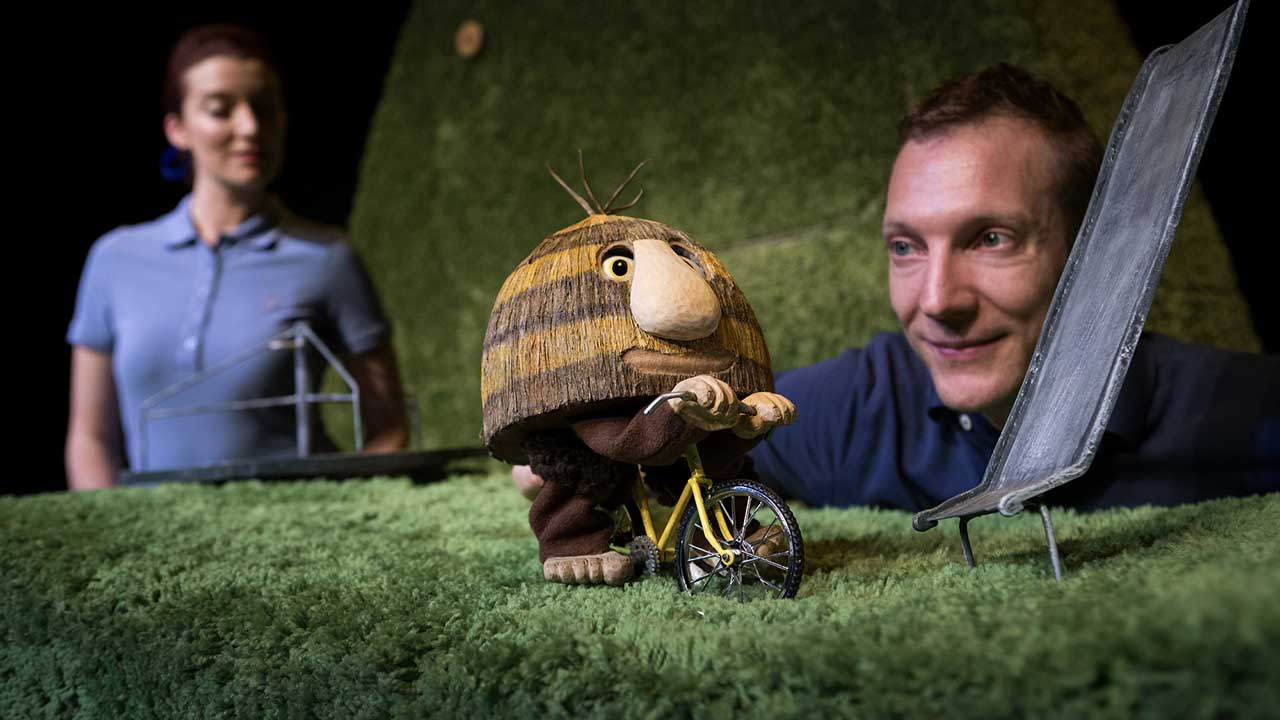 Acknowledgements
Grug and the Rainbow is a Windmill Theatre Company production.