About
An adventure in a fantastical world of wonder somewhere over the rainbow…
Exactly 70 years on from the iconic MGM film, we retell the much loved tale of Dorothy's quest to find herself and her way back home.
As a tribute to the magic and originality of this enduring adventure, our Wizard of Oz will be a daring, flamboyant and exhilarating theatrical journey for the whole family.
Full of imagination, and invigorated with some surprising twists, this is a aselebration of the yellow brick road we all travel to find out just what we're made of.
A visually spectacular and musically sumptuous explosion, ours is a bold retelling for another Land of Oz in a brand new century.
Warning: This play contains cross-dressing, a (lame) lion and truly wicked witches.
Meet the Cast & Creative Team
Rosemary Myers
Director
Under Rose's leadership as Artistic Director, Windmill creates and presents work inspired by the vibrancy, sophistication and inventiveness of young people and the exhilarating challenges they pose to creating theatre of relevance in this modern time.
Rose is a multi-Helpmann Award nominated director, her productions regularly visit leading stages and festivals around Australia and the world, including the Sydney Opera House, Hong Kong's Arts and Leisure Centre and New York's New Victory Theatre. Her directing credits for Windmill include Rumpelstiltskin, Pinocchio, The Wizard of Oz, Fugitive, School Dance, Big Bad Wolf and Girl Asleep.
Prior to Windmill, Rosemary was the Artistic Director of Arena Theatre Company and Artistic Director of Queensland Performing Arts Centre's Out of the Box Festival in 2010. In 2015, she directed her first feature film Girl Asleep with Windmill Theatre Co, and in 2017 she was awarded the prestigious Australia Council Theatre Award.
Ursula Yovich
Performer
Ursula graduated from the Aboriginal Centre for the Performing Arts in 1996 and has since performed extensively around Australia. Theatre credits include The Small Poppies, The Sapphires (Company B); 7 Stages of Grieving (Sydney Theatre Company).
Her Windmill Theatre Co credits include Riverland and Afternoon of the Elves (Windmill Theatre Co). She has also performed in The Sunshine Club (Sydney Tehatre Company/Queensland Theatre Company); Corrugation Road (Black Swan Theatre Company) and Darlinghurst Nights (Darwin Theatre Company). She had received a Green Room Award nomination for Best Supporting Female Actor, a 2004 Helpmann Award for Best Female Actor in a Musical and a GLUG Award for Best Performance in a Musical. Proud member of Actors Equity.
Hamish Fletcher
Performer
Hamish is a versatile puppeteer and puppet maker with a Masters in Puppetry from VCA. working extensively in theatre, television and cross art forms. He has also trained under Philipe Genty, Mary Underwood, Duda Paiva and Peter Wilson.
He has collaborated and worked on a range of productions for ABC television, Sticky Pictures, Super Studios and companies Windmill Theatre Co, Arena Theatre, Victorian Opera, Men of Steel, MIFF and Circus Oz. He has toured work to over 25 cities worldwide including to China, Japan, Malaysia, The UK, Ireland, USA, Singapore, Portugal and Canada. He has won Best Host at Kidscreen 2012 as Hoot The Owl for ABC, as well as the Festival Director's Award as part of Men of Steel at Melbourne International Comedy Festival.
Patrick Graham
Performer
Patrick has previously worked on Windmill productions including The Wizard of Oz, Boom Bah! and Big Bad Wolf. For floogle, an independent company Patrick co-founded, he has performed in One Long Night in the Land of Nod, Black Crow Lullabies.
His portrayal of Lenny in floogle's The Homecoming earned him an Advertiser Oscart Award. For State Theatre Company South Australia Patrick has appeared in Blasted, Buried Child, Three Sisters, The Misanthrope, Lion Pig Lion, Equus, and The Dark Room. Patrick's television credits include Blue Heelers, Stingers, Fergus McPhail and McLeod's Daughters. Film credits include The King is Dead (Rolf De Heer) and Angela's Decision (Matt King).
Jude Henshall
Performer
Jude graduated with Honours from Flinders University with a Bachelor of Creative Arts in 2006. Since then, she has worked extensively for flagship, independent and experimental theatre companies across Australia and internationally.
Companies include Bell Shakespeare, Ontrorend Goed, State Theatre Company of SA, Windmill Theatre Co and Patch Theatre. Jude is an associate member of The Border Project and a founding member of isthisyours? Film and television credits include Sunshine and Oranges, The Swimming Lesson, Yuri Shima, Wire Through the Heart and Rainshadow.
Ezra Juanta
Performer
Ezra graduated from Adelaide College of Arts in 2006. Since graduating, Ezra has featured in numerous screen and stage productions, the most notable being his portrayal of The Lion in Windmill Theatre Co's production of The Wizard of Oz.
In 2016 Ezra returned to the musical stage with his loveable performance of the 'Surprise Character' in State Theatre Company SA and Windmill Theatre Co's co-produced musical Rumpelstiltskin.
His other stage credits include Russian Eggflip, The Life of Galileo, Touch Me I'm Sick, King Lear, Under Milkwood, Littlewing and Twinkle Toes, Vin, The Tale of Shaggles and Petrookio, Me N' Me Mates, Mr Burns, Beep, Grug and the Rainbow, and That Eye The Sky. His film and TV credits include Engine Room, Voodoo and Lue, The Hunter, The Plowman Quandary (God Vs Satan), McLeod's Daughters, Sam Fox Extreme Adventures, Friendship Love and Loyalty, and Bad Blood.
Geoff Revell
Performer
Geoff Revell has performed in Windmill Theatre Co's highly successful productions of The Wizard of Oz and Fugitive. In addition to these SA shows, he has performed in over 20 productions for State Theatre Company South Australia.
These include The Ham Funeral, Holding the Man, Three Sisters, Maestro, Life X 3, Noises Off, The Government Inspector, The Crucible, The Merchant of Venice, The Taming of the Shrew, Arabian Nights, and Don's Party. He has also worked for Melbourne Theatre Company, Playbox, Company B (now Belvoir), Church Theatre, Theatre Praxis, Junction, Red Shed, Troupe, Magpie, Patch Theatre, Vitalstatistix, Urban Myth, The Bakehouse, Shifting Point, 4 Bux Productions, Torque Show, and Flying Penguin.
Alirio Zavarce
Performer
A multi-award-winning artistic director and theatre maker, Alirio Zavarce was born in Caracas, Venezuela and migrated to Australia in 1992, graduating from the Flinders University Drama Centre in 2000. He has numerous performance credits with theatre companies across Australia including Sydney Theatre Company, Victorian Opera, Malthouse and State Theatre Company South Australia.
Alirio is the Artistic Director of AJZ Productions, True North Youth Theatre Ensemble and No Strings Attached Theatre of Disability. Alirio wrote and directed Trapped and Sons & Mothers, and wrote and performed in the semi-autobiographical The Book of Loco. He also directed A Kid Like Me as part of the 2015 Come Out Festival. He represented Australia in the Worlds Festival for Children's Theatre in Canada in 2016, and won both a Ruby Award and an Awgie Award in the same year.
Alirio is currently developing three works: The Tower of Babel, The Book of Errors and I Forgot to Remember To Forget, which premiered at the True Colours Festival in Singapore, and will make its Australian premiere in 2019.
Jethro Woodward
Musical Director
Jethro is a composer, musician and sound designer known for his expansive and highly layered film, theatre and dance scores. He is a multi Green Room Award winner and nominee, working with some of Australia's leading major and independent companies.
These include Melbourne Theatre Company, Malthouse Theatre, Belvoir, Arena, Windmill Theatre Co, Melbourne Symphony Orchestra, Australian Dance Theatre and more. Jethro won Green Room Awards for Moth (Malthouse/Arena), Goodbye Vaudeville Charlie Mudd (Malthouse/Arena) and The Bloody Chamber (Malthouse). He was the Musical Director and Sound Designer for six-time Helpmann nominated musical Wizard of Oz and multi-award winning Pinocchio.
Chris More
Video Designer
Chris studied Electronic Design and Interactive Media at Swinburne. His work with the moving image has led to creative collaborations for live performance and theatre, including Starchaser (Arena Theatre Company), Half Real (The Border Project).
He has also worked on Wizard of Oz and School Dance for Windmill Theatre Co, Girl Who Cried Wolf for Arena Theatre Company, Criminology for Arena Theatre Company (co-production with Malthouse Theatre), and Skid 180 with Arena Theatre Company (co-production with Contact). Chris runs the creative design practise Studio Organic, an interdisciplinary studio working in visual design.
Jonathon Oxlade
Designer
Jonathon has designed set and costumes for Queensland Theatre, LaBoite Theatre, isthisyours?, Aphids, Arena Theatre Company, Polyglot, The Real TV Project, Polytoxic, Men of Steel, Lemony S Puppet Theatre, Terrapin Puppet Theatre, Vitalstatistix and Barking Gecko.
He has also worked with Bell Shakespeare, The Border Project, State Theatre of South Australia, Dead Puppet Society, The Last Great Hunt, Sydney Theatre Company, The Escapists, Melbourne Theatre Company, Sandpit, Belvoir St Theatre and Windmill Theatre Co, where he is resident designer. Jonathon has received numerous awards. Most recently in 2016, Jonathon was awarded the Sidney Myer Creative Fellowship and received APDG awards for both Best Production Design and Best Costume Design for Girl Asleep, and received an AACTA award for best Costume for Girl Asleep.
In 2017, he received the Sydney Theatre Award for Best Costume Design for Mr Burns.
Geoff Cobham
Lighting Designer
Geoff has worked as an Event Producer, Production Manager, Lighting Designer, Set Designer, Public Artist and Venue Designer. His work includes smaller innovative productions at the Performance Space, Queens Theatre, Belvoir St and Red Shed.
Geoff has worked at non-theatre venues to large scale theatre/dance productions, festivals, art exhibitions, events, museums and venue creation. With his company Bluebottle he has designed many lighting installations and lit public artworks, buildings, landscapes and freeways. He received a Churchill Fellowship in 2010 to study Outdoor Theatre in Europe. This led to the creation of Barrio; inspired by the "participatory theatre" movement currently sweeping Europe.
Julianne O'Brien
Dramaturg
Julianne is a playwright with numerous stage and screen credits including Blue Heelers (Southern Star) and Backberner (ABC-TV Sydney). She consults as a dramaturg for theatre companies throughout Australia and lectures in story design at Victoria University.
Julianne also teaches comedy writing for Swinburne University and writes features for The Age. Julianne was dramaturg on the Arena Theatre multimedia trilogy Autopsy, Mass and Panacea, which won the 1999 ASSITEJ President's Award for Best in the World, presented in Norway. Both Autopsy and her highly acclaimed first play, The Women There, have toured Canada as invitees of major theatre festivals. Julianne wrote Arena Theatre's Eat Your Young that toured to Taiwan and Australian capital cities. For Windmill Theatre Co, she has written Pinocchio and Rumpelstiltskin.
Paul White
Hammond organist
Paul White is one of Adelaide's most sought after musicians, producers, composers, and educators. He has worked with an extensive list of the who's who of Australian music including Brian Cadd, Stevie Wright, Troy Cassar Daly, The Party boys and many more.
He has also been in his own projects like Goose, Lucifer's Lounge and the Hammond Eggs. Paul has composed music for short films, commercials, and video games and also produces, engineers and co-writes music with other artists. Paul has toured extensively both nationally and internationally with his music and works regularly in Adelaide not only as a gigging musician but also as a session keyboard player for many recording artists.
Pete Brundle
Video System Engineer
Pete Brundle is a Melbourne based interaction designer and programmer. Originally trained as a classical musician, Pete moved into experimental performance making and computer music during the mid-1990s.
He joined Grey Advertising in 2000 as an interactive designer and left the following year to found Nice Device which he has been operating ever since. Clients include Lynette Wallworth, Genevieve Lacey, Windmill Theatre Co, Bluebottle, Electrolight, Artshouse, Arena Theatre Company, Forma Arts and Media UK, A Friend of Mine, 21-19, Studio Round, Fabio Ongarato, Hunt Studio, Studio Duo Duo, Monarch, Natalie Cursio, Abi Alice, Kirrily Johnston, Deakin University Motion Capture Lab and SIAL RMIT.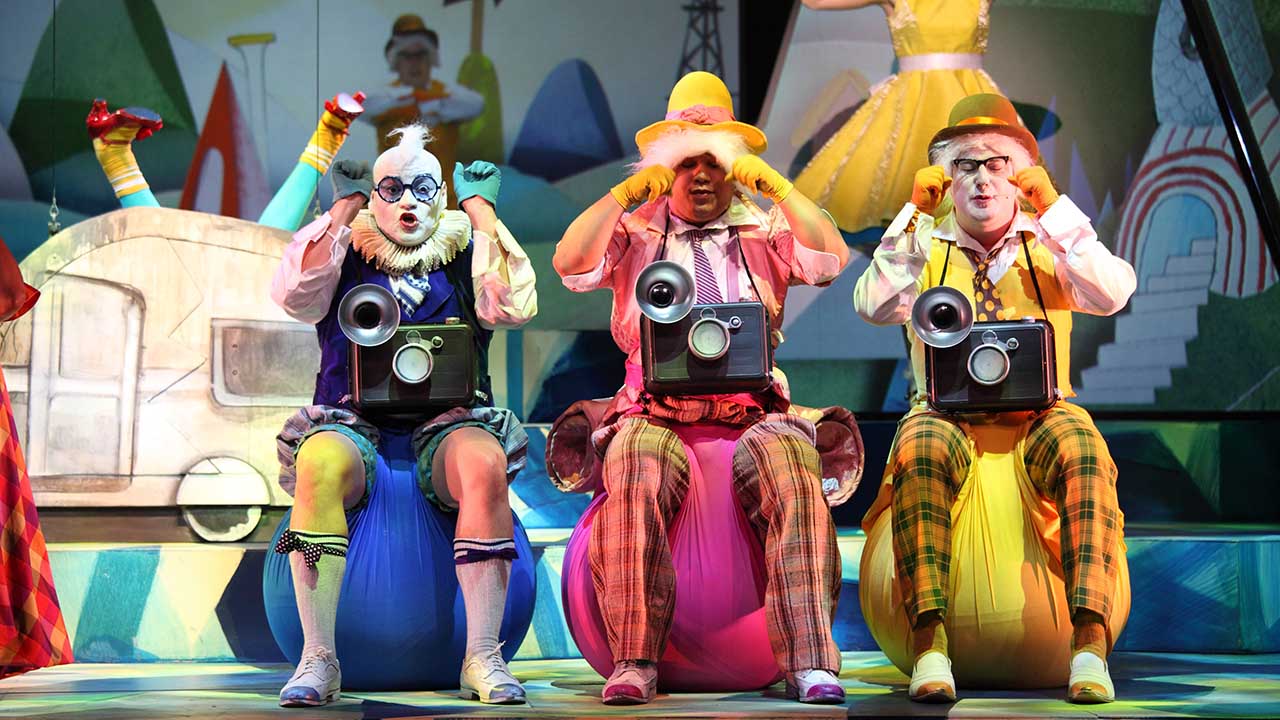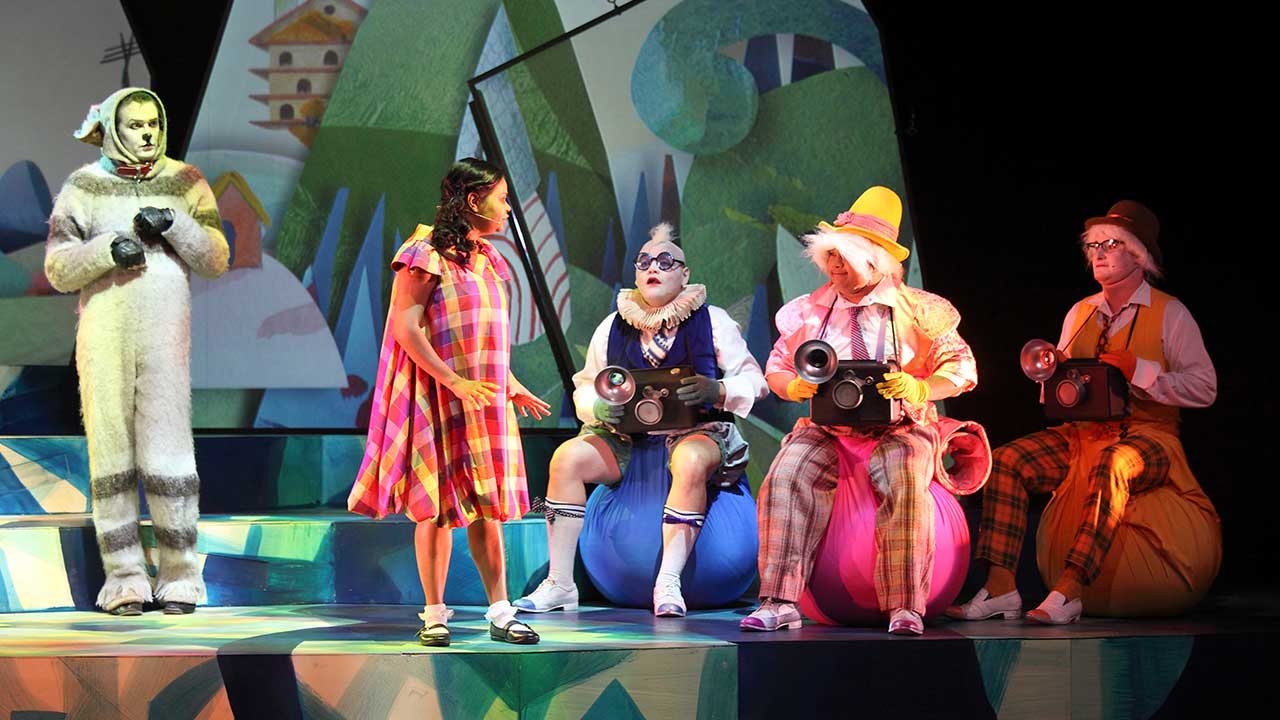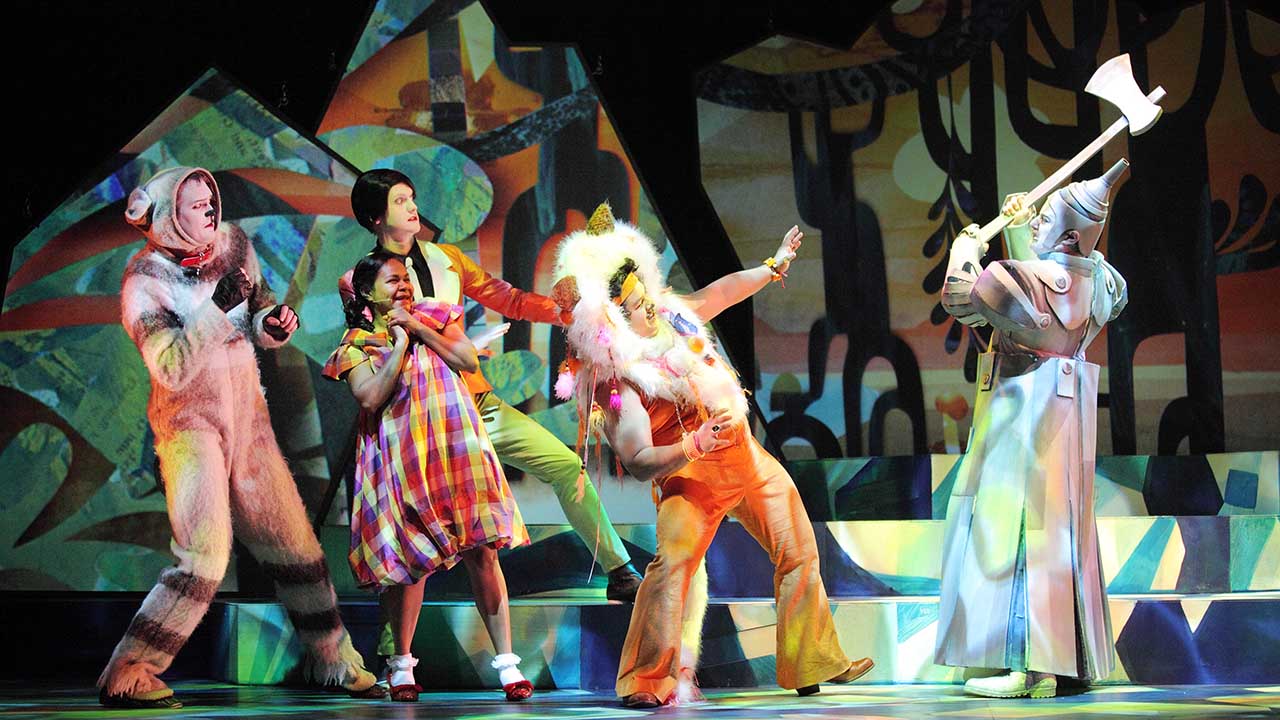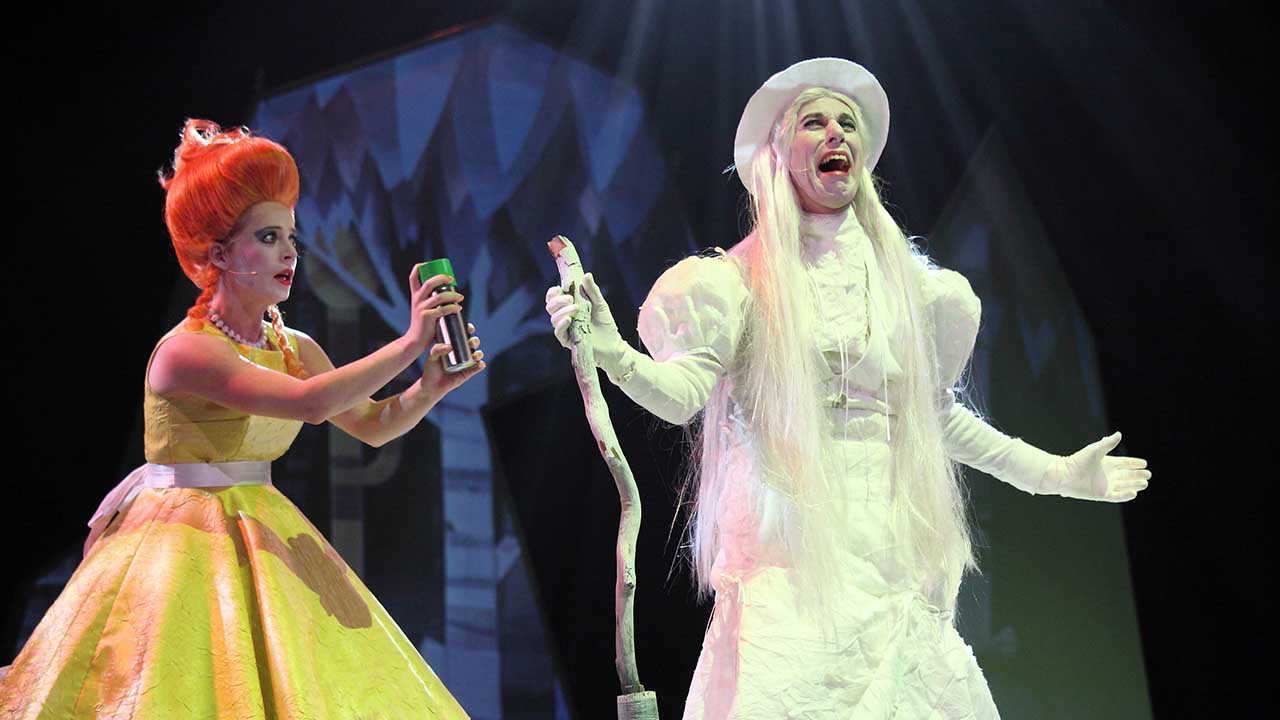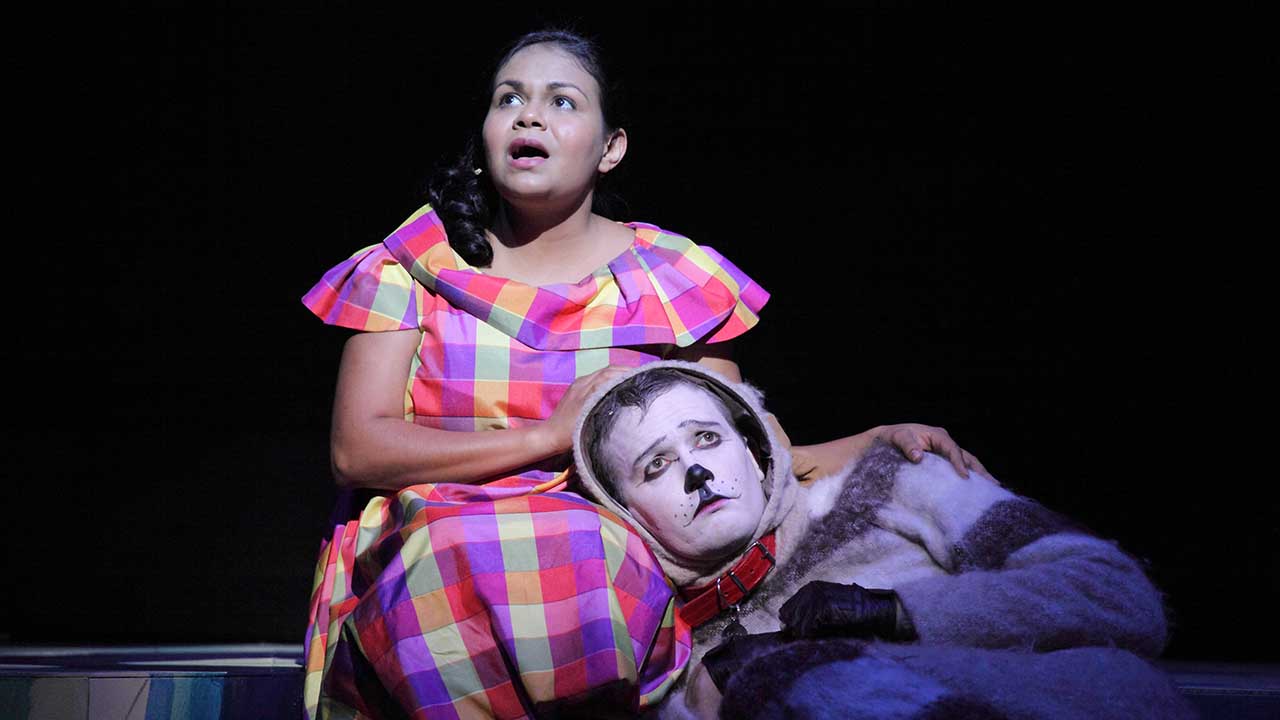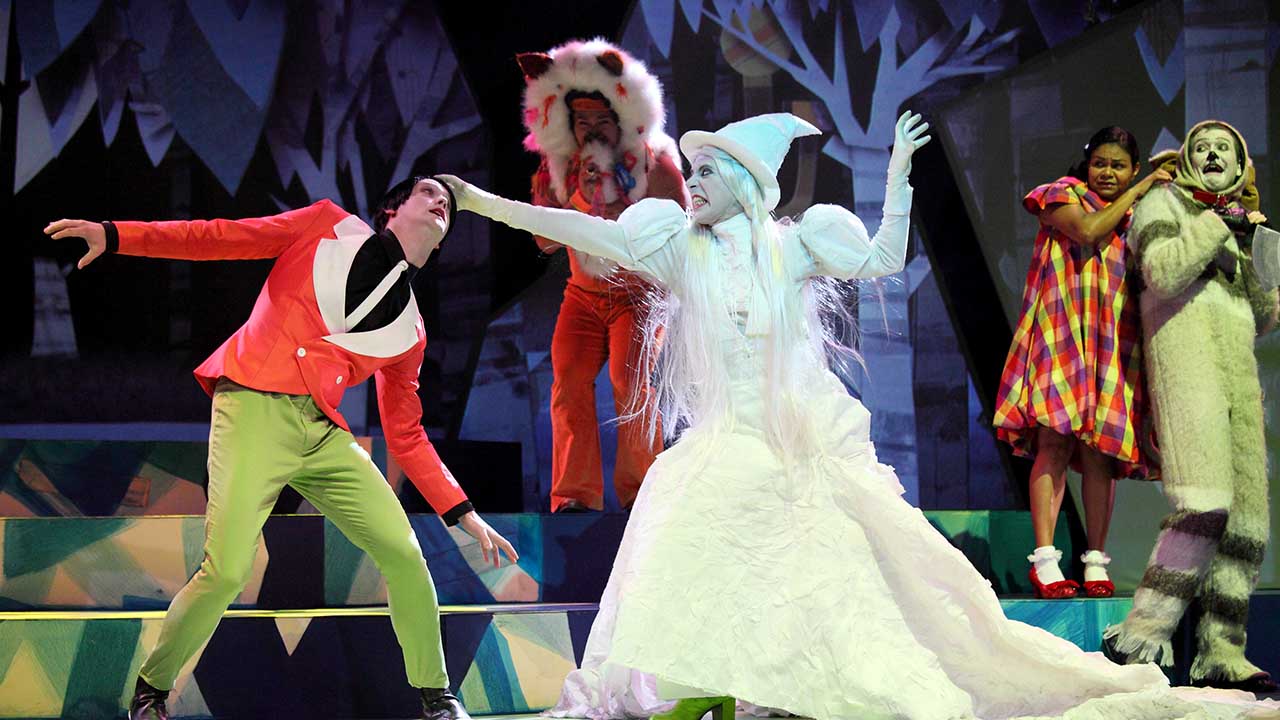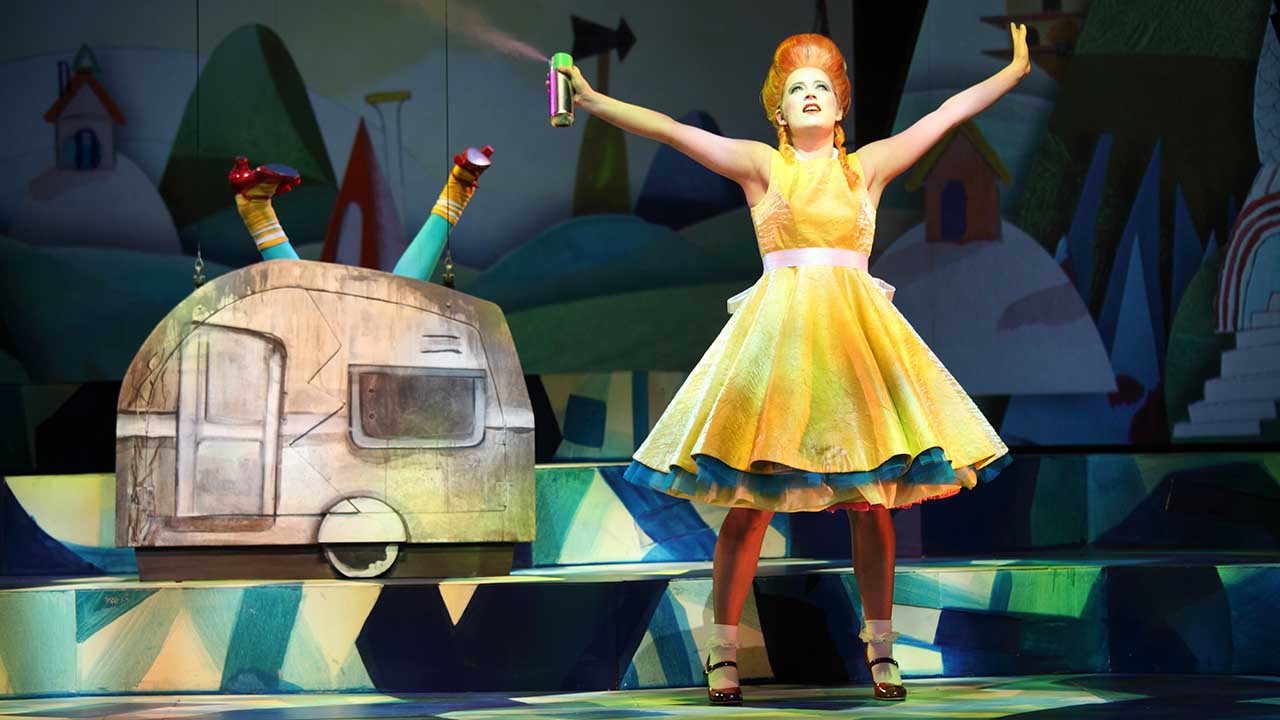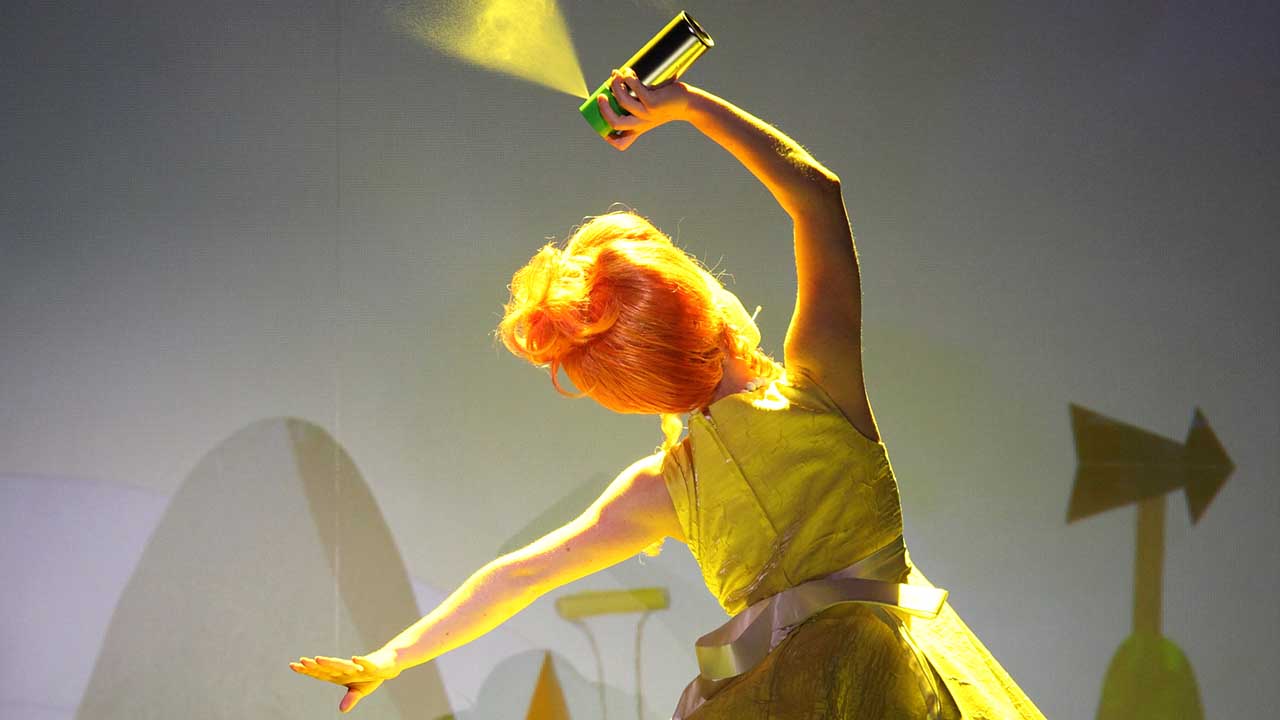 Credits
Director Rosemary Myers
Performer Ursula Yovich
Performer Hamish Fletcher
Performer Patrick Graham
Performer Jude Henshall
Performer Ezra Juanta
Performer Geoff Revell
Performer Alirio Zavarce
Musical Director Jethro Woodward
Video Designer Chris More
Designer Jonathon Oxlade
Lighting Designer Geoff Cobham
Dramaturg Julianne O'Brien
Hammond organist Paul White
Video System Engineer Pete Brundle
Acknowledgements
The Wizard of Oz is a Windmill Theatre Company production, based upon the Classic Motion Picture owned by Turner Entertainment Co and distributed in all media by Warner Bros. By L. Frank Baum, with music and lyrics by Harold Arlen and E.Y. Harburg, background music by Herbert Stothart, dance and vocal arrangements by Peter Howard, and orchestration by Larry Wilcox. Adapted by John Kane for the Royal Shakespeare Company.