About
Everything was normal on your flight over the ocean… until the plane went down and you crashed on an unknown island!
Now there are vampires, time machines and superpowers to deal with, and any decision could mean life or death. The hardest part? It's the audience who decides!
This is choose-your-own-adventure theatre, and with your very own hand-held controller, you'll be steering the play. But think carefully before you make a choice – or you might end up on the island… forever!
Meet the Cast & Creative Team
Finegan Kruckemeyer
Writer
Finegan has had 86 commissioned plays performed on five continents and translated into eight languages. His work has enjoyed seasons in 200 international festivals and at the Sydney Opera House (six works), DC's Kennedy Center (three works), NY's Lincoln Center (three works), Dublin's Abbey Theatre and Shanghai's Malan Flower Theatre.
He and his work have received 36 awards over the past 13 years, including the 2017 Mickey Miners Lifetime Achievement Award for services to international Theatre for Young Audiences, 2015 David Williamson Prize for Excellence in Australian Playwrighting, six Australian Writers Guild Awards and an inaugural Sidney Myer Fellowship. He has spoken at conferences in ten countries, with papers published and works studied at international universities.
Sam Haren
Director
Sam is a Creative Director of Sandpit, a company that create immersive, and interactive theatre and personal experiences. Sam was the Artistic Director of The Border Project from 2002-2012, directing or co-directing all of their work during that time.
He has co-directed Ghosts Toast and the Things Unsaid (Sandpit/ Google's Creative Lab), Eyes (Sandpit) and Skeleton with Larissa McGowan (Adelaide Festival 2013 & Dance Massive/Malthouse). Sam has worked with Australian Dance Theatre as a dramaturg and researcher. He was one of three international finalists for Rolex's Mentor and Protégé Initiative for a mentorship with Julie Taymor in 2006.
For Windmill Theatre Co, Sam has directed Plop!, Escape from Peligro Island, Grug and Grug and the Rainbow, as well as interactive experience My Room.
Jonathon Oxlade
Designer
Jonathon has designed set and costumes for Queensland Theatre, LaBoite Theatre, isthisyours?, Aphids, Arena Theatre Company, Polyglot, The Real TV Project, Polytoxic, Men of Steel, Lemony S Puppet Theatre, Terrapin Puppet Theatre, Vitalstatistix and Barking Gecko.
He has also worked with Bell Shakespeare, The Border Project, State Theatre of South Australia, Dead Puppet Society, The Last Great Hunt, Sydney Theatre Company, The Escapists, Melbourne Theatre Company, Sandpit, Belvoir St Theatre and Windmill Theatre Co, where he is resident designer. Jonathon has received numerous awards. Most recently in 2016, Jonathon was awarded the Sidney Myer Creative Fellowship and received APDG awards for both Best Production Design and Best Costume Design for Girl Asleep, and received an AACTA award for best Costume for Girl Asleep.
In 2017, he received the Sydney Theatre Award for Best Costume Design for Mr Burns.
David Heinrich
Composer, Performer
David Heinrich is a Flinders Drama Centre graduate. In 1991, he got his first job hosting Couch Potato on the ABC. David's theatre credits include The Smile Off Your Face (Ontroerend Goed), The Second Hurricane (ASO), Boy Hamlet (Robyn Archer).
He has also performed in Mr McGee and the Biting Flea (Patch) as well as Escape from Peligro Island and Boom Bah! (Windmill Theatre Co). As a founding member of The Border Project his credits include Highway Rock n Roll Disaster, Please Go Hop!, Trouble on Planet Earth and Vs Macbeth, Half Real (Malthouse, Country Arts SA and Melbourne Festival).
David also and composed and performed in The Border Project's I Am Not An Animal.
Cameron Goodall
Composer
Cameron Goodall studied theatre at Flinders Drama Centre in Adelaide. Since graduating in 2000, he has worked extensively for many of Australia's major theatre companies. His work has seen him nominated for numerous awards.
These include Helpmann's for Best Actor (Hamlet) and Best Supporting Actor (The Goat or Who is Sylvia). He is currently a member of Sydney Theatre Company's permanent actor's ensemble, The Residents. He last appeared for Windmill in Clockwork Forest. As a founding member of the Border Project he has co-devised, performed in or written music for all of their productions. He has written music for many other shows, won an ARIA with his previous band The Audreys and once appeared in a really embarrassing Pizza ad.
Mark Pennington
Lighting Designer
Mark's lighting credits include Prince of Darkness and Bernstein Mass (Adelaide Festival), Proximity, Worldhood and Ignition (Australian Dance Theatre), The Buried Child, Mnemonic, The Price and November (State Theatre Company South Australia).
He has also done the lighting for Blackbird, True West, Assassins and The Birthday Party (Flying Penguin Productions), Ruby Bruise (Viatlstatistix).
Mark has worked extensively with Sydney Theatre Company, lighting productions such as Holy Day, Mr Kolpert, The 7 Stages of Grieving and many others. Mark has also lit productions for Ensemble Theatre, Brink Productions, Leigh Warren and Dancers, Bell Shakespeare, Magpie 2, Kitchen Sink and the Productions, The Fever and The Lieutenant of Inishmore for Company B. Mark lit Helly's Magic Cup for Windmill Theatre Co.
Matthew Gardiner
Controller Designers
Matthew is an artist known for his work with origami and robotics. He coined the term Oribot and created the field of art / science research called Oribotics. In 2009, he created his first robotic percussion work Radiobots, manifesting an idea from a vivid dream.
In 2010, he was one of the inaugural Australian Council funded artists in residence at Ars Electronica Futurelab, where he resided for 6 months creating a new generation of Oribotics. At the conclusion of his residency he had produced his largest ever work, comprising of 50 oribots, 52500 folds, a star exhibit at the Ars Electronica Festival, and a stunning installation in the Ars Electronica Museum.
Ray Gardiner
Controller Designers
Ray is a technologist/programmer/electronics designer. Ray is one of Australia's leading experts in embedded industrial control systems for real-time data and image processing. He has working for over 20 years commercially.
In that time, Ray has designed and implemented industrial control systems ranging from high-speed fruit sorting machines, networked building lighting/security/fire control systems, and computer numeric control routers for guitar shaping. He works from the ground up, developing robust systems for industrial applications. From 2004-2010 he designed the embedded control systems for all the generations of Oribotics.
Jude Henshall
Performer
Jude graduated with Honours from Flinders University with a Bachelor of Creative Arts in 2006. Since then, she has worked extensively for flagship, independent and experimental theatre companies across Australia and internationally.
Companies include Bell Shakespeare, Ontrorend Goed, State Theatre Company of SA, Windmill Theatre Co and Patch Theatre. Jude is an associate member of The Border Project and a founding member of isthisyours? Film and television credits include Sunshine and Oranges, The Swimming Lesson, Yuri Shima, Wire Through the Heart and Rainshadow.
Alirio Zavarce
Performer
A multi-award-winning artistic director and theatre maker, Alirio Zavarce was born in Caracas, Venezuela and migrated to Australia in 1992, graduating from the Flinders University Drama Centre in 2000. He has numerous performance credits with theatre companies across Australia including Sydney Theatre Company, Victorian Opera, Malthouse and State Theatre Company South Australia.
Alirio is the Artistic Director of AJZ Productions, True North Youth Theatre Ensemble and No Strings Attached Theatre of Disability. Alirio wrote and directed Trapped and Sons & Mothers, and wrote and performed in the semi-autobiographical The Book of Loco. He also directed A Kid Like Me as part of the 2015 Come Out Festival. He represented Australia in the Worlds Festival for Children's Theatre in Canada in 2016, and won both a Ruby Award and an Awgie Award in the same year.
Alirio is currently developing three works: The Tower of Babel, The Book of Errors and I Forgot to Remember To Forget, which premiered at the True Colours Festival in Singapore, and will make its Australian premiere in 2019.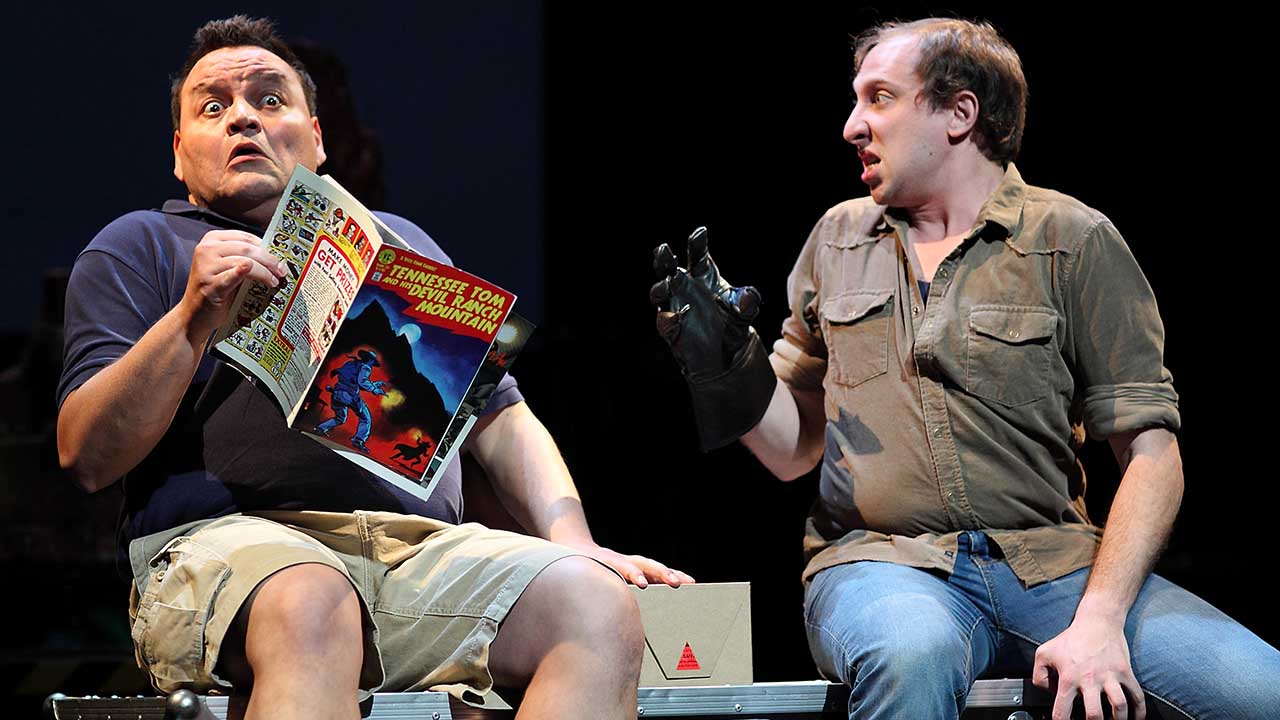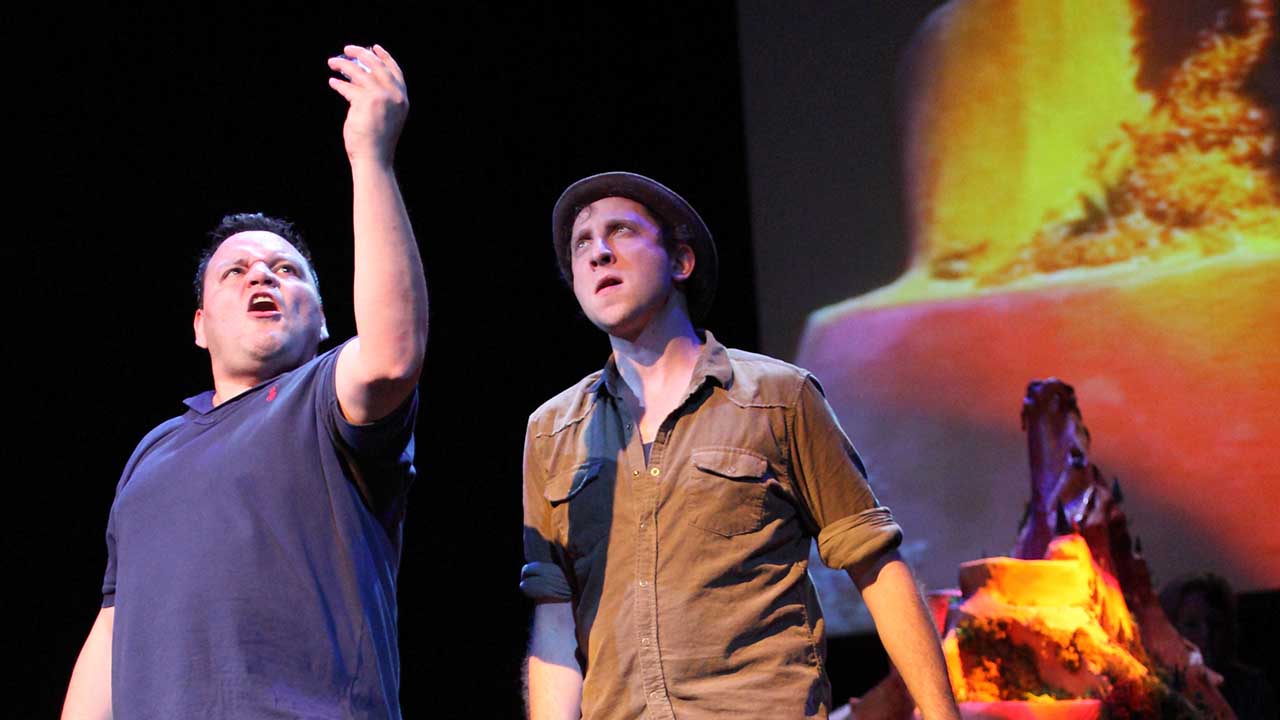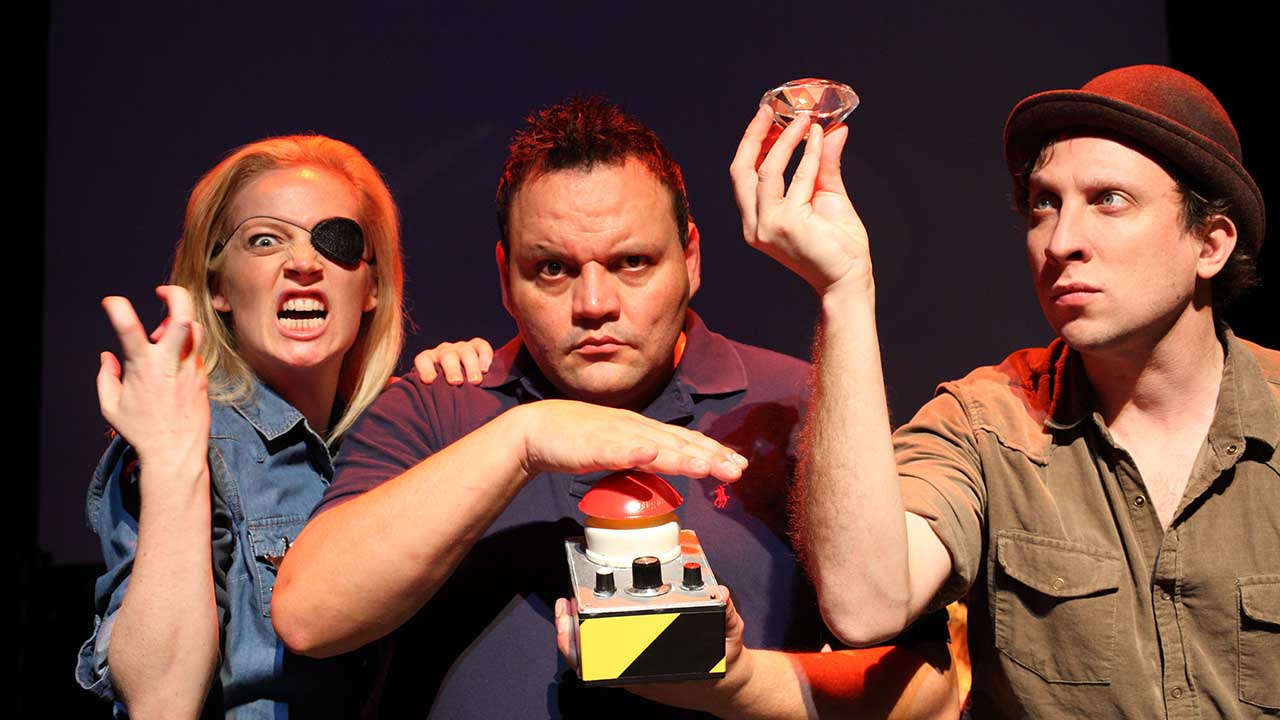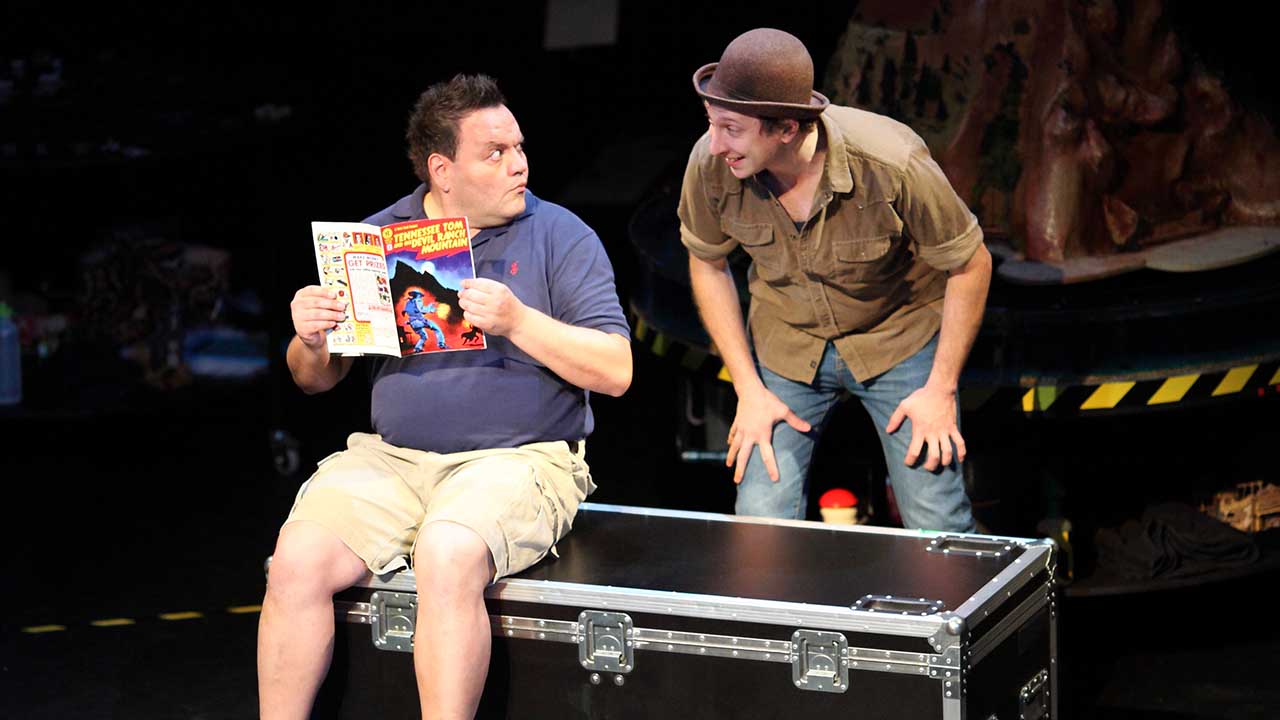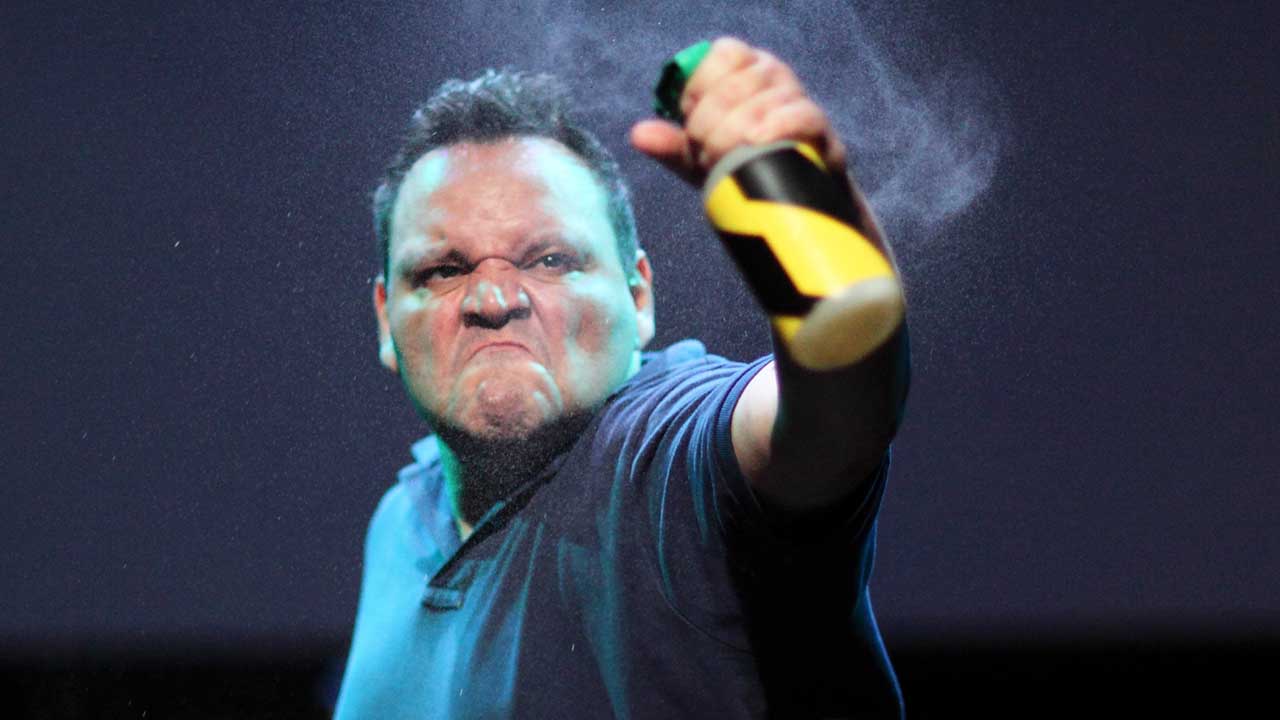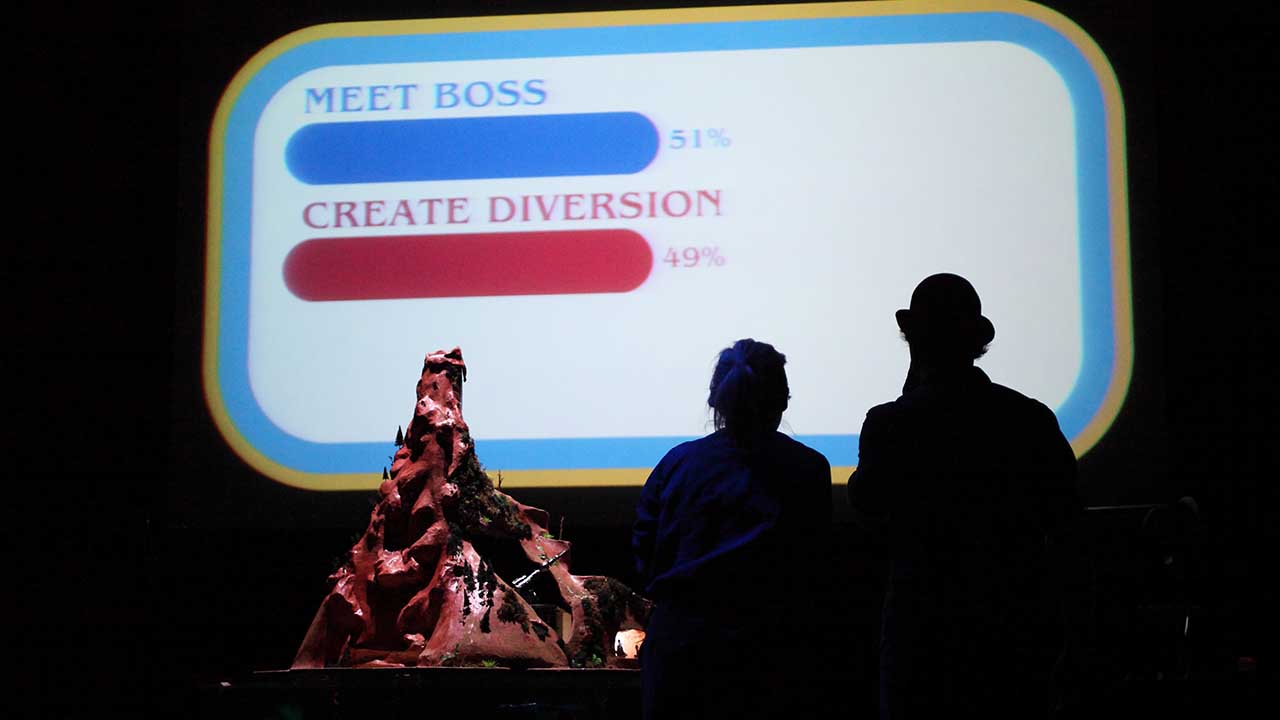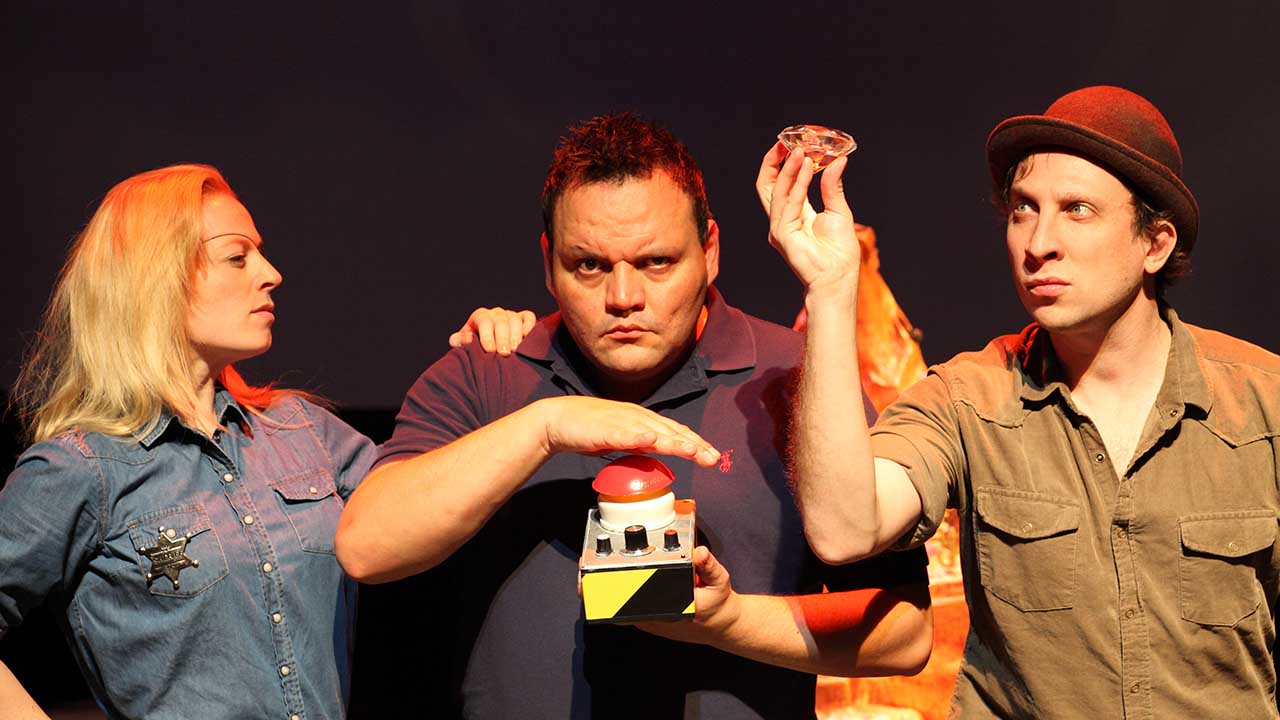 Credits
Writer Finegan Kruckemeyer
Director Sam Haren
Designer Jonathon Oxlade
Composer, Performer David Heinrich
Composer Cameron Goodall
Lighting Designer Mark Pennington
Controller Designers Matthew Gardiner
Controller Designers Ray Gardiner
Performer Jude Henshall
Performer Alirio Zavarce