About
Following a hugely successful season in 2008, we bring back a favourite for our newest and littlest theatre lovers.
Shhh listen, what's that sound? A mouse creates a single ting with a bowl and spoon triggering a makeshift band. An explosion of rhythm and song springs to life as an ensemble of animals move out of the kitchen and on to the glittering stage, complete with magic cupboard, hatching baby chickens and a gigantic washing machine.
Specially crafted to provide our toddlers and pre-schoolers with intimate theatrical experiences, this musical humbug goes off with a ting-tong clickety bang!
Meet the Cast & Creative Team
Rosemary Myers
Director
Under Rose's leadership as Artistic Director, Windmill creates and presents work inspired by the vibrancy, sophistication and inventiveness of young people and the exhilarating challenges they pose to creating theatre of relevance in this modern time.
Rose is a multi-Helpmann Award nominated director, her productions regularly visit leading stages and festivals around Australia and the world, including the Sydney Opera House, Hong Kong's Arts and Leisure Centre and New York's New Victory Theatre. Her directing credits for Windmill include Rumpelstiltskin, Pinocchio, The Wizard of Oz, Fugitive, School Dance, Big Bad Wolf and Girl Asleep.
Prior to Windmill, Rosemary was the Artistic Director of Arena Theatre Company and Artistic Director of Queensland Performing Arts Centre's Out of the Box Festival in 2010. In 2015, she directed her first feature film Girl Asleep with Windmill Theatre Co, and in 2017 she was awarded the prestigious Australia Council Theatre Award.
Jonathon Oxlade
Designer
Jonathon has designed set and costumes for Queensland Theatre, LaBoite Theatre, isthisyours?, Aphids, Arena Theatre Company, Polyglot, The Real TV Project, Polytoxic, Men of Steel, Lemony S Puppet Theatre, Terrapin Puppet Theatre, Vitalstatistix and Barking Gecko.
He has also worked with Bell Shakespeare, The Border Project, State Theatre of South Australia, Dead Puppet Society, The Last Great Hunt, Sydney Theatre Company, The Escapists, Melbourne Theatre Company, Sandpit, Belvoir St Theatre and Windmill Theatre Co, where he is resident designer. Jonathon has received numerous awards. Most recently in 2016, Jonathon was awarded the Sidney Myer Creative Fellowship and received APDG awards for both Best Production Design and Best Costume Design for Girl Asleep, and received an AACTA award for best Costume for Girl Asleep.
In 2017, he received the Sydney Theatre Award for Best Costume Design for Mr Burns.
Quincy Grant
Composer
Quincy Grant writes as a freelance composer on commissions from musicians around Australia and internationally. He has worked in theatre with various companies including Brink Productions, Slingsby, Flying Penquin and Windmill Theatre Co.
He has also worked in film for various production houses, and plays in many genres from rock to new music and, most recently, gypsy music with Golonka, and loser songs with Crash Calypso.
Alirio Zavarce
Performer
A multi-award-winning artistic director and theatre maker, Alirio Zavarce was born in Caracas, Venezuela and migrated to Australia in 1992, graduating from the Flinders University Drama Centre in 2000. He has numerous performance credits with theatre companies across Australia including Sydney Theatre Company, Victorian Opera, Malthouse and State Theatre Company South Australia.
Alirio is the Artistic Director of AJZ Productions, True North Youth Theatre Ensemble and No Strings Attached Theatre of Disability. Alirio wrote and directed Trapped and Sons & Mothers, and wrote and performed in the semi-autobiographical The Book of Loco. He also directed A Kid Like Me as part of the 2015 Come Out Festival. He represented Australia in the Worlds Festival for Children's Theatre in Canada in 2016, and won both a Ruby Award and an Awgie Award in the same year.
Alirio is currently developing three works: The Tower of Babel, The Book of Errors and I Forgot to Remember To Forget, which premiered at the True Colours Festival in Singapore, and will make its Australian premiere in 2019.
David Heinrich
Performer
David Heinrich is a Flinders Drama Centre graduate. In 1991, he got his first job hosting Couch Potato on the ABC. David's theatre credits include The Smile Off Your Face (Ontroerend Goed), The Second Hurricane (ASO), Boy Hamlet (Robyn Archer).
He has also performed in Mr McGee and the Biting Flea (Patch) as well as Escape from Peligro Island and Boom Bah! (Windmill Theatre Co). As a founding member of The Border Project his credits include Highway Rock n Roll Disaster, Please Go Hop!, Trouble on Planet Earth and Vs Macbeth, Half Real (Malthouse, Country Arts SA and Melbourne Festival).
David also and composed and performed in The Border Project's I Am Not An Animal.
Ezra Juanta
Performer
Ezra graduated from Adelaide College of Arts in 2006. Since graduating, Ezra has featured in numerous screen and stage productions, the most notable being his portrayal of The Lion in Windmill Theatre Co's production of The Wizard of Oz.
In 2016 Ezra returned to the musical stage with his loveable performance of the 'Surprise Character' in State Theatre Company SA and Windmill Theatre Co's co-produced musical Rumpelstiltskin.
His other stage credits include Russian Eggflip, The Life of Galileo, Touch Me I'm Sick, King Lear, Under Milkwood, Littlewing and Twinkle Toes, Vin, The Tale of Shaggles and Petrookio, Me N' Me Mates, Mr Burns, Beep, Grug and the Rainbow, and That Eye The Sky. His film and TV credits include Engine Room, Voodoo and Lue, The Hunter, The Plowman Quandary (God Vs Satan), McLeod's Daughters, Sam Fox Extreme Adventures, Friendship Love and Loyalty, and Bad Blood.
Louisa Mignone
Performer
Louisa's professional theatre credits include Actor's At Work (Bell Shakespeare Company) and Boom Bah! (Windmill Theatre Co). Louisa has also been a part of and performed in numerous productions for Flinders Drama Centre.
These include Metamorphoses, Clark in Sarajevo, The Rope Project, The Hulk Fitzjames, Flight, Loveplay, A Dream Play, Push Up, 21 Short Scenes on Getting There. Her television credits include My Place and East West 101. Louisa has also appeared in films including She Loves Me, She Loves Me Not, Two Fists One Heart and Spike Up.
WHAT THE CRITICS SAY
"I've never heard a children's audience react so long and strong"

Adelaide Now
"Boom Bah! is excellent - the perfect children's show"

Adelaide Now
"A joy to behold... a fun-filled half hour of play and surprise for young and old alike"

Lowdown Magazine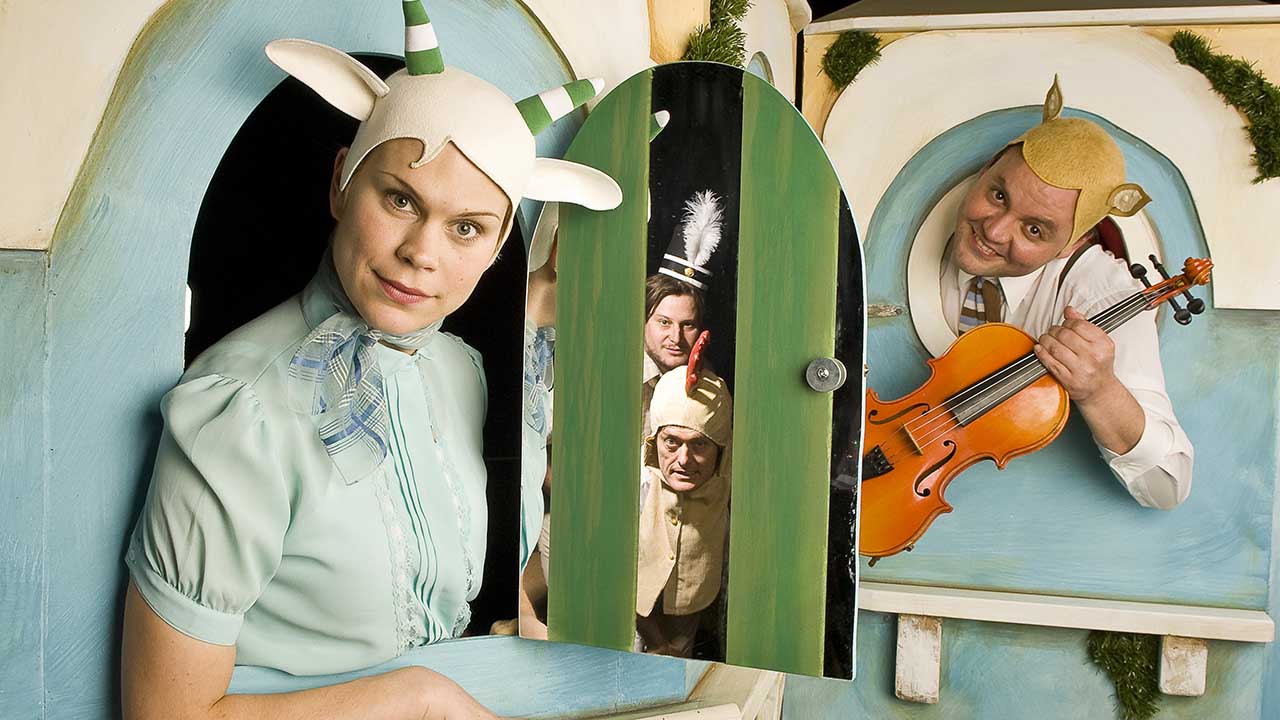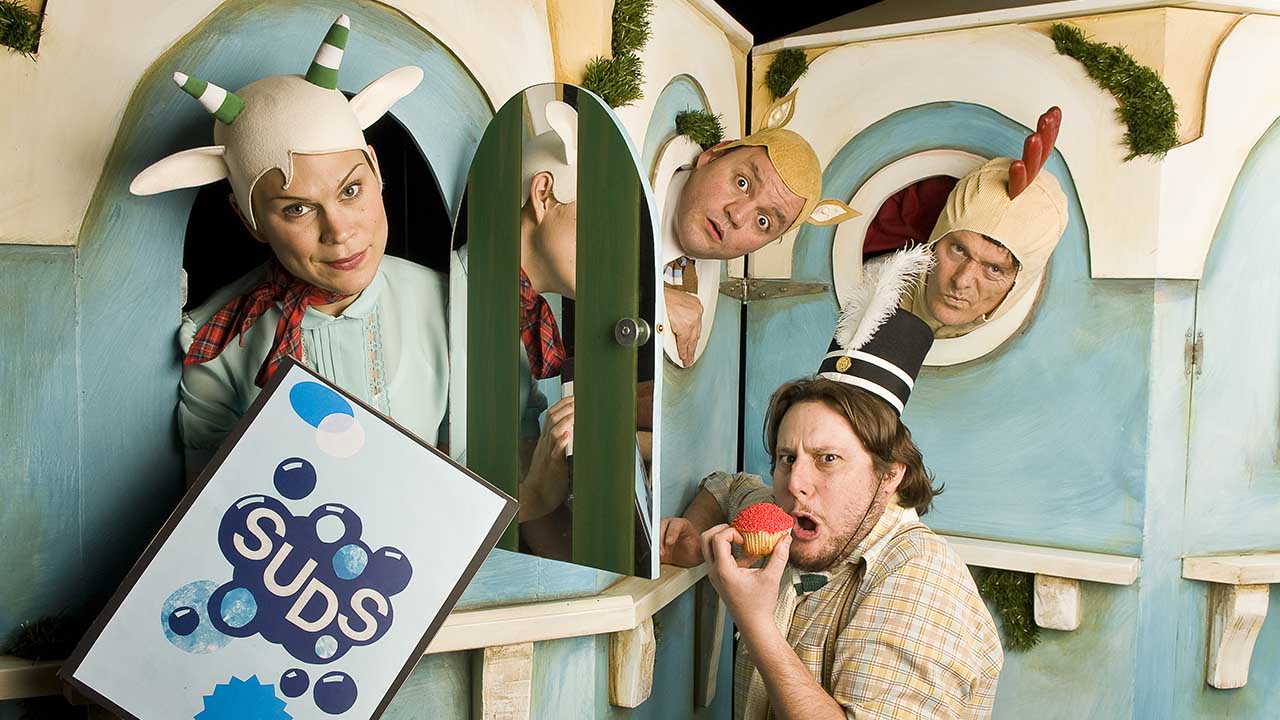 Credits
Director Rosemary Myers
Designer Jonathon Oxlade
Composer Quincy Grant
Performer Alirio Zavarce
Performer David Heinrich
Performer Ezra Juanta
Performer Louisa Mignone