From Whyalla to Wagga Wagga: Taking Windmill to the regions
Windmill has been to some of the furthest reaches of the globe, but many of our biggest fans can be found in the most remote corners of Australia.
Every year, our shows visit people all over the country from Roxby Downs to Margaret River to Wagga Wagga.
Since 2011, there has been 158 Windmill performances in a wide range of regional towns with even more coming up over the next year.
Bryanne Jardine from Murwillumbah Theatre Company in New South Wales says offering live theatre experiences for young people in remote areas is critical.
"There is definitely a market and an interest in live theatre out here," Jardine said.
"In this technological age, it's more important than ever to offer the opportunity and experience of live theatre to as many young people as possible."
The 'Big Bad Wolf' cast backstage in Tamworth
"It's been great being able to inject some art, talent and skills into a town that may not necessarily have a lot of exposure." Lyndie Li Wan Po, Stage Manager
For Karina Rose, Performing Arts Coordinator at the Burnie Arts and Function Centre in Tasmania, Windmill's visits are vital for the fostering of young artists.
"Windmill Theatre always produce high quality, highly entertaining shows and it's extremely important regional areas have access to them," Rose said.
"Young people are inspired and encouraged by both visiting and local companies.
"There are many creative young people in the region, who are involved in the local musicals and theatre productions, and the arts provides a great opportunity to express themselves and develop careers in the industry."
The 2015 tour of 'The Ballad of Pondlife McGurk' leaving Ernabella in the APY Lands
Lyndie Li Wan Po, stage manager for the 2017 Grug and the Rainbow and 2018 Big Bad Wolf regional Australian tours, says living in each other's pockets while on tour can be hard, but the kind welcome from the venues definitely helps.
"Constantly packing and unpacking your bags and trying to make motels feel like home can be tough," Li Wan Po said.
"The theatres end up taking very good care of us as a company, knowing we're on tour and we would often receive care packages or welcome gifts which was lovely."
But she says the joyous reaction from kids makes all the hard parts of 'touring life' worth it.
"During the Big Bad Wolf tour, it was beautiful seeing hundreds of children sitting on the floor after there were no seats left in the stalls, crowded around the set with minimal technical elements purely enjoying the story.
"Not only do the kids leave the theatre excited but you know you've got a great show when parents and teachers leave with smiles on their faces and crew members want to take pictures with the cast or puppets.
"It's been great being able to inject some art, talent and skills into a town that may not necessarily have a lot of exposure."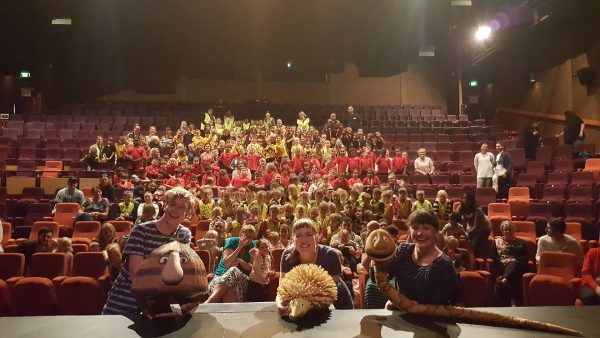 The 'Grug and the Rainbow' cast with their audience on the 2017 regional tour.
Travelling to these towns can be as much of a rewarding experience for our artists as it is for the incredible audience members they meet along the way.
Elizabeth Hay, currently starring in Windmill's tour of Baba Yaga, says a lot of her favourite performances have been in the smaller towns around the country.
"Sometimes in regional areas audiences have limited access to live theatre, so there can be a bit of extra buzz and excitement around a show coming to town," Hay said.
"I have always felt very lucky travelling to these places, as it can be a very special and unique experience, for children and adults alike."
Help us keep taking our shows on the road by donating to our End of Financial Year campaign. $2 = 1 kilometre. Click here
---
By Chloe Svaikauskas