About
AGES

14+

70

mins

Depictions of violence, Occasional coarse language, Strobe effects
It's a world where all bets are off. Corruption, sleaze and violence pervade.
When a young boy is brutally attacked, one guy and his crew take the law into their own hands seeking retribution and a new world order in the depths of a dark forest.
Young, sexy and invincible, the group lives large. But violence comes at a cost and Robin has secrets. Cracks appear and the friends face off. As they fight to keep it together, the enemy closes in and their world starts to implode.
In a bold retelling of the classic folklore Robin Hood, Fugitive is a hysterical, anarchic knife-edge ride that is contemporary Australian theatre at its best.
Meet the Cast & Creative Team
Matthew Whittet
Writer, Performer
Matthew is an actor and writer who has worked extensively in theatre, film and television for over twenty years. As an actor, Matt has performed for Belvoir many times in productions including Cinderella, The Book Of Everything, Conversation Piece and Atlantis. His plays Old Man, Cinderella and Seventeen have also premiered at Belvoir.
Matthew has been a recipient of the Philip Parsons Fellowship (Belvoir), The Sidney Myer Creative Fellowship and the ATYP Foundation Commission Award for his play Fight With All Your Might the Zombies of the Night. The 2014 Adelaide Festival trilogy of plays with Windmill are School Dance, Big Bad Wolf and Girl Asleep which Matt adapted to screenplay and resulted in an award-winning feature film.
Rosemary Myers
Director
Under Rose's leadership as Artistic Director, Windmill creates and presents work inspired by the vibrancy, sophistication and inventiveness of young people and the exhilarating challenges they pose to creating theatre of relevance in this modern time.
Rose is a multi-Helpmann Award nominated director, her productions regularly visit leading stages and festivals around Australia and the world, including the Sydney Opera House, Hong Kong's Arts and Leisure Centre and New York's New Victory Theatre. Her directing credits for Windmill include Rumpelstiltskin, Pinocchio, The Wizard of Oz, Fugitive, School Dance, Big Bad Wolf and Girl Asleep.
Prior to Windmill, Rosemary was the Artistic Director of Arena Theatre Company and Artistic Director of Queensland Performing Arts Centre's Out of the Box Festival in 2010. In 2015, she directed her first feature film Girl Asleep with Windmill Theatre Co, and in 2017 she was awarded the prestigious Australia Council Theatre Award.
Danielle Catanzariti
Performer
Danielle is a L'Oreal Paris AFI Young Award winning actress for her first feature film, Hey Hey It's Esther Blueburger in 2007. She starred as lead character Esther Blueburger and starred opposite Academy Award nominees Toni Collette and Keisha Castle-Hughes.
Following this, Danielle was cast in Sydney Theatre Company's 2008 season play Blackbird, directed by Cate Blanchett, which toured to Germany and New Zealand. Danielle also starred opposite singer Natalie Imbruglia in the Australian feature film Closed for Winter, as well as completing a guest appearance on Seven Network's All Saints. She has appeared in various productions for Windmill Theatre Co, Brink, State Theatre Company of SA and Belvoir St Theatre.
Eamon Farren
Performer
Eamon graduated from National Institute of Dramatic Art (NIDA) in 2007 and has worked extensively in film, television and theatre. His film credits include Lucky Country, Blessed, Red Dog, X, Chained, Careless Love, Love Is Now, Lion and Girl Asleep.
In television, Eamon has worked on numerous productions including Steven Spielberg's The Pacific; The Killing Field; and most recently in Carlotta. He has worked for the leading Australian theatre companies, appearing in productions for Sydney Theatre Company, Belvoir Theatre Company, Windmill Theatre Co and Griffin Theatre Company.
Kate Cheel
Performer
Kate has worked in theatre and film since graduating from Adelaide College of the Arts in 2011. For State Theatre Company of SA she has appeared in Three Sisters, The Glass Menagerie, Hedda Gabler, Jesikah and Masquerade.
Her credits for Windmill Theatre Co include Big Bad Wolf and Fugitive. In 2013, Kate joined acclaimed UK theatre company Kneehigh in their Australian tour of Brief Encounter. She was awarded the 2012 Emerging Artist of the Year by the Adelaide Critics Circle and was the final recipient of the Adele Koh scholarship in 2013.
Patrick Graham
Performer
Patrick has previously worked on Windmill productions including The Wizard of Oz, Boom Bah! and Big Bad Wolf. For floogle, an independent company Patrick co-founded, he has performed in One Long Night in the Land of Nod, Black Crow Lullabies.
His portrayal of Lenny in floogle's The Homecoming earned him an Advertiser Oscart Award. For State Theatre Company South Australia Patrick has appeared in Blasted, Buried Child, Three Sisters, The Misanthrope, Lion Pig Lion, Equus, and The Dark Room. Patrick's television credits include Blue Heelers, Stingers, Fergus McPhail and McLeod's Daughters. Film credits include The King is Dead (Rolf De Heer) and Angela's Decision (Matt King).
Peter Houghton
Performer
Peter's extensive career has included theatre, film and television, as well as writing and directing.
For theatre, he has performed for Melbourne Theatre Company, Sydney Theatre Company, Malthouse Theatre, Playbox Theatre and Eleventh Hour Theatre. Peter received Green Room Awards for Best Actor (Misalliance; Melbourne Theatre Company, Endgame; 11th Hour).
In 2013, Peter was seen on stage alongside Jerry Hall in The Graduate. Peter's television credits include Blue Heelers, Stingers, City Homicide, Killing Time, Newstopia, Lowdown, Nine Network telemovie Little Oberon, award winning mini-series Howzat! Kerry Packer's War and Seven Network's Winners and Losers and Fred Schepisi's The Eye of the Storm.
Carmel Johnson
Performer
Carmel studied at Stella Alder in New York. Her credits include Life x3, Triple Threat and Lion Pig Lion. Carmel has appeared in Fugitive (Windmill Theatre Co), Brink Productions Helpmann Nominated When the Rain Stops Falling and Beetle Graduation.
Carmel won Best Female Performer award at the 2007 Adelaide Theatre Guild Awards for her role as Meg in The Birthday Party.
Jonathon Oxlade
Designer
Jonathon has designed set and costumes for Queensland Theatre, LaBoite Theatre, isthisyours?, Aphids, Arena Theatre Company, Polyglot, The Real TV Project, Polytoxic, Men of Steel, Lemony S Puppet Theatre, Terrapin Puppet Theatre, Vitalstatistix and Barking Gecko.
He has also worked with Bell Shakespeare, The Border Project, State Theatre of South Australia, Dead Puppet Society, The Last Great Hunt, Sydney Theatre Company, The Escapists, Melbourne Theatre Company, Sandpit, Belvoir St Theatre and Windmill Theatre Co, where he is resident designer. Jonathon has received numerous awards. Most recently in 2016, Jonathon was awarded the Sidney Myer Creative Fellowship and received APDG awards for both Best Production Design and Best Costume Design for Girl Asleep, and received an AACTA award for best Costume for Girl Asleep.
In 2017, he received the Sydney Theatre Award for Best Costume Design for Mr Burns.
Richard Vabre
Lighting Designer
Richard is a freelance lighting designer. He has lit productions for Melbourne Theatre Company, Sydney Theatre Company, Malthouse Theatre, Victorian Opera, Windmill Theatre Co, Arena Theatre Company, NICA, The Darwin Festival and Back to Back Theatre.
He has also designed the lighting for Stuck Pig's Squealing, Chambermade, Rawcus, Red Stitch, Polyglot, Melbourne Worker's Theatre, Aphids and many productions at La Mama Awards. Richard has won 5 Green Room Awards including the Association's John Truscott Prize for Excellence in Design (2004). He has also been nominated for 8 other Green Room Awards.
Luke Smiles
Composer, Sound Designer
Luke creates highly detailed soundtracks for theatre, dance and film, working across all areas of music composition, sound design, foley and sound effects editing. His work is enjoyed by audiences both nationally and around the world.
Working under his business name motion laboratories, Luke has composed and produced soundtracks for many Australian and international artists & companies. Various credits include: Carbon Field (Queensland Ballet), ʻG' (Australian Dance Theatre), Glow (Chunky Move), Roadkill, The Ninth Wave (The Farm), Split Second Heroes (Gabrielle Nankivell), SURGE (Dancenorth), The Maids (Sydney Theatre Company), Wildebeest, Neon Aether (Sydney Dance Company), Fugitive, School Dance and Girl Asleep (Windmill Theatre Co).
Gabrielle Nankivell
Movement Consultant
Gabrielle Nankivell is a South Australian director and performer with formative ties to Europe. Working independently and commissioned by leading dance companies and training institutions, Gabrielle also maintains a collaborative creative practice with composer Luke Smiles.
Gabrielle's work has been widely presented across Australia, Europe and Asia. 2019 commissions include Neon Aether, a new work for Sydney Dance Company's 50th Anniversary Season 1: Bonachela / Nankivell / Lane, currently touring nationally, and Ava, a bespoke solo for Samantha Hines in Dancenorth's upcoming Communal Table for Brisbane Festival. Split Second Heroes, her latest, independently produced full-length work, premiered at the Adelaide Festival Centre in July 2017 receiving an Adelaide Critics Circle Individual Award nomination.
Gabrielle also provides choreography and movement consultancy across stage and film productions. Recent engagements include State Theatre Company of South Australia's The Popular Mechanicals, Windmill Theatre Co's multi award-winning School Dance and Girl Asleep and internationally acclaimed Australian feature film Girl Asleep, directed by Rosemary Myers.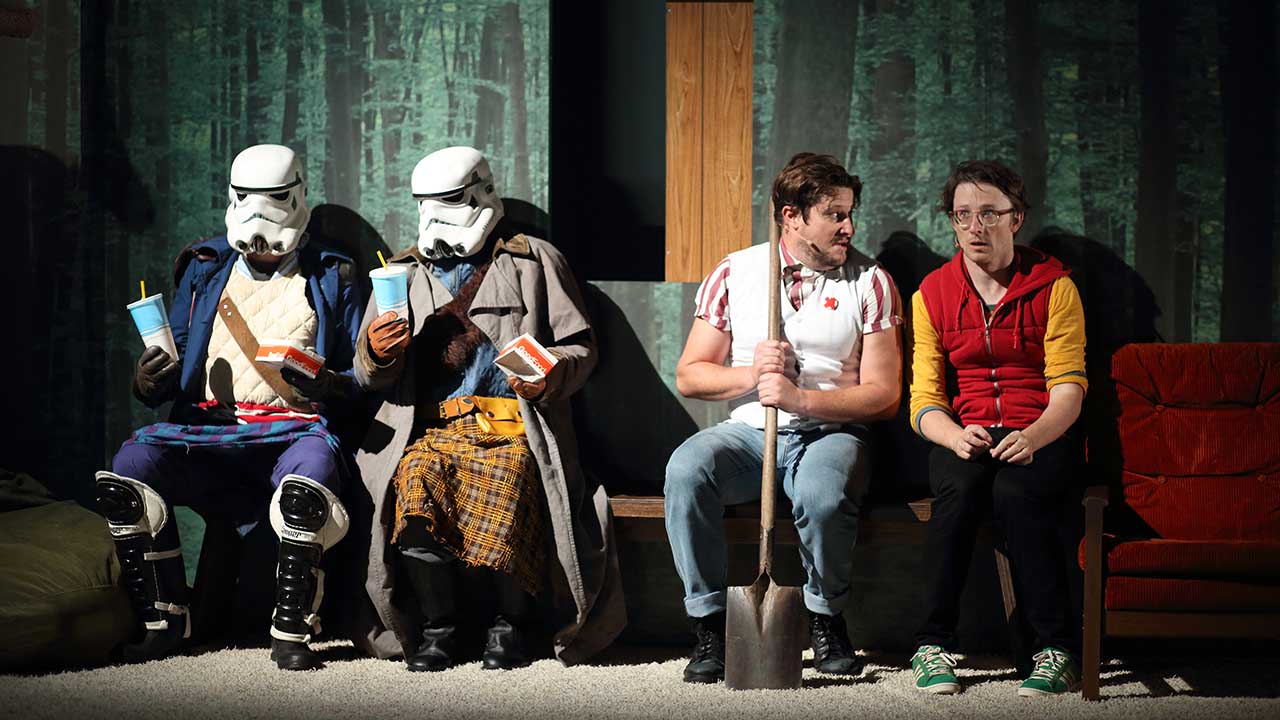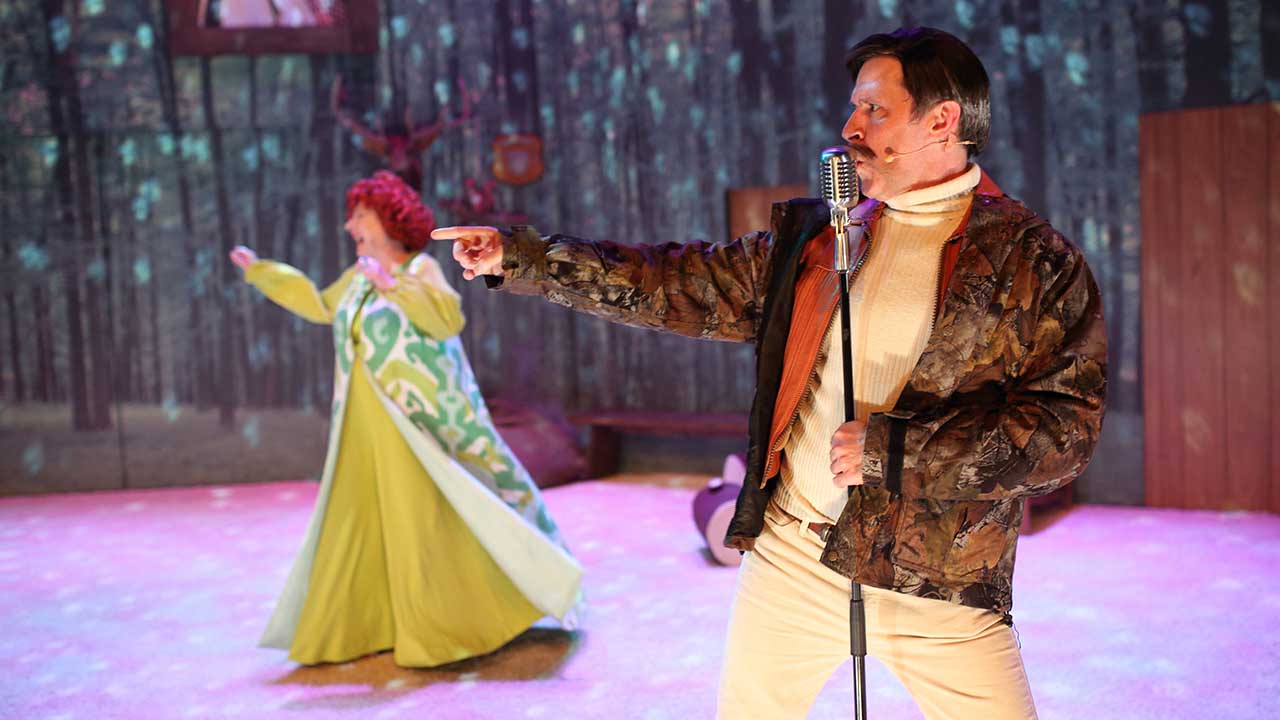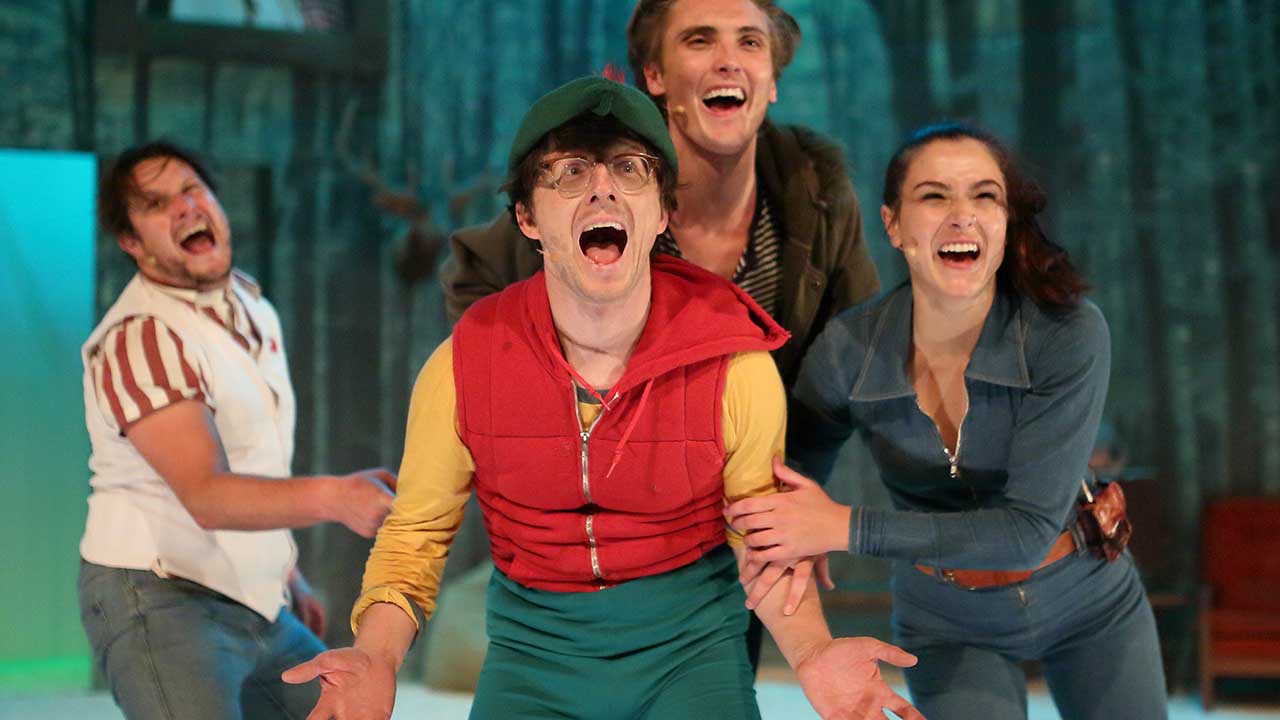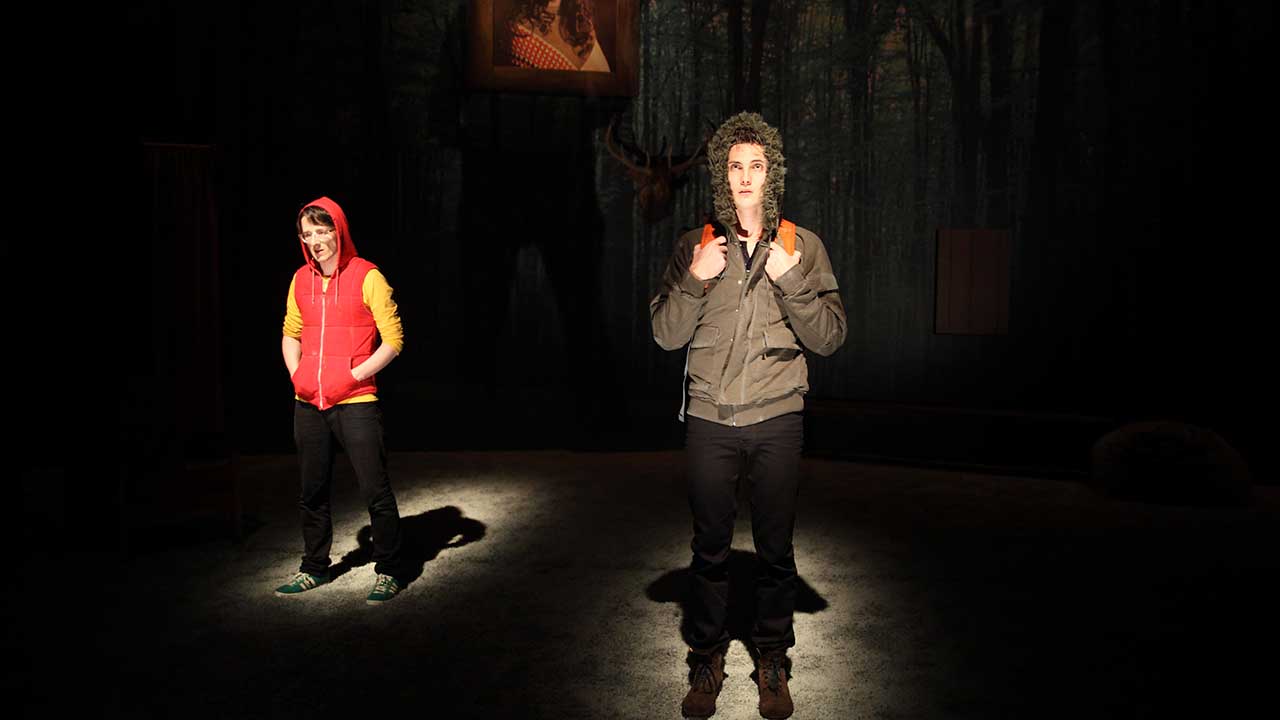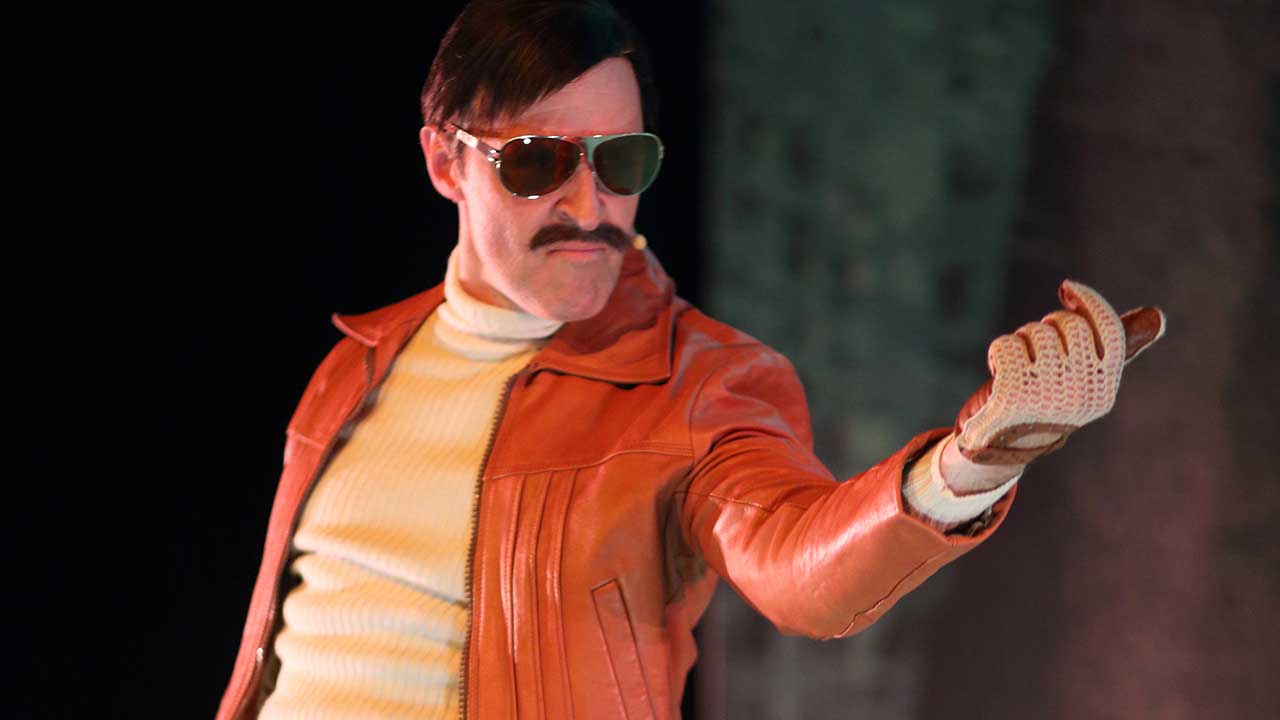 Credits
Writer, Performer Matthew Whittet
Director Rosemary Myers
Performer Danielle Catanzariti
Performer Eamon Farren
Performer Kate Cheel
Performer Patrick Graham
Performer Peter Houghton
Performer Carmel Johnson
Designer Jonathon Oxlade
Lighting Designer Richard Vabre
Composer, Sound Designer Luke Smiles
Movement Consultant Gabrielle Nankivell
Acknowledgements
Fugitive is a Windmill Theatre Company production.